Follow the siren call with holidays to Sorrento
Limoncello, the Amalfi Coast, hydrofoils, Mount Vesuvius, and the Bay of Naples – of course, we're talking about holidays to Sorrento!
Key points
A package holiday to Sorrento may be the most convenient way to organise your trip – your flights and hotel (and sometimes airport transfers) are all included in one price
Consider your board type. All-inclusive is great if you don't plan on straying too far from your hotel, but a more flexible option, like B&B or room-only, might be better for exploring
Avoid peak travel times where possible, keep an eye out for last-minute or early-bird deals, and GoCompare holidays to Sorrento!
Whether you're coming from Manchester, Newcastle, Bristol, Glasgow, Dublin, Belfast, Edinburgh, London or Leeds (and breathe...), Sorrento is a top tourist choice for a sunny holiday.  
Sorrento is a town in Italy which looks over the Bay of Naples, with fancy hotels sitting high on the cliffs and little shops selling antiques, ceramics, lace and woodwork. It's a stone's throw away from the trendy island of Capri, and the slightly terrifying Mount Vesuvius is just across the bay.  
Put your Mount Vesuvius encyclopaedia to one side, stick on some Capri pants, grab yourself some limoncello and read about holidays to Sorrento, to see if they float your boat.  
Package holidays to Sorrento 
Don't want the inconvenience of booking your flights and accommodation separately? You could get a Sorrento package holiday, which might also include airport transfers too!  
There's usually lots of choice when it comes to booking a package holiday to Sorrento. You can select the most suitable flights for your needs and choose from historic hotspots to beach resorts, adult only to family-friendly. Compare holiday types, star ratings and different Sorrento accommodation to find your ideal getaway.  
Cheap holidays to Sorrento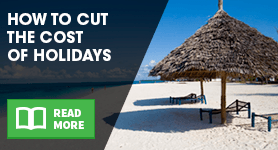 You probably won't be surprised to hear that we recommend comparing Sorrento holidays, to find one that suits you best.  
Consider things like board type, star rating and your ideal budget to narrow down your search. And remember that cheapest doesn't always mean best, so shop around to find something that zests your lemon.  
Booking early or late could also save you some money on your Sorrento holiday, and being flexible with your travel plans allows you to take advantage of off-peak deals. 
All-inclusive holidays to Sorrento 
All-inclusive means you get breakfast, lunch, evening meal and (usually) certain drinks included in the price of your accommodation. 
This can be useful, as all your meals are already paid for, but it can be a bit of a waste of money if you don't want to hang around your hotel all day.  
If you want a bit more freedom with your meals, you could consider other board types, like half-board, which includes breakfast and an evening meal; B&B, which is bed and breakfast; room-only, which does what it says on the tin; or self-catering, if you'd prefer to sort some of your meals out yourself.  
Consider different board types and pick the option that best suits your Sorrento holiday plans - whether you'll be out and about exploring or staying poolside will have an impact on your meal requirements.  
When to go and what to do in Sorrento  
Peak tourist season in Sorrento is usually between Easter and October, when the weather is hot and everywhere is open for business. Holidays to Sorrento in February and March offer a balance of good weather, low fares and less crowds.  
Spring (March to mid-June) has pleasantly warm weather, and tourism starts to bloom.  
In summer (mid-June to September) hotel prices rise and exploring places like Pompeii can get a little toasty.  
The weather in Autumn (September to December) is mild but potentially rainy. Most of the crowds are gone by November, but things pick back up over Christmas.  
Winter (January to March) is the time of year when the locals go off on their own holidays to avoid the cooler weather. 
A few of the main draws in Sorrento include:  
Did you know...?
Mount Vesuvius is the only volcano on the European mainland to have erupted within the last 100 years. It's also one of the most dangerous volcanoes in the world, because of the three million people living nearby... 😱
Piazza Tasso 
Museum Correale 
Via San Cesareo  
Cathedral of Sorrento 
Roman ruins at Punta del Capo  
Saint Francesco Monastery  
Church of Santi Felice e Baccolo 
You can also take a trip to one of the nearby beaches, hop on a hydrofoil to visit the island of Capri, or ride across the Bay of Naples to take a closer look at Mount Vesuvius, Naples and Pompeii.  
By Amy Smith