Find your dream Sri Lankan holiday at an even dreamier price
Discover an island paradise in the Indian Ocean with your holiday to Sri Lanka. Compare deals and get away for a great price.
Key points
Sri Lanka is 11 hours away from the UK by direct flight. It can be either a bustling tourist hotspot or relaxing retreat, depending on what you're after
You can enjoy therapeutic yoga retreats and find your inner zen
Sri Lanka is full of activities with which to pack your itinerary, including scuba diving and whale-watching
Sri Lanka is an island as famous for its beaches as for its meditative retreats. Full of wildlife, ancient temples, it's as much an oasis of calm as a bustling tourist destination. So, if you're up for a holiday that's exciting and therapeutic in equal measure, then we can help you find the right one for your budget. 
Holidays in Sri Lanka
A yoga retreat to help you relax, a beach holiday to get some much-needed vitamin D, or a cultural expedition to explore a country you've never seen before: Sri Lanka offers all of this and more. But if you're not sure how to keep your holiday from breaking the bank, we can help you compare the ways and means of getting there on a budget. 
Cheap holidays to Sri Lanka 
One way of getting out there is to book your flight and accommodation separately. This may help you to make some serious savings if you're savvy.  
Flights take over ten hours if they're direct, so if you want to make it a comfortable one, you can fly first or business class – though this will push the price up quite considerably.  Going in an economy seat would save a fair bit, which you could then put towards the cost of the accommodation.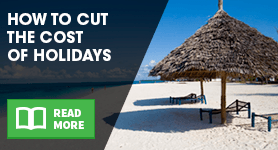 You could plump for a cheap and quiet place to lay your head like the Black Cat Bed & Breakfast which offers fairly cheap accommodation, or you could take the luxurious route and stay at Buckingham Place (though we discourage you from pretending you're the Queen). 
If it's a relaxing, rejuvenating, therapeutic yoga retreat you're after, you could try the Santani wellness resort in the Kandy hills. This offers personalised nutritionally-balanced meals, treks in the hills, and blissful Ayurvedic yoga sessions. 
The advantage of this approach is being able to completely tailor your holiday to your needs and budget. If you need a cheap flight and cheap accommodation, those are easy enough to find – we can help you compare hotels and flights without hassle. 
Sri Lanka all-inclusive holidays 
If you'd prefer to deal with everything in one payment, or if you're not planning on straying too far from your hotel, you could go all-inclusive. The most wide-ranging of the board types available, this means your flights, accommodation and your meals are all covered in one payment. Some all-inclusive packages even include airport transfers. What could be more convenient? 
Did you know...?
Volleyball is the Sri Lankan national sport
Only some hotels and operators offer an all-inclusive package though. So if you do choose this method, you'll be more limited in your choice of where to stay. All-inclusive stays are available in places like the Club Koggala Village, the Long Beach Resort, and the Turyaa Kalutara, among many others.  
Prices will vary between resorts, and will be affected by how far ahead of your intended holiday you book your stay. 
Things to do in Sri Lanka 
Sri Lanka might only be a small island, but it's by no means lacking in things to get up to.  
Hit the beach 
If you just want to chill out on the beach, you have 1,600km of coastline to choose from, and you can go beyond a tanning session on the sand to enjoy windsurfing, kayaking or water-skiing. One activity to try is scuba diving. Sri Lanka boasts several diving hotspots, like the ever-popular Hikkaduwa and Unawatuna, or the Pigeon Island Marine Life Sanctuary just off the east coast at Trincomalee.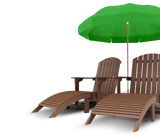 If you prefer to see wildlife above the waves, you can go whale-watching at Mirissa, or enjoy a safari in Yala. You might like to try your hand at ornithology instead in Chundikulam with its large bird populations. 
Chill all the way out 
For a more constructive way of chilling out, you could try a yoga retreat. There are plenty of resorts across the island, all offering different packages. Ayurvedic practices, which include yoga, have been a part of Sri Lankan life for centuries, and many of the resorts incorporate the teachings of Ayurveda into their therapies. 
Whether you go in for one of these more spiritual retreats, or just take a day or two away in a quiet lodge in the foothills, some meditative quiet can certainly help you feel like you've had a relaxing holiday. You can either book a retreat as your main getaway, or incorporate one into part of a longer holiday. 
For Brits, a fundamental part of relaxing is to have a cup of tea. It's practically the law. So, British tourists will be pleased to discover that Sri Lanka offers tea tourism. History buffs might enjoy the opportunity to take high tea at The Grand, a restored colonial retreat in Nuwara Eliya. If you'd prefer to avoid the uncomfortable colonialist history that surrounds tea production in Sri Lanka, you can try tea in a champagne glass at Dilmah t-lounge. No matter how you take your tea, you can be sure it's of good quality, as Sri Lanka is the fourth-largest tea producer in the world. 
Get some culture 
If you're more interested in seeing authentic Sri Lankan culture and history, you could visit its UNESCO World Heritage sites. It isn't the state religion, but Buddhism is proudly prominent in Sri Lankan culture. The Golden Temple of Dambulla, for example, has been a pilgrimage site for over 2,000 years. Those with a head for heights may want to check out the Ancient City of Sigiriya, a fortress built on top of an enormous rocky outcrop. It's a site only accessible by a set of stairs built into the side of the mountain, and from this lofty perch, visitors can enjoy a 360-degree view of the jungle below.
Monuments may not be your thing, in which case you may want to check out the host of festivals in Sri Lanka. Vesak is a week-long festival, usually held in May, celebrating the birth, enlightenment and death of Gautama Buddha, the founder of Buddhism. During this festival, the streets are festooned in colour. In the major cities, you can see electrically lit marquees called thoranas which are decorated with scenes depicting events from the Buddha's life. 
Elsewhere, you may instead want to see the Kataragama Festival in the town of the same name. A Hindu festival, it brings thousands of pilgrims together to seek knowledge and guidance from Lord Kataragama, and involves a colourful procession of elephants, dancers, singers and musicians, as well as dancers, fire eaters and acrobats. 
Top tips for cheap holidays to Sri Lanka 
Now we've hopefully whetted your holiday appetite, we can also help you get there. Whether you feel like an all-inclusive package, or want to try and book everything yourself, you can compare flights, hotels and holidays to Sri Lanka through us. That way, all you need to do is plan when you want to go, and we can help take care of the rest. 
By Nick Dunn