GoCompare Tenerife holidays!
Mount Teide, Siam Park and the ten Blue Flag beaches are all great reasons to compare Tenerife holidays. Saving yourself time and hopefully money is just the icing on the cake.
Key points
Tenerife has a subtropical climate, meaning the weather ranges from pleasantly hot to mild year-round, and there's very little rain
Package holidays to Tenerife and all-inclusive trips are popular, but can be a bit restricting
When comparing Tenerife holidays, filter your results by things like board type and star rating to find the cheapest deals to suit you
Tenerife is the largest of the Canary Islands and is the most-populated island in Spain.  
Due to the volcanic nature of the island, many of its beaches are man-made, but there are a few beaches still around with the naturally black volcanic sand.  
The Spanish spoken in the Canary Islands differs slightly from mainland Spanish.  
For example, in the rest of Spain 'papa' means 'pope', but in the Canary Islands, it means 'potato'. So, bear that in mind before you start discussing that magnifico speech by the 'papa' with the local Canarians, or they might think you're a bit loca…  
There are two airports in Tenerife: Tenerife North (TFN) and Tenerife South (TFS). Which one you'll go to depends on where you're staying on the island.  
Tenerife is a prime holiday destination because of its attractions, beaches, the weather and the volcano, Mount Teide. 
But don't just take our word for it! If you think it's the place for you, compare holidays to Tenerife, so you can explore the island for yourself.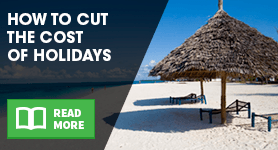 Cheap holidays to Tenerife 
Who doesn't want to get their holidays cheaper? Booking a holiday can be a bit confusing, but by using our comparison service you could save yourself some head scratching, and hopefully some cash too.  
Here's a few more tips to help you get cheap holidays to Tenerife: 
See if it's cheaper to book your flights, hotels and airport transfers separately or as part of a package deal 
Take advantage of early-bird savings or last-minute deals 
Try to avoid peak travel times and be flexible with your holiday plans  
Lots of airlines, like easyJet, British Airways, Thomas Cook, Jet2.com and TUI offer cheap holidays to Tenerife, so use our site to shop around for your ideal Tenerife holidays.   
All-inclusive Tenerife holidays 
All-inclusive holidays mean that you get breakfast, lunch and dinner included in the cost of your accommodation or package holiday (we'll go into package hols in a bit).  
It's one of five main board types you can get. The other four are: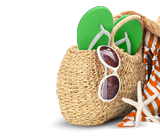 Half-board – Breakfast and an evening meal 
B&B – Bed and breakfast 
Room-only – No meals are included 
Self-catering – Your accommodation will have a kitchen for you to cook your own meals 
All-inclusive Tenerife holidays may be the most expensive option at the outset, but they're pretty convenient if you don't plan on straying too far from your hotel.  
For more dining flexibility, half-board or B&B might be your best bet, as you can get lunch and/or dinner at your leisure, rather than having to be at your hotel at a designated time.  
Room-only and self-catering offer the greatest freedom as you have to organise and pay for your meals separately. This could work out cheaper, depending on the cost and availability of local cafes, restaurants and supermarkets.  
Did you know...?
The national flags of Tenerife and Scotland are pretty much identical, because they each display Saint Andrew's cross, who's the patron saint of both places
Package holidays to Tenerife 
Don't want the inconvenience of booking your flights and accommodation separately? You could get a Tenerife package holiday, which might also include airport transfers too!  
Package holidays come in many forms, from city breaks to beach resorts, adult-only to family-friendly. Compare holiday types, star ratings and different Tenerife locations to find your ideal getaway location.  
Holidays to Tenerife from the UK 
If you're looking to leave behind the rainy winters and questionable summers of the UK for a week or two, then Tenerife is a pretty safe bet for some fun in the sun.  
You can get holidays to Tenerife from places like Glasgow, Belfast, Edinburgh, London, Bristol, Manchester, Birmingham and Leeds.  
When to go and what to do while on holiday in Tenerife 
The Canary Islands have a subtropical climate, which means that Tenerife gets good weather all year.  
While the summers are hot, there's usually a cool ocean breeze to take the edge off. Summer is the busiest time, with the school holidays in full swing. 
The winters in Tenerife are quite mild, which makes it a popular spot for some winter sun. If you want to avoid the majority of the tourists, compare Tenerife holidays in October, November, and March to May, except for Spanish Holy Week and Easter.   
Mount Teide National Park is a World Heritage Site and home to Mount Teide, a volcano that last erupted in 1909. If you don't fancy the hike, you can catch a cable car, but a permit is required to visit the summit. There's an observatory on the mountainside too, which offers guided tours.  
While we're on a sciencey theme, there's the Museum of Science and the Cosmos for you to explore and perhaps learn a new thing or two.  
For something a bit more ground level, Siam Park is a Thai-themed waterpark with lots of slides, rides and pools. Siam Park's sister park, Loro Parque, is actually a zoo, with hundreds of different parrot species, and a range of other animals, such as dolphins, tigers, chimpanzees and alligators.  
If you want to get in on the water action in a more natural way, Tenerife has ten Blue Flag beaches, and there's also a couple away from the mass crowds, for a bit more peace. You could even take a tour to do some whale or dolphin spotting. 
If you're not into all that and just want to take things easy, there's nothing wrong with relaxing by the pool, having a stroll around and hitting the spa.  
By Amy Smith