Backpacker, package and luxury holidays to Thailand
If you're considering where to go on your holidays, Thailand is a well-loved destination, and with good reason. Read our guide for a few things worth knowing which may help plan your trip.
Key points
Thailand has over 200 islands, so it's worth doing your homework before you settle on a destination
As well as the huge selection of lazy beaches, Thailand also has a thriving nightlife scene
Staying in a hostel can make a trip far more economical and help offset the price of flights
With picturesque beaches, rich culture and delicious cuisine, Thailand is one of the most popular travel destinations on the planet. 
Whether you're looking to immerse yourself in the scenery or lose yourself in history, there's a little bit of something for everyone in this awesome part of Asia. 
Choose your escape to Thailand
Equally famous for its peaceful Buddhist monks as it is for its Muay Thai kickboxing, it's fair to say that Thailand is a pretty diverse location. 
As such, it's no surprise that this multifaceted country also offers a wide variety of holiday options as well. 
Package holidays 
With so much on offer, it can be hard to know where to start when planning a Thai excursion. 
If you want to get the most out of Thailand, package holidays are a great way to cover your bases and take the hassle out of the booking process. 
Package holidays leave all the organising up to the travel agent and include some of the best tourist destinations in the land.
The package option can also work out cheaper, with flights, hotels and fees all typically included in the overall price. 
What's more, they often feature added extras, like on-site food and drink discounts, and spa credits. 
Luxury and all-inclusive accommodation 
Luxury accommodation in Thailand is the perfect way to spend a honeymoon, indulge in a romantic getaway or simply catch up on some much needed R&R.
In addition to the hundreds of beautiful hotels across the country, there are a number of stunning villas and spas available. 
These combine exotic climate and breathtaking surroundings with the peaceful comfort of your own space. 
Similarly, all-inclusive Thailand holidays allow you to indulge in the country's natural beauty without the worry of sourcing or paying for food and drink along the way. 
The selection of hotels available also cater for a variety of holiday needs, with child-friendly venues just as common as those built with tranquillity in mind. 
City breaks or beach holidays 
In addition to the sandy postcard scenery, Thailand also offers great city locations – with none more lively than Bangkok. 
Bangkok is the busy capital of Thailand, world-famous for its floating markets and vibrant nightlife. 
Meanwhile, the location also allows for a variety of day trips, including excursions to iconic film settings such as James Bond Island and the infamous Bridge on the River Kwai. 
Still torn? There's always the option to get the best of both. 
If you don't mind a lengthy commute, Bangkok has a variety of beaches within travelling distance. 
Island hopping 
With over 200 islands to choose from, Thailand offers an array of exotic experiences: ranging from chilled tranquility to wild nights out. 
Phuket
Thailand's largest island, Phuket is one of the world's most idyllic destinations. 
Boasting over 30 beaches on the island, visitors are spoilt for choice when it comes sandy relaxation. 
One of the most popular parts of Phuket is the beautiful town of Patong. 
Turquoise seas and powdery sands make it a hotspot for tourists looking to unwind and switch off. 
Meanwhile, the neon lights of Bangla Road will keep you busy well into the early hours. 
Similarly, Kata Beach is another great beach destination, without the crowding of Patong.  
It also has plenty of shops, bars and restaurant on hand, should you tire of lounging in the sun. 
Better still, Kata is very family friendly, with plenty of activities to keep the whole gang entertained.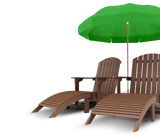 Krabi 
With lush jungle terrain inland and idyllic beaches on the coast, Krabi is a true natural wonderland. 
Famed for its stunning scenery, Krabi's Railay region features a variety of beachside caves to explore, while the native population of free-roaming monkeys provide a quirky local flavour. 
Meanwhile, Ko Phi Phi Island is the perfect venue to chill out or enjoy some aquatic activities, as unblemished sand meets pristine waters. 
If you're looking for more hustle and bustle in your holiday, the popular town of Ao Nang has plenty of bars to enjoy a Singha, without losing the sandy coastline allure that Krabi's known for. 
Koh Samui 
Thailand's second-largest island, Koh Samui is located off the east coast of Kra Isthmus. 
Rich with beautiful beaches, captivating coral reefs and spellbinding sunsets, this tropical paradise is a firm favourite among travellers. 
It's also home to the Wat Phra Yai temple and its world-renowned Big Buddha shrine, as well as the neighbouring and colourful Wat Plai Laem temple.
With epic statues and ornate architecture a staple of both, these must-see sights give a great reflection of traditional Thai culture. 
With all this and more, Koh Sumai is the perfect location for anyone looking for an unforgettable island experience. 
Compare cheap holidays to Thailand 
Finding cheap holidays in Thailand can be a lot easier than you might think. 
While flights will inevitably prove to be quite expensive due to the length of the journey, accommodation can be surprisingly reasonable - particularly if you plan on staying in Bangkok. 
Outside of the capital, hotel prices can vary. However, hostels have become increasingly popular with travellers in recent years. 
Modern hostels often offer much of the same services you would expect from a standard hotel, and can prove to be super cost-effective if you're working to a tight budget. 
By Martyn Grant