Have a scorchingly good time with Tunisia holidays
Hot, deserty, and home to heaps of ancient ruins, museums, archaeological exhibits and golden beaches – do holidays to Tunisia take your fancy?
Key points
Compare holidays in Tunisia to see what kind of package deals you can get
Filter your options by things like board type and star rating. While all-inclusive might be the most convenient type of holiday, it might not suit your Tunisian holiday plans
To make your budget stretch, look out for early or late booking discounts and avoid peak travel times
Nestled between Libya, Algeria and the Mediterranean Sea, Tunisia is a country in north-west Africa.  
Tunisia has around 30 airports, including nine international airports with scheduled commercial routes, from places like London, Glasgow, Belfast, Newcastle, Bristol and Manchester.  
We know what you're probably thinking: 'holidays to Tunisia – is it safe?' Well, there are a few areas in Tunisia that the Foreign and Commonwealth Office (FCO) advises against visiting. The coastal areas are generally okay, but it's suggested that you stay away from the country's borders.  
It's worth checking out foreign travel advice before you book your trip to see what the situation is there, and checking regularly leading up to your trip and while you're holidaying there.†  
Cheap holidays to Tunisia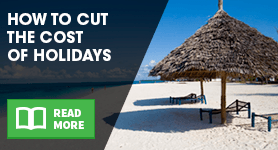 Save yourself time and money by comparing different holidays to Tunisia with a comparison site like ours (hi there!). 
By doing this, you'll be able to see what options are available for certain Tunisian holidays to find ones that suit your needs. 
Booking early (or last minute if you're a risk taker) and being flexible with your travel plans could help you save even more money, which could be put in the savings piggy bank, or used to pay for a hotel upgrade! 
If you're not one to splash out, keeping your accommodation costs down by staying in a budget hotel is also a great way to save. And you'll have more money to spend on sightseeing!
All-inclusive holidays in Tunisia 
All-inclusive is a board type which means you get breakfast, lunch and dinner included in the cost of your Tunisia accommodation (or package holiday) – whoop!  
Did you know...?
The northernmost point in Africa, Cape Angela, is in Tunisia
All-inclusive is one of five main board types you can get. The other four are:  
Half-board – breakfast and an evening meal.  
B&B – bed and breakfast.  
Room-only – you'll have to pay for your meals separate to your accommodation.  
Self-catering – Your pad will come with kitchen facilities for you to use. 
Not going to be moving too far from the poolside all holiday? Then a cheap all-inclusive holiday to Tunisia might be the most convenient option. Although it may seem expensive at the outset, because you're paying for all your meals at once.   
For more feeding flexibility, half-board or B&B might better suit your needs, as you can get lunch and/or dinner whenever you like, rather than having to be at your hotel at a designated time.  
Room-only and self-catering offer the most dining freedom, as you sort your meals out yourself.  
Package holidays to Tunisia  
A package holiday puts your accommodation, board type, flights and – sometimes – your airport transfers or car rental into a neat little bundle (not literally), so it's easier for you to see the total cost of your Tunisia holiday.  
By comparing package holidays to Tunisia, you can keep your holiday details in one place, rather than having them on different sites or documents.  
Things to see and do in Tunisia, and what's the weather like? 
The climate in the north of Tunisia is Mediterranean, with wet winters and hot summers. In the south, the climate is desert-y (semi-arid), which means it's hot with a capital 'H'. 
Although you're guaranteed hot weather if you visit Tunisia in the summer, there could be lots of crowds to contend with, which could make the holidays not so enjoyable. July and August are usually the hottest months.  
The shoulder months, April to June and September to November still have good weather (maybe a little cooler) and are usually quieter, so hotel prices may be lower than in peak season.  
Some of Tunisia's main tourist attractions include: 
Tunis, the capital city 
The ruins of Carthage 
The Sahara Desert (note: it's not edible) 

Djerba, Hammamet and Sidi Bou Said (beaches galore!) 
Medina 
El Jem Amphitheatre 
Sousse Archaeological Museum 
Bardo Museum 
Dougga's remains 
Tunisian National Theatre 
For some more off-the-beaten-track activities, why not take a tour of the leftover Star Wars sets abandoned in the Tunisian desert, or the Great Mosque of Kairouan – the fourth holiest site in Islam.  
That's just a few of the things you can do while on holiday there – we'd better let you get on comparing holidays to Tunisia, so you've got more time to spend planning all the things you're going to do there.  
And so you can practise your selfie skills before you go.  
By Amy Smith