Compare cycling and bicycle insurance quotes
Key points
Decide between adding your bike to your home insurance or taking out a dedicated bicycle policy
Consider single-item limits and whether you need to make your bicycle a named item
Think about the amount your bike is covered for - is it sufficient?
There's a lot to be said for riding a bicycle; it's cheap, it's healthy and it's an environmentally friendly way to travel, particularly in our bustling cities.
But unfortunately, riding a bike can also leave you at the mercy of thieves, and in danger of accidents on the road.
More than half a million bicycles are stolen every year, according to the British Crime Survey.†
And, according to the Department for Transport there were 18,321 cyclist casualties in 2017.†
That's a lot of frustration and inconvenience, but it's also a huge amount of money - a decent push bike doesn't come cheap, not to mention public liability charges and legal fees if you're caught up in a traffic collision with a third party.
So whether you want to buy a separate bicycle insurance policy or add bicycle cover to your home insurance, it makes sense to have some sort of cover in place.
Can you insure a bicycle?
Yes. You can cover bikes in your home insurance, but you can also buy a separate and specific policy that offers tailored protection for your cycling routine and bike, just make sure you're not over insuring with two policies.  
The best bicycle insurance will offer some form of protection for every eventuality cyclists face on the road.
A comprehensive policy may include:
Accidental damage
Collisions
Criminal damage, and theft
Protection for your cycling accessories, helmets and clothing
The costs of hiring a replacement bike (although, there may be a limit stipulated by the insurer)
But, there could be optional additions, too.
For instance, public liability insurance and personal accident cover, protection for additional riders hopping on your bicycle, cycling overseas, and even cover for competitive use.
The latter's particularly handy if you're a regular at velothons and cycling events, in the UK or overseas. Read more about cycling travel insurance.
If you frequently cycle without a support car or a secondary means of transport, you may also be interested in insurance that evacuates you home, should your bicycle be damaged beyond repair, or you can't get home under your own steam. 
How much is bicycle insurance?
Your bicycle insurance quote will be calculated based on your specific circumstances and takes into consideration what kind of bike you ride.
Mountain bikes, street bikes, push bikes, road bikes, folding bikes, hybrids and electric bikes are all usually covered.
If you're riding a self-built bicycle with a carbon-bladed fork, and an extra light-weight frame, plus one-of-a-kind handlebars, not to mention a precisely-moulded saddle, shaped for your comfort, it may have cost you an arm and a leg more than a Raleigh right off the production line.
Fear not, you can get insurance that itemises your bike's unique specification, and should you need to make a claim, it will reflect the true value of the bike.
Just make sure your insurer's aware of any mods or additional marvels before you sign on the dotted line.
Is bicycle insurance worth it?
Many people assume that their home insurance policy will automatically include bicycle insurance, but this is not always the case.Bicycle-insurance
And, it's unlikely to protect you financially in the event of an accident.
Don't forget that even if your two-wheeler is covered at home, most providers don't include personal possessions cover away from home as standard.
On 1 April, 2019, we checked 403 home contents insurance policies listed on Defaqto.
We found that, while personal possessions cover away from home was included as standard on 60 policies (15%), just two of them included pedal cycles in this cover.
It's worth exploring whether extending your home cover is the right option, and comparing this against the pros and cons of taking out a dedicated bicycle insurance policy.
It's likely that you'll have to purchase this as an optional extra, but even then it's not certain that this cover will include bicycles.
Read the policy with care. If bicycles are not covered, it may be possible to arrange such protection with your insurer for an extra price.
Why is bicycle insurance important?
Whether you have plumped for a specialist bicycle insurance policy, or arranged protection away from home for your bike through your home insurance policy, you should also think about whether the level of cover you have is sufficient for your steed.
A number of providers offered cover in different ways - for example, cover could be provided within the overall contents sum insured, or up to a certain percentage of the overall personal possessions sum insured. 
Owners of expensive, high-performance bicycles should speak to their insurer to arrange specific cover
Ben Wilson, GoCompare
"Cyclists need to check the level of their sum insured against the policy excess to check that they have sufficient insurance to replace their bike if it gets stolen, " says GoCompare's Ben Wilson.
"We recommend that owners of expensive, high-performance bicycles speak to their insurer to arrange specific cover."
Bicycle gadgets
If you're a really keen cyclist then you might have more equipment than a push bike and a helmet. You may even be carrying some serious kit, like a GPS watch or heart-rate monitor.
Bicycle insurance often has a limit placed upon accessories, called a 'single article limit' by insurers.
This is the maximum amount an insurer will pay for an item, and this may differ between item types as well as between insurers.
Sometimes you can increase this level of cover for an additional cost, but if what's protected doesn't put your mind at rest, you could take out a specific gadget insurance policy instead.
Before you buy your cover we recommend you check that the limits provide sufficient cover for your needs. You can find this information in the policy summary documents available from the insurer.
How to protect your bike at home
While bicycle insurance protects you if a thief does strike, it's obviously better to avoid having your ride nicked in the first place.
That will save you time, effort and even heartache if you're attached to your bike.
It will also stop you having to make a claim on your bike insurance or home insurance policy, which will help keep your future premiums down.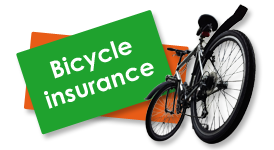 At home, keep your bike in a secure shed or garage and remember to keep that locked. If you can, secure your bike to something immovable, or even fit an anchor lock for extra security.
Whatever you do, keep your bike out of public view, especially if it's a particularly desirable model. Some bike thieves are opportunists but some are specialists, so keep your wheels safely out of sight.
How to protect your bike in the street
The challenges of protecting your bike when you're out and about are very different and you can never be 100% secure.
Take out adequate insurance, either by extending your home contents insurance or through a separate policy... Do this at the time of purchasing the bike otherwise you may not get around to it
Take out adequate insurance, either by extending your home contents insurance or through a separate policy... Do this at the time of purchasing the bike otherwise you may not get around to it
Home Office security tips for cyclists
After all, a thug might decide to mangle your beloved bike if they can't steal it, showing how important insurance is even if you are careful about leaving it secured.
Never leave your bike alone 'just for a minute' while you pop into a shop - that's when opportunistic thieves strike.
Where possible, lock your bike to an immovable object, like a bike rack or bench. Bikes can often be lifted off signposts, so locking them there can be a waste of time.
Remember to lock both wheels and the frame of your bicycle to the bike stand - we've all seen bikes hanging forlornly because someone's pinched their wheels.
You should also ensure that you've chosen an industry-recommended lock - seek advice in a bike shop to find the best one for you.
"Bike theft is a common crime so insurers expect cyclists to take reasonable steps to secure their bikes at home and away," said Wilson.
"At home, we advise cyclists to keep their bike in a securely locked shed or garage and not leave it lying around in the open.
"Some insurance policies stipulate that particularly valuable bikes will only be insured against theft if they are secured to an immovable object inside a locked shed or garage.
"When out and about always lock up your bike when leaving it unattended, even if it's only for a couple of minutes.
"Use a robust, good-quality lock and secure the cycle through the frame and both the wheels to an immovable object.
"Remove small parts and accessories that can't be secured, especially lights, pumps and quick-release saddles."
By Amanda Bathory