Guide to bungalow insurance
Key points
The rebuild cost of a bungalow may be lower than that of a multi-storey dwelling
Bungalows can be more vulnerable to burglary than some other properties
Floods and fires can damage bungalows quickly and profoundly
Whether you live in a bungalow, flat or multi-storied dwelling, each property has its own features and foibles which have to be taken into account when arranging home insurance.
Bungalows vary in shape and size, but they're usually on one level, except in the case of dormer or chalet bungalows.
Dormer bungalows are conversions of traditional single-storey bungalows with dormer windows and flat roofs, while chalet bungalows are purpose built with an upstairs featuring a pitched roof with Velux windows.
Bungalows are often favoured by the retired and elderly because they typically offer a compact living space with no stairs, making them easy to manage.
Insuring your bungalow
When you use Gocompare.com's comparison process you'll be asked what type of building your home is, with 'bungalow' being one of the options.
Need more information?
You'll then be asked to specify whether it's a detached, semi-detached, terraced, dormer, or chalet bungalow.
Home insurance for a bungalow won't differ much from insurance for a two-level home, but there are a few aspects of living in a bungalow which may affect the cost of your insurance.
Your buildings insurance is partly calculated based on the rebuild cost of your home. You can find this out by using a rebuild calculator (available through our quotes process), or on your survey if you had one done when you bought your home.
Because they're all on one level, rebuild costs for bungalows are often lower than two-storey buildings, which could mean home insurance premiums will be cheaper.
But bungalows, because of their design, may suffer more damage if hit by a flood or fire, which is something insurers may take into account when calculating premiums.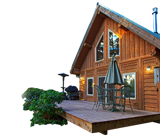 There are ways you can limit flood risk and damage, but returning to a bungalow after a flood may take longer as the whole house may be badly damaged, whereas the upper floor of a conventional house might well be spared.
Dormer bungalows with flat roofs may be more problematic to insure if more than 30% of the roof is flat.
You need to give accurate information to your insurer about what proportion of the roof is flat, as getting it wrong could invalidate your insurance in the event of a claim.
Bungalow security
While it's possible that buildings insurance for a bungalow may be cheaper than for a house, you may find that contents insurance is more expensive because your possessions will be on ground level and more susceptible to theft and damage.
As a first step towards ensuring your home's contents are appropriately covered, accurately calculate their value.
Making sure your home is secure is important whatever the shape of your house, but living in a bungalow may mean you're an easier prey for burglars because there are likely to be a higher proportion of ground-floor windows.
Also, as bungalows often have elderly occupants, they could be perceived as an easy target for thieves who prey on the vulnerable.
As your home may be a more attractive proposition to burglars, it's worth thinking about installing extra security measures like a burglar alarm and remembering to keep windows locked.
Although you may find that an alarm will mean cheaper insurance premiums, the savings are unlikely to be large enough to offset installation costs. Nevertheless, they could give you peace of mind and help to ensure that your home and its contents are safe.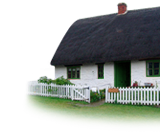 If you've moved from a two-storey home into a bungalow, it's important to change your security habits – keep windows locked and be sure to accurately describe which locks secure your property.
Remember, however, that if you tell your insurer you lock all your windows when you're out and use an alarm, you'll have to do just that. If your house is burgled and your alarm wasn't in use, your claim may be invalid.
You could consider joining a Neighbourhood Watch scheme if there's one in your community, as this may help keep your home safe and you might even get a discount on your home insurance.
If there isn't one, why not think about setting one up yourself?
By Emily Bater