Frozen and burst pipes are a major source of home insurance claims, but cover varies enormously from policy to policy. Find out more...
Key facts
If a pipe bursts you face paying for locating and accessing the leak, repairing it, and fixing the damage caused by the water
Home insurance policies vary and may cover all, some or none of these elements - read your documents!
Cover and excess levels for such protection vary from policy to policy
Preventing bursts and limiting damage from leaks is invaluable
Burst and frozen pipes
According to the Association of British Insurers (ABI), the insurance industry pays out £2.5m every day to customers for escape of water home insurance claims.
That includes problems caused by burst and frozen pipes, or leaks caused by old and corroded pipes.
When a pipe bursts, there are three typical costs that could arise from it:
The cost of locating and accessing the leak
The cost of repairing the pipe
The cost of the water damage caused by the leak
Each of these costs will be covered by separate elements of your home or landlord insurance and you may not have cover for all three as standard features of your policy.
The cost of accessing a burst pipe
A plumber may have to remove part of your home to find the source of the water.
Finding and getting to a leak can prove difficult and expensive – your insurance may include trace and access cover to pay for the cost of this.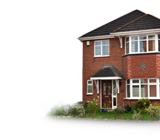 If you don't have trace and access cover, your insurer may cover the cost of the leak but you could find yourself facing a large bill to make and then repair access holes in walls or floors.
Cover for the cost of repairing pipes
Before dealing with any water damage, the burst pipe must be repaired. The cost of this may be included in your home insurance, but this isn't always the case.
On 5 September, 2014, GoCompare reviewed 328 home insurance policies listed on the matrix of independent financial researcher Defaqto and found that 64% covered the cost of repairing pipes that had burst as a result of frost and freezing.
For extra protection in the event of a burst pipe, you could consider adding home emergency cover to your policy.
This could protect you if you need to call out an emergency plumber – insurers usually offer an emergency helpline to give you access to approved tradesmen with a 24-hour emergency response.
Cover for damage caused by frozen and burst pipes
Most home insurance policies include cover for the damage caused by burst and frozen pipes as standard, but check the terms and conditions of your policy to make sure you're protected.
Financial Ombudsman case studies
In GoCompare's review of 328 home insurance policies, 313 policies offer cover for the damage caused by frozen pipes. Just 15 offered no cover.
Check your escape of water excess
When claiming for the cost of damage caused by an escape of water, it's important to be aware that many insurers charge a different excess to your standard policy excess, or add an additional excess on top of it.
When GoCompare analysed 328 home insurance policies on 5 September, 2014, it found that 192 providers charged an escape of water excess instead of the standard excess, while 17 charged an additional excess on top of the standard one.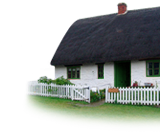 The amount of this excess varied significantly from policy to policy.
Of those with an escape of water excess, the amount varied from £150 to £900. Typically, though, the additional escape of water excess was in the region of £250-£350, with 155 policies charging this.
However, 110 policies applied no additional excess at all for escape of water claims.
Accidental damage cover and pipes
If you're thinking about doing some DIY, watch out – if you manage to hammer a nail into a water pipe, you may not be covered by your home insurance.
If you have accidental damage cover added to your policy, you should have some protection for pipe damage caused by things like wayward drills.
Be warned that claims relating to accidental damage from DIY projects can be a common area of insurance disputes – if you attempt a major DIY project and botch it because you're out of your depth, you may find you have to foot the bill.
Ways to prevent frozen pipes
Frozen and burst pipes and their consequences aren't just inconvenient, they're a safety hazard that can ruin your home.
It's important to be prepared and take a few precautions to prevent your pipes from freezing:
Find your main stopcock and make sure you know how to turn it on and off
Repair any dripping taps
Check your lagging. Any pipes in places vulnerable to freezing, like the loft or down exterior walls, should be fully lagged
If you return home to find a pipe has frozen, turn off the water at the stopcock and open a tap that the frozen pipe leads to.
You can attempt to thaw it with a hairdryer, space heater or towels dipped in hot water. Don't apply extreme heat with something like a blowtorch or naked flame, or you could cause more damage.
If you can't easily thaw your pipes, it's time to call a plumber.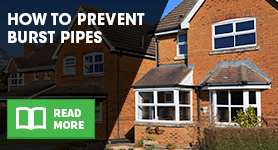 Protect pipes while you're away
If you're away from home during winter, set your heating to come on for an hour a day.
Consider opening your loft trapdoor if temperatures drop – this allows warm air from other parts of the house to circulate in the loft and helps prevent attic pipework from freezing.
Ask a friend or neighbour to visit your home to check that everything's normal. That way, if there is a burst pipe it'll be detected sooner, limiting any damage.
If you're going on an extended holiday, you might want to make sure your home insurance covers you.
Most policies don't provide protection if your home is unoccupied for more than 30 days in a year, so if you're planning a long trip it might be worth looking into unoccupied property insurance.
What to do if you have a burst pipe
If you're unfortunate enough to get a burst pipe, the first thing to do is to turn off the water at the mains and switch off your boiler or central heating system.
When this damage limitation work is done, contact a plumber or heating engineer. Depending on your policy, this may need to be done through your home insurer – most insurance providers will have a 24-hour emergency helpline.
If you need to call a professional to have repairs done immediately and don't have time to contact the insurer, many will reimburse you after the event.
You must make sure this course of action is appropriate and your claim is reasonable, though.
Wherever possible, it's best to contact your insurer before carrying out repairs.
After the initial leak has been stopped, the insurer may send out a loss adjuster to assess the damage and decide what repairs are necessary.
If you need alternative accommodation because your home has been rendered uninhabitable, then the loss adjuster will assess whether this is appropriate.
By Emily Bater