Stumped when your home insurer asks you to estimate the value of your contents? Use our calculator or try our tips to answer the question with ease.
Key points
Try our contents calculator to estimate with ease
Advice for estimating contents cover yourself is basic but important - go from room to room and make a list of all your contents, then add it up
Items valued at a certain level - typically over £1,000 - will need individual consideration
From your list, total up what needs to be covered away from home
While many people tend to overvalue their property when arranging home insurance, they often undervalue their contents.
In the event of crime, fire or flood your belongings may get damaged.
To make sure you have adequate contents insurance cover you need to provide an estimate of the value of your goods.
"Contents aren't just your valuables; the term includes pretty much everything that fills your home," said Gocompare.com's Ben Wilson.
"It's important to make sure you have the right level of cover to replace your items should something happen to them."
Grab a pen and paper
The easiest way to work out how much to insure your contents for is to use our calculator, but if you'd rather do it yourself grab a pen and paper and walk from room to room.
Did you know...?
Some insurers class digital downloads as part of your home contents and include appropriate cover on policies
Make a list of all your possessions and their cost - carpets, curtains, sofas and ornaments can add up to a whopping sum that you may not have expected.
If you have an attic, make sure you include any possessions stored there, and you may need to consider the items you have in your garden, garage or shed.
Patio sets, lights and lawnmowers are all vulnerable to theft and add up to a substantial amount.
Digital downloads are an increasingly important part of modern life and some policies take this into account, so remember this element when assessing the value of your possessions.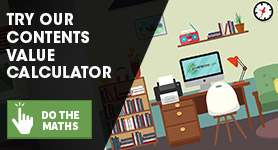 Check your policy terms to see what is and isn't covered - you may need to take additional cover for items such as jewellery and art.
Taking out appropriate levels of content cover
When you compare contents insurance through Gocompare.com, our easy-to-use forms will ask you to estimate the total value of your contents and whether you need cover for bicycles and laptops away from home.
You'll also be asked to name and describe any individual items that are worth over £1,000, and whether you want those items to be covered away from home.
You'll then be asked to input how much cover you need for any other personal possessions away from the home.
Before considering taking out a stand-alone insurance policy for an individual item, it's worth finding out whether you're already covered for it on your home insurance
Ben Wilson, Gocompare.com
Note that any individual item included in this section must be valued under £1,000, even though the total sum covered may be significantly more.
After you've answered these questions you'll see a handy table with a summary of all the cover you've requested.
Note that, in the event of a claim, insurers usually apply a 'single article limit' to items. This is the maximum amount an insurer will pay for an item, and this may differ between item types as well as between insurers.
Consider also whether you want to include accidental damage cover for your contents, and remember to check the excess level.
"Contents insurance will often give you the option to add cover for items like gadgets or bikes when they are away from the home," said Wilson.
"While this can be a good way of protecting your valuables while you're out and about, it's a good idea to check that you're not already covered for some of this before you spend extra insuring it with your contents policy.
"Equally, before considering taking out a stand-alone insurance policy for an individual item, it's worth finding out whether you're already covered for it on your home insurance as doubling up on cover won't offer you any extra protection for your valuables and is a good way of spending money needlessly."
If you regularly carry expensive gadgets like a smartphone, tablet or laptop you may want to consider a dedicated gadget insurance policy.