Guide to arranging home insurance if you have a criminal conviction
Key points
Disclose convictions your insurer asks you about
Convictions considered spent under the Rehabilitation of Offenders Act 1974 do not need to be disclosed, unless the offence resulted in a prison term of over four years
Insurance options if you have a conviction are likely to be more limited and expensive
Shop around using a service such as Gocompare.com, but if you struggle to find appropriate cover there are specialist providers available
If you've been convicted of a crime, you might find it more difficult to get your home and its contents insured.
More than nine million people in the UK have criminal convictions according to Unlock, the charity for people with convictions, so what do all these people do when it comes to finding home insurance?
In April 2013 the law relating to the disclosure of criminal convictions changed, so that convictions considered spent under the Rehabilitation of Offenders Act 1974 no longer need to be disclosed.
This means that they can effectively be ignored after a certain amount of time, so spent convictions shouldn't affect home insurance premiums.
However, this change in law does not apply to people whose conviction resulted in a prison sentence of more than four years - these never become spent so will always have to be declared to insurers.
If you're unsure about whether a conviction is unspent, Unlock's Criminal Record Disclosure Calculator† can help you work it out.
Where can I get home insurance if I have a criminal conviction?
There are a number of options for homeowners and tenants who have a criminal conviction.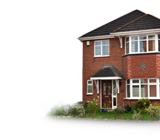 Some mainstream insurers provider home cover, and the Probation Service and HM Prison Service can refer offenders to specialist providers.
Unlock has compiled a list of insurers† - some mainstream and some specialist - which offer cover to people with convictions.
What if other household members have convictions?
Remember that the issues surrounding criminal convictions and insurance are likely to apply to all parties covered by a policy, not just the person making the application.
If you're searching for home insurance, convictions that apply to anyone who lives in the property will be relevant and need to be declared.
Why does a conviction make it hard to get cover?
Premiums for people with convictions are likely to be more expensive than for those without, regardless of what your conviction is related to.
Need more information?
Insurers see people with criminal records as a higher risk, and this may have nothing to do with the nature of the crime they've committed.
The risk of reoffending and a threat of revenge attacks from wronged parties will be considered, and this may mean that insurers decline to provide cover at all.
For this reason it can be hard to find cover online, as simple forms don't allow providers to ask detailed questions about the nature of someone's conviction.
According to Christopher Stacey from Unlock, the way people who have criminal convictions are assessed for insurance is 'personal'.
In an interview with the BBC, Stacey said that this is unfair and that Unlock believes that former criminals shouldn't be treated differently when buying things like insurance.
What could happen if I don't declare an unspent conviction?
If you fail to declare an unspent conviction and need to make a claim in the future, you could find your insurance policy invalidated if your insurer discovers your conviction.
It's important to be completely honest with your insurer about all elements of your personal history, including some things you may rather not share.
You don't have to disclose a criminal conviction that occurs during the course of an existing policy, unless it's explicitly stated in your policy that you must.
When your policy comes up for renewal you must disclose it, whether you remain with your current provider or switch insurers.
Cautions, reprimands and warnings
Simple cautions, reprimands and final warnings are spent immediately and don't need to be disclosed as they're not criminal convictions.
By Emily Bater
[SeanSocialShare]