A guide to electric bicycle insurance, or electric bike insurance if you prefer
Looking for info on electric bicycle insurance? Pedal over here and check out our guide! 
Key points
Bikes are sometimes covered by home contents or personal possessions insurance - check your policy!
Is your level of cover enough to replace your electric bicycle?
The law doesn't make electric bicycle insurance compulsory
Electric bicycles. One vehicle, many names. Electric bike seems to be the most popular among the cycling press, but you'll also see them called: 
e-bike 
eBike 
powerbike 
booster bike 
Electrically Assisted Pedal Cycles (EAPCs) 
EAPC is what they're known by in UK law, but we'll be swapping around between terms in this guide to electric bicycle insurance. 
Just to be clear, we're not talking mopeds or electric motorbikes here. This is a pedal party and you're all invited.   
Why electric bicycle insurance can be important 
The Office of National Statistics reports that "there was a 9% increase in bicycle theft recorded by the police" in March, 2017, and it estimated that 26,000 bicycles were stolen in that year alone. And with electric bikes often more expensive than regular bikes, the impact of theft can be much greater. 
Did you know...?
There's a patent for an electric bike from 1895
But it's not only dealing with theft that electric bike insurance can help you with. "In 2016, 18,477 cyclists were injured in reported road accidents," according to RoSPA. Personal injury insurance can be a feature of electric bicycle insurance. It can be a big help if the worst should happen. 
Do I need specialist electric bike insurance? 
A lot of home insurance contents policies will include bikes as part of their cover. Yet such policies usually come with a limit of how much they'll pay out. And this is likely to below the value of an electric bike. 
And we're not saying they will, but some insurance providers may exclude electric bicycles from their bike cover. It's definitely worth checking your home insurance policy. 
And another thing. A home insurance contents policy is only likely to cover you for theft from your home. Not when you're out and about on your bicycle. Consider adding a personal possession policy to cover you for theft or damage outside the home.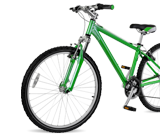 Oh, but there's more. Personal possessions insurance is unlikely to cover you for public liability, completion use, or injury.   
So what should you do? That's totally up to you, but here's a couple of things to consider: 
Got home contents insurance? Check what it says about bikes 
Consider adding personal possessions cover to your home insurance 
Weigh up whether you want greater protection when you're out and about with electric bike insurance 
Getting the right electric bicycle insurance for you  
Think e-bike insurance might be the thing for you? Then let's have a look at what you can expect from a typical electric bike insurance policy: 
Legal expenses insurance 
Accidental damage cover 
Replacement cycle hire costs 
Theft cover - home and away 
Cover for helmets, clothing and accessories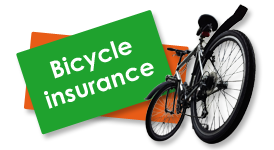 Optional extras that you may want to add can include: 
Cover for family members 
Public liability insurance 
Personal accident cover 
Get you home costs 
Competition use 
European use 
There's plenty of options to tailor the policy to your needs. Most bicycle insurers will usually have the option to select electric bikes when you're hunting for quotes. So shop around and compare prices to find the right deal for you. 
How much is bicycle insurance? 
It all depends on the level of cover you want. Other factors can be where you live, your age, and even what you do for a living. Crime stats for England and Wales have consistently shown that students are more likely to be victims of bicycle theft. 
Make sure that your insurers knows you're getting cover for an electric bike. Also log any modifications with them. 
When does an electric bicycle become a moped and more? 
Want the short answer? It's when it goes too fast. 
The longer answer is that an electric bike must comply with the Electrically Assisted Pedal Cycles - EAPC - (Amendment) Regulations 2015… sexy! 
Does your electric bike have:  
Pedals capable of propelling the bike? 
A max power (strap yourself in and feel the Gs!) of no more than 250W? 
A max speed, with power assistance, of 15.5mph: you can go faster, but only under your own steam
Yes to all three? Then ride on you crazy diamond, your electric bike complies! 
Why does it matter? If your ride is classed as a moped, then that means tax and tests. It also means you'll need to have insurance by law. As we write this in March 2018, insurance is not compulsory for electric bicycles. 
Top tips for cheaper electric bike insurance 
Shop around and compare prices to find the deal for you. 
Use a decent lock. Most insurers will insist on a particular standard. 
Park in a locked garage or shed as well. Two locks are better than one after all. 
Cycling under the influence of drink or drugs is against the law - and will invalidate your insurance. 
Don't leave your bike parked in public for a long time. Some insurers won't pay out if left for more than 12 hours. Yet most extend to 24 hours if parked at a train station, for example. 
By Sam Easterbrook