Guide to insuring a farmhouse
Key points
Compare home insurance quotes to find specialist insurers who might give a good deal on rural properties
Think about beefing up security in secluded locations
Don't confuse farmhouse insurance with farm insurance, which protects your business
Whether your farmhouse is big and rambling or a cosy cottage, it'll need home insurance.
This isn't to be confused with farm insurance, which covers your business if you own a working farm.
Regardless of whether your farmhouse forms part of a working farm or not, it will be a little different to a standard suburban home, so there a few things you need to consider when taking out cover.
Insuring your farmhouse
When you use Gocompare.com's comparison process, you'll be asked what type of building your home is. Under 'other', you'll be able to select 'farmhouse' as an option.
Home insurance for a farmhouse doesn't differ greatly from insurance for a standard home, but there are a few aspects of living in a farmhouse which could mean your choice of premiums is more limited.
Need more information?
On the other hand, it could also mean you're eligible for competitive quotes from insurers who specialise in rural properties.
As with standard homes, farmhouse buildings insurance is partly calculated based on rebuild costs.
You can find out your home's rebuild cost by using a rebuild calculator (which is available in our quotes process), or it may be included in your survey if you had one done when you bought your home.
Make sure your home's contents are covered by accurately calculating their value as well.
If you live on a farm and work from home you may need different cover for tools and equipment than if your farmhouse is purely a dwelling.
Farmhouse security
Farmhouses may have more security issues than standard homes due to a number of factors.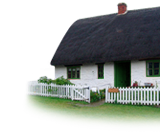 By their very nature they're more likely to be in remote and lonely locations.
This could make them more vulnerable to burglary and security breaches than properties in built-up areas where there are more people around and, perhaps, Neighbourhood Watch schemes.
If your home is part of a working farm, the presence of livestock and machinery could make it an attractive potential target for thieves.
It may be worth thinking about installing a burglar alarm, to give you extra peace of mind and other benefits. However, note that this is unlikely to lower the cost of your home insurance significantly enough to offset the cost of installation.
Also, be honest with your insurer about how and when you use your alarm – if you tell your insurer you have an alarm and it isn't in use when you're burgled, you could invalidate your insurance.
Keep doors and windows secure and be sure to accurately tell insurers which locks protect your property.
DIY and farmhouses
If you buy an old farmhouse that needs fixing up, you're probably going to do quite a few home improvements.
If you're renovating and need to live elsewhere for more than 30 days, you might also need unoccupied property insurance.
Let your insurer know if you're planning any large-scale building work where professionals will be in your home, and make sure you have accidental damage cover if you're planning on having a go with a drill yourself.
You may have to add this to your home insurance as an optional extra at an added cost.
By Emily Bater