Compare cheap farmhouse insurance quotes with GoCompare
Owning a farm can be both challenging and rewarding. 
Key points
If you're looking to insure your farmhouse, you may need to go with a specialist insurance provider
Farmhouse insurance differs from farm insurance in that it focuses on the dwelling rather than the farm as a whole 
Due to the seclusion of your property, additional security measures may be required, such as a burglar alarm
When life and business mix, as they so often do for farm owners, it can make things tricky when it comes to sorting out things like insurance. 
What is farmhouse insurance? 
Okay, first things first, it's important to remember that farmhouse insurance isn't the same thing as farm insurance. 
While farm insurance covers the business of a working farm – e.g. vehicles, machinery, livestock, fences, etc. – farmhouse insurance focuses on the property in which the landowner resides and actually lives. 
To make matters a tad more confusing, insurance for farmhouse properties can also vary slightly from that of a standard home insurance package. 
A farmhouse can also be considered a place of business. 
However, any tools and machinery probably won't be covered by your farmhouse insurance - you'll need additional cover, in this case. 
What's included in a farmhouse insurance policy? 
Farmhouse insurance will typically cover building and contents cover, protecting items such as furniture and appliances, along with the structure itself.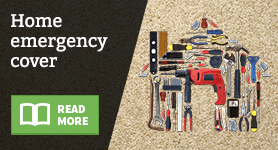 Some specialist insurers may offer a combined package that covers the farm and farmhouse under one policy. 
However, if you opt to explore this route, be sure to read the fine print carefully. 
They may offer farm building insurance – meaning outbuildings such as barns, etc. – without including the actual farmhouse in that definition.
Where can I find the best farmhouse insurance? 
When finding the right farmhouse insurance for your property, it can be difficult to know what insurance company is best for you and which policy is best for your home.
A great way to help separate a cash cow from a raw deal, is to do your homework. 
Read independent reviews on different insurers to get a better idea of the service they provide and don't just focus on the price of a policy - if it doesn't cover what you need it to, it's no good. 
Top tips for farmhouse insurance
The overall price of your farmhouse home insurance will largely depend on the cost of rebuilding your home in the event of a structural mishap. 
Undervaluing or underinsuring your farmhouse can lead you to some serious issues down the line. 
It's important to base your insurance sums on the cost of rebuilding - you can do this easily by using an online calculator. 
You can also try and reduce the cost of your premiums by joining a Neighbourhood Watch scheme and increasing the security of your farmhouse.  
The most important thing is to get the right cover at the right price to make sure your home is protected. 
By Martyn Grant