If you're going to a festival, do you have personal possessions insurance away from home that adequately covers your valuables?
Consider these options
Add cover for items away from home to your home insurance
Does your travel insurance offer protection?
Think about the pros and cons of dedicated gadget insurance policies
Whatever you choose, check your level of cover and exclusions
Summer is festival time, and research from Gocompare.com suggested that over two million UK adults planned to attend music festivals in 2013.[1]
It's fair to say that personal possession insurance is unlikely to have been at the forefront of their minds, and our research suggested that just 54% had appropriate cover from their home insurance.[2]
But while enjoying the festival atmosphere, fun-lovers should at least consider the valuables they've taken with them.
Over the years, expensive items such as smartphones and tablet computers have become a familiar site in the midst of the mud and mayhem.
Festivals are an easy target for opportunist thieves, with thousands of valuables left in unsecured tents, or in the pockets of distracted individuals positioned in tightly packed crowds.
Music aficionados also risk breaking or losing their jewellery and valuables in the festival hordes. In 2012 there were over 700 lost items handed in during the Glastonbury Festival, including 118 mobiles and 38 cameras.[3]
Insuring possessions away from home
"Festivals can be a great way to spend a long weekend with friends and family, but it's important to remember to take care of your valuables," said insurance expert Caroline Lloyd.
"Unfortunately, there are people who look to take advantage of us when we let our guard down to have fun and, although security staff usually do an excellent job at these events, it's important to stay vigilant.
"It's worth making sure you are insured for any valuable items you're considering taking.
"Better yet, really consider whether you need to take any valuables with you at all, as having to foot the bill for losing or breaking any expensive items is a sure-fire way of turning a festival to remember into a festival you'll want to forget."
Festival insurance options
When assessing your options for insurance cover at festivals, you should consider any cover you may have through your travel insurance, packaged bank account or premium credit card.
Though it sometimes feels like we're joined at the hip to our gadgets, it's worth considering if you really need to take them with you in the first place
Also weigh up the pros and cons of a dedicated gadget insurance policy, but the simplest option may be to ensure you have appropriate cover through your home insurance.
When you shop for home contents insurance through Gocompare.com you'll be asked to estimate the total value of your possessions, then whether you need cover away from home for bicycles, laptops and/or any other individual items valued at £1,000 or more.
If so, you'll be asked to to input further details of the items requiring cover.
You'll then be asked to input how much cover you need for any other items away from home - note that any individual item included in this section must be valued under £1,000, even though the total sum covered may be significantly more.
In the event of a claim, insurers usually apply a 'single article limit' to items. This is the maximum amount an insurer will pay for an item, and this may differ between item types as well as between insurers.
Before you buy your cover we recommend you check that the limits provide sufficient cover for your needs. You can find this information in the policy summary.
Also think about whether you need accidental damage cover for your contents, an option you can include in our quotes process.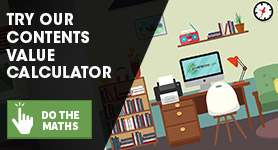 When you've finished answering these questions you'll see a handy table with a breakdown of the cover you've asked for which you can review before proceeding to compare quotes.
"If you're somebody who really can't live without their smartphone or tablet, then it's worth considering adding cover for items away from home to your house insurance policy," said Caroline.
"This may increase the cost of your home policy, but it could prove to be a worthwhile investment should you need to make a claim.
"In one example, Gocompare.com found that adding £2,500 worth of cover for items away from home added around £1.50 a month to the cost of a contents insurance policy.[4]
"Before going to a festival, check your documents to make sure you're aware of the level of cover that you have.
"For example, though most policies with cover away from home will protect your items if they are lost or stolen whilst you're carrying them, some will class anything you leave in your tent as 'unattended' and will not foot the bill, even if your tent was locked.
Most UK festivals offer locker facilities which should be large enough for things like money, wallets and phones
"It's also important to consider that the amount your insurer will pay out for your phone can vary. For instance, some insurers will cover the full value of your mobile, while others may only pay up to a fixed amount, such as £150."
Do you really need festival cover?
"Though it sometimes feels like we're joined at the hip to our gadgets, it's worth considering if you really need to take them with you in the first place," said Caroline.
"You could even invest in a cheap mobile phone so that you can temporarily downgrade from your smartphone to one that is less attractive to thieves.
"Also, it's worth noting that using apps and features like 3G will drastically reduce your smartphone's battery life so, unless you want to spend your weekend queuing up to charge your device, a model with less frills could be a better fit for you."
If you're in a tent, lock it
"If somebody is looking to get into your tent they'll probably be able to, regardless of whether there's a padlock on the zip or not," said Caroline.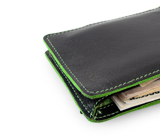 "But it's worth considering that a proportion of crimes at festivals will be opportunistic and thieves will be looking to take advantage of unsecured tents.
"By putting a lock on your tent you're making it more difficult for somebody to gain access to it without drawing attention to themselves.
"As a result, would-be criminals will be more likely to move on to one of the thousands of other tents in the campsite than spend time cutting into yours."
Spread your valuables out and lock them away
"For things that you absolutely must have - like your wallet, ID, cash or keys - it's worth considering getting a locker," said Caroline.
See also:
"Most UK festivals offer locker facilities for a fee. The lockers available are usually quite small, but should be large enough for things like money, wallets and phones.
"For the times when you're carrying cash, hide your money in small amounts around yourself and your tent. This way you'll make it harder for thieves to find should they try to pickpocket you or break into your tent."
If the fashion police allow, you could even consider a money belt!
Going abroad? Get travel insurance
"Overseas festivals are becoming increasingly popular, with European festivals like Benicassim and Optimus Alive offering music lovers a chance to see their favourite bands in sunnier climes," said Caroline.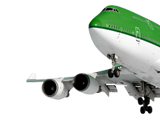 "But if you're planning on heading abroad for a music festival this year, travel insurance and a European Health Insurance Card are just as important as your tent and your ticket.
"Though you might not consider a festival as a traditional holiday, you'll still need cover should you get ill or injured, or if for you need to cancel your trip.
"Without holiday insurance ill or injured festival goers could face running up thousands of pounds in medical bills with no way to return back to the UK.
"When taking out travel cover, it's important that you read your policy documentation carefully as there will usually be conditions, such as not leaving your items unattended, or perhaps certain alcohol-related exclusions.
"For instance, most policies will accept that you're likely to drink alcohol while away, but will not cover you if the police or a doctor believe your alcohol consumption was a major factor in an incident."
By Sean Davies
[SeanSocialShare]