Guide to flat insurance for owners and renters
Key points
Decide if you need buildings insurance, contents insurance or a joint policy
The needs of flat owners looking for buildings cover will depend on whether they're freeholders or leaseholders, and on any communal policy arrangements
Contents insurance requirements will be more complicated if you're in a shared flat and/or you're a student
Home insurance is made up of two parts; buildings cover and contents protection.
The buildings insurance protects the structure, including any fixtures and fittings, while the contents cover protects your actual stuff.
So if you're renting a flat you should consider a policy that protects your contents, and if the flat belongs to you then you need to think about building and contents cover.
Buildings cover for flat owners
Flat owners may query whether they need to insure their bricks and mortar, given that they share a building with other occupiers.
Well, the short answer is yes, they do - buildings cover is usually required by a mortgage provider to protect their investment.
Even if you don't have a mortgage and you own the flat outright, you're likely to want to have protection in place for such a major investment.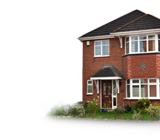 Freeholders and leaseholders
It's the freeholder who's usually responsible for providing buildings insurance and, as many flat owners are leaseholders, they simply pay for buildings cover as part of their service charge.
If you're in this position remember that you have a right to see that insurance policy and inspect it, so contact the company managing the freehold for more information.
If you feel that you're paying over the odds at renewal, take this up with the company managing the policy.
Need more information?
They should review it, and you may make a significant saving as a result.
If you own the freehold collectively with the other flats, then it's up to the community to arrange cover.
If you're in the unusual situation of not having cover for the overall building, you may still be able to insure your particular flat.
However, most insurers like to insure flats under one policy, so there's no confusion over who should pay for communal areas like the stairs.
There are exceptions to this, of course. For example, if one building has been converted into a couple of self-contained flats then each homeowner is likely to be responsible for their own buildings cover.
Buildings and contents cover for flats
Unlike buildings insurance, contents insurance is never a necessity, but most people feel far more confident knowing that their possessions are protected.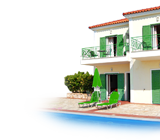 The right contents cover can help you if you lose out because of things like burglary, accidental damage and even flooding.
If you're a freehold flat owner and you want both builds and contents cover, you'll probably find that organising a combined policy is both cheaper and more convenient, although you need to remember the issues noted regarding collective freeholds.
If you enter Gocompare.com's quote process, you'll have the option of looking at just buildings cover, just contents cover, or combined policies.
Insurance if you're renting a flat
If you're renting a property then the whole question of home insurance becomes far simpler.
Some insurers will refuse cover for shared flats or add extra exclusions, especially if bedrooms do not have their own locks
You only need contents insurance - it's up to the landlord to protect their investment with buildings cover.
A stand-alone contents insurance policy offers protection for personal items that are not fixed to your flat.
Items to consider under flat contents insurance would include appliances and other electrical equipment, clothes, jewellery and furniture.
Policies differ and add-ons are available, but some can cover items that are taken outside the home, such as bicycles, mobile phones, laptops, jewellery and cameras.
Many policies offer replacement protection on a new-for-old basis, but others - known as indemnity policies - offer less cover as they take wear and tear into account.
This may mean that the premium on an indemnity policy is cheaper.
A good contents policy should offer you protection against fire, theft and other losses, but bear in mind that accidental damage may be an optional extra.
Contents cover for shared flats
There are a few more complications if you're renting a room in a shared flat.
For a start, it can be hard to get everyone to agree to taking out a policy. Not everyone sees home insurance as essential, particularly when money is tight.
Of course, when money is tight you're not in a position to replace any stolen belongings, making it even more important to buy cover - but will your flatmates agree?
There's also the danger that your flatmates' actions could invalidate your cover. For example, if they leave the door unlocked or a window open and that's how a thief gets in.
You also run the risk that previous tenants still have keys - insurers take a dim view of it when the burglar lets themselves in.
Some insurers will therefore refuse cover for shared flats or add extra exclusions, especially if bedrooms don't have their own locks.
See also:
You should still be able to find flat insurance easily enough, although your choice of provider may be limited and your premiums may be more than you'd anticipated.
But always make clear to insurers the living arrangements in your shared flat or - in the event of a claim - your policy is likely to be invalid.
Insurance for students in flats
Student living arrangements can be somewhat unique, but if you're a student living in a rented flat away from home you may be able to find the cover you need by comparing contents insurance through Gocompare.com.
Bear in mind that the number of insurers who will quote for you may be more limited than for non-students, particularly if you're living in a shared flat.
If you are sharing and/or living in a halls of residence, you may need to think about a dedicated student insurance policy.
How to cut the cost of flat insurance
With any insurance policy, the most important thing is to find the right cover at the right price - and not simply the cheapest policy.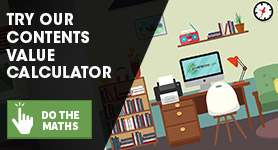 So there's no point under-insuring yourself in order to keep costs down - you'll just be left in the lurch if disaster strikes.
Not only that, but some insurers won't pay out the maximum if your policy falls short of your belonging's value.
So, if you have £10,000 of contents cover, but your belongings are actually worth £40,000, you could find that your insurer refuses to pay out more than £2,500.
Of course, you also need to be careful not to over-insure yourself, as this is just a waste of money. To estimate the contents cover you need, why not try our contents calculator?
Finally, the best way to keep the cost down is to compare flat insurance and find the right deal for you.
By Felicity Hannah