Guide to insuring properties with flat roofs
Key points
Estimate how much of your roof is flat using a simple drop-down menu in our quotes process
If less than 30% is flat then the impact on your search for insurance is unlikely to be too marked
The greater the percentage the less insurers will quote and the higher the premium will be
Specialist flat roof insurers may be able to help if you're struggling to find appropriate cover
The first thing you'll need to do if you're seeking insurance cover for a property with a flat roof is to estimate the percentage of the roof that's flat.
If you choose to use Gocompare.com's home insurance comparison service, you'll be asked to make that estimate from a simple drop-down menu.
In general terms, the less of the surface that's flat the more insurers will offer you quotes, and the cheaper your premiums are likely to be.
If less than 30% of your roof is flat then the impact on your search for insurance is unlikely to be too marked.
If the figure is over 30% then your premiums are likely to rise and you should expect your options to be more restrictive.
Don't be tempted to under-estimate the amount of your roof that's flat, though - giving inaccurate information to insurers will invalidate your policy.
In our quotes process you'll be able to choose whether you want buildings cover, contents cover or a combined policy for your flat-roofed property.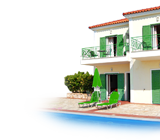 Our quick and easy-to-use forms will help you with all the other things you need to arrange the right home insurance policy, with independent information and star ratings available from Defaqto.
If you need more information on property insurance take a look at our guides, where you'll find money-saving tips and the answers to frequently asked questions.
Why are flat roofs more difficult to insure?
Flat roofs are seen as more of an insurance risk because they're thought to make a property more vulnerable to weather damage and to criminals.
Need more information?
Some flat roofs are thought to offer easier access options to burglars, increasing the risk of theft.
The type of roof design is also not best suited to the UK climate, which sees high levels of rainfall and, sometimes, heavy snow.
Water, snow and ice can gather on the flat surface, rather than sliding off it.
Consequently, flat roofs can be subject to leaks, they can have a shorter life span than a more traditional roof, and they take more maintenance.
Specialist flat roof insurers
We hope that you try our quick and easy comparison service to see if we can help you get the policy to suit your needs, but if you're struggling to find an insurer to cover your flat roof there are other options to consider.
Dedicated flat-roof insurers
May consider whether the roof's been recently repaired
Could take account of modern building materials
Some policies require regular inspections of the roof
Some insurers specialise in flat roof cover and going to them direct, or using a broker to find them, may help you get the right policy.
Such specialist firms may take into account factors such as whether the roof has been recently repaired and whether it uses modern materials that can offer better resistance against the elements than older roofs.
Some insurers may ask for regular inspections of the roof, perhaps every few years, something that can help you keep your property in a good state of repair and save trouble and expense for both you and your insurer.
By Sean Davies