Rain in your spending by comparing flood insurance with GoCompare
Key points
Find out if your home is at risk of flooding by checking the relevant flooding authority in your region
Flood Re may be able to help you find affordable home insurance for flood risk areas, even if there is significant risk of flooding 
Compare a variety of flood insurance providers and weigh up your options
If your property's at risk from flood damage, lack of adequate home insurance could leave you swimming upstream financially.
Turn the tide on Mother Nature by protecting your home with flood insurance and keep your finances afloat, even in the event of a flood.
Do I need flood risk home insurance?  
The UK climate is often characterised by grim weather. 
In fact, according to Statista, the UK saw 147.4 days of rain in 2018.† That's a lot of cancelled barbecues! 
If your home is at high risk of flooding, it's worth looking into flood insurance – this is one time you definitely don't want to take a rain check. 
How do I know if my area is at risk of flooding? 
Wherever you live in the UK, you can check out your area's risk of flooding at the following links: 
How are flood risks categorised? 
The Association of British Insurers (ABI) has split flood risk homes into three separate insurance categories, based on the annual likelihood of flooding in a given area.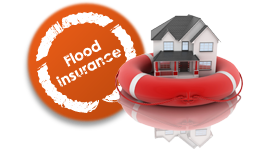 These categories are as follows: 
Low risk 
The chance of flooding is 0.5% or less a year (1/200) 
Moderate risk 
The chance of flooding is between 0.5% (1/200) and 1.3% a year (1/75) 
Significant risk 
The chance of flooding is greater than 1.3% a year (1/75) 
What's included in a flood risk insurance package? 
A good home insurance package should keep you covered in the event of flooding. 
Buildings insurance should cover the fixtures and fittings, along with costs associated with repairing the damage caused by the water. 
Meanwhile, contents insurance should cover the items within the home, such as furnishings, electrical appliances and your personal possessions. 
If you're renting a property that's at risk of flooding, it's important not to simply assume you're covered under your landlord's flood insurance policy. 
Flood policies may vary slightly from one home insurance provider to the next too.
Generally, most will protect your home from sudden bouts of rising water; e.g. if there was a particularly heavy spell of rainfall or a river burst its banks, causing your home to flood. 
An internal source, such as a burst pipe or leaking water tank, would classify as escape of water and not typically qualify as flooding. 
And to confuse things even more, cover relating to car insurance flood damage will need a separate policy again. For further info on this, head on over to our page dedicated to flood insurance cover for cars. 
Where can I find the best insurance for flood risk areas? 
The government's flood protection initiative, Flood Re, can help keep you covered and plug any holes in your policy. 
Did you know...?
Flood risk assessments can be challenged, but you'll need significant supporting evidence
Flood Re is essentially a not-for-profit organisation, designed to help homeowners find affordable home insurance with flood cover in areas at high risk. 
In addition to providing information and advice on how to reduce the risk of flooding, Flood Re works with insurers behind the scenes to provide flood coverage on their behalf, lowering the cost of the premiums in the process. 
Top tips for cheaper flood risk insurance 
One of the most effective ways to find a great flood insurance quote is to simply shop around. 
Compare your options and go for the one that ticks every box for you - not just the cheapest option. 
Dive in and see what you could save today! 
By Martyn Grant