Guide to insuring homes at risk of flood damage
Key points
Check a home's flood risk using the property's history and official flood maps
Risk levels on a building may be catalogued as low, moderate or significant
Insurance for flood-hit homes is usually available, but your choice of providers will be restricted and premiums may be more expensive - the new Flood Re scheme should help provide more options
Should you choose to look for a quote using Gocompare.com's home insurance comparison service, you'll be asked from a dropdown menu what distance your property is from water and whether, to the best of your knowledge, it's ever been flooded from an outside source.
When thinking about the distance from water, include rivers, streams, tidal waters, lakes and other watercourses.
Flooding from an outside source includes (but is not limited to) tidal waters, rivers, streams, lakes and other watercourses, rain or melting snow, and extreme weather conditions.
Insurers need to know about the property itself, its outbuildings and anywhere within its boundary.
When answering this question you DON'T need to include flooding caused by a source within the structure of the property, such as a burst pipe or a leaking water storage tank.
Need more information?
If your property has been struck by flooding in the past then it's likely that your choice of insurers will be more limited and the premiums higher.
But we can't stress enough how important it is to be truthful - giving false information is illegal and could mean that any policy you subsequently choose will not pay out when you need it.
If you can't find a suitable policy using a comparison website there are other options to consider, with specialist brokers, or brands such as HomeProtect who may be able to offer more of a bespoke service.
In all cases, remember that home insurance premiums are set by individual insurance companies and will be reflective of risk.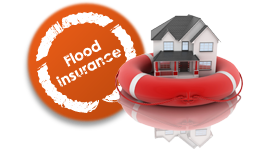 Flooding is a force of nature that cannot always be controlled, but read our guide to ways of minimising the risk and damage of flood waters.
What about home businesses?
Large number of businesses in the UK are run from the home, but not all of them will have considered the insurance implications of a catastrophic event like a flood.
Don't assume that your home policy will cover you - check your terms and conditions, but it's unlikely that a domestic policy will offer protection, and you should consider dedicated business insurance products.
Think also about ways to keep your business running through the upheaval of a flood. Could, for example, a mobile broadband package help you stay in touch and fulfil your customer's needs?
Checking if a property is a flood risk
To find out whether you live in an area at risk of flooding in England, you can check using the government's online service.†
For Scotland, you can use the flood information on the Scottish Environment Protection Agency (SEPA) website.†
The flood maps show the areas of land that may be at risk of flooding, either from rivers or the sea. Not all properties in these areas will flood but they may still be at risk.
The map will tell you the probability of flooding in your area - but bear in mind that this is limited to the probability of the land flooding, not individual properties situated on that land.
You should also consider the risk of other sorts of flooding,† including reservoirs, sewers, surface water and groundwater flooding.
Home insurance in flood risk areas
The Association of British Insurers (ABI) member companies have agreed three categories of insurance provision based on the annual statistical chance of flooding in any given area.
These categories take into account any local flood risk management and investment plans.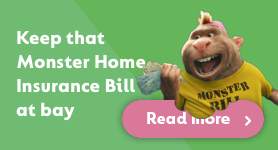 Low

The chance of flooding in any year is 0.5% (one in 200) or less
Moderate

The chance of flooding in any year is 1.3% (one in 75) or less, but greater than 0.5% (one in 200)
Significant

The chance of flooding in any year is greater than 1.3% (one in 75)
Flood Re
The not-for-profit fund called Flood Re is a scheme agreed by the government and insurers to make cover available and affordable for high-risk properties. It's the long-term replacement for the Flood Insurance Statement of Principles that was initiated in 2000.
The Flood Re fund is built up from a levy charged on insurers to cover the cost of insuring at-risk homes, with premiums for flood risk capped for householders according to their particular council tax bands. The excess level for flood claims is also capped; at the scheme's launch it will be £250.
Did you know...?
Flood risk assessments can be challenged, but you'll need significant supporting evidence
You should note that there are significant exclusions involved with this scheme, though, and remember that it's only the flood-risk element of the premium that's capped.
Insurers themselves will continue to set the price of premiums, also taking into account other factors such as subsidence, fire and crime, meaning that it's important to shop around for the right deal and price.
The support offered by Flood Re may mean that more insurers enter the market for flood-risk properties, potentially increasing choice and bringing better, cheaper policies into the market.
In properties excluded from the Flood Re scheme, insurance companies will attempt to work with policyholders on a case-by-case basis to determine what action they, along with the Environment Agency and Local Authority, can take to enable cover to be provided.
This may include, for example, temporary barriers that are deployed when the risk of flooding is heightened. The measures may come down to the level of individual households, with solutions like removable flood defence products.
Did you know...?
Burst pipes inside the property aren't classed as flooding from an outside source
Challenging a flood assessment
If you think a flood risk assessment is wrong and you want to contest it, you'll need to speak to your insurance company to discuss what supporting evidence you'll need to provide them with.
Examples of such evidence typically include:
Topographical information that demonstrates that your property is higher than known flood levels
Evidence that all occupied areas of the property are above known flood levels
Evidence of action to reduce flood risk by the wider community, or by you as an individual
By Sean Davies