Get the answers to FAQs on home insurance policies, then compare quotes to find the right deal for you.
See also:
Do I need home insurance?
Home insurance can protect not only your property but also what's inside it, depending on whether you have buildings insurance, contents insurance or both. Read more in our beginners' guide to home insurance.
What's buildings insurance?
Buildings insurance protects the structure of your home and its permanent fixtures and fittings, such as fitted kitchens and sanitary ware. You need this type of insurance to be able to get a mortgage, and even if you own the property outright you're likely to want to ensure you have adequate financial protection for your valuable real estate.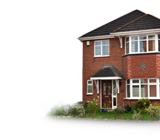 What's contents insurance?
Contents insurance covers your personal possessions and valuables against accidents, theft and loss.
Should I buy a joint buildings and contents policy?
This depends on your situation, for example whether you rent or own the property, and also what you require from your home insurance. But if you require both buildings and contents insurance then buying a joint policy is likely to be the most cost-effective and convenient option.
How do I calculate the rebuild cost of my home?
The rebuild value of your home differs from its market value. When you complete a quote on our site you'll have the option of accepting an estimated rebuild value or entering your own figure, which can be arrived at with the help of a calculator from the Building Cost Information Service website.
How do I accurately estimate the value of my contents?
Using our contents calculator should be the easiest way... otherwise, simply walk from room to room adding up the value (new for old) of each item in your house - it's a pretty basic process, but read our article for some tips on getting it right.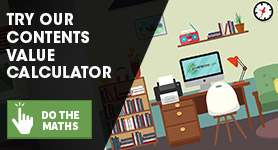 How do I know if I have the right locks?
When you reach the question about window and door locks in our quote process you'll be able to see pictures which you can compare against the locks in your property - read more about locks and home insurance, where you'll also find a handy video.
How do I know when my property was built?
You can find out this information by checking your mortgage valuation or a previous survey. If you don't have these, enter your best estimate. Note that insurers want to know the approximate year in which the property's foundations were first laid rather than when subsequent rebuilds, renovations or extensions were carried out.
What classes as an accessible window?
Accessible windows are windows, skylights and/or rooflights that are at ground floor or basement level, or within easy reach of the ground and capable of being opened (such as a first-floor window above a flat-roofed, single-storey extension).
What classes as an extension?
A property has been extended if additional floor space has been added to the original building, for example a single- or double-storey extension or a conservatory. Integral garage conversions, loft conversions, and cellar or basement conversions are not classed as extensions.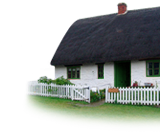 What's considered a good state of repair?
A good state of repair would mean that the property is habitable and in good condition and that any necessary maintenance and repairs to walls, roofs, chimneys, windows, doors, heating and electrics are being carried out.
Is a garage considered a room?
No, and nor is a shed. A conservatory, however, is classed as a room.
How do I calculate my flood risk?
Flooding is a key consideration used by insurers when offering a home policy. To find out more, read our guide on home insurance and flooding.
What's subsidence?
Subsidence occurs when a property's foundations start to sink due to movement of the surrounding earth.
What's landslip?
Landslip is where the ground supporting or surrounding the building slides away.
Why do you ask about tree damage?
We include this question as some of the insurance companies we visit require information about 'heave' - which occurs when the ground expands due to excess moisture - and tree root damage, so that they can provide you with a quote.
Did you know...?
Features such as flat roofs or thatched roofs are widely viewed as non-standard by insurers
The insurance companies who don't ask about trees say in their terms and conditions that they don't cover properties with trees in the near vicinity.
The typical factors to consider are the height of a tree and its distance from a property. Height and distance restrictions can vary and need to be checked on your insurance policy.
You can read more about heave and tree root damage in our dedicated guide.
Am I covered if I take property out of my home?
Some policies will cover items taken out of the home, like mobile phones, laptops and jewellery. If you want this facility you may need to buy additional cover known as personal possessions or all-risks cover.
What's a single article limit?
In the event of a claim, insurers usually apply a 'single article limit' to items. The single article limit is the maximum amount an insurer will pay for an item, and this may differ between item types as well as between insurers. Before you buy your cover we recommend you check that the limits provide sufficient cover for your needs. You can find this information in the policy summary.
What's accidental damage cover?
This covers loss or damage of an accidental nature. With buildings insurance, this could cover an incident such as accidentally knocking a nail through a pipe, whereas contents insurance could cover paint spilt over a carpet or a valuable vase being smashed.
Exclusions such as normal wear and tear and accidental damage caused by pets usually apply and, whilst accidental damage cover is included with some policies, with others you might have to buy it as an add-on.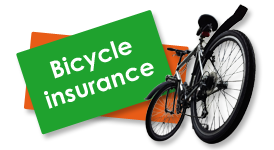 Does home insurance cover my bicycle?
Some policies will cover your bike as standard under your contents insurance, generally up to a certain value. Most will require additional cover to insure your bike away from home, though. Take a look at our article on bicycle insurance policies.
Do I need business insurance if I work from home?
If you work from home in any capacity, it's essential to inform your home insurer. You won't necessarily have to take out additional cover, but not telling them could invalidate a future claim.
When obtaining quotes for home insurance through Gocompare.com, you'll be asked if your home has any business or professional use. It will be classed as such if you have business-related visitors to the property more than once a month, if you or anyone else run a business from the property, or if paying guests stay in your home.
Occasionally working from home for your employer doesn't usually count as business use. To find out more about the different types of business insurance, read our guide to insurance if you work from home.
My property's unoccupied - can I still get a quote?
There are insurers on our panel who can insure properties left unoccupied for a short period of time, typically up to around two months. In our quotes process you'll be asked if the property is left unoccupied for longer than 30 days and, if so, whether it's for 30-45 days, or more than 45 days.
Ensure you answer accurately, but note that the longer the property is unoccupied for the fewer insurers you'll have to choose from, and the higher your premiums are likely to be. If you can't find a suitable quote or you need cover for an extended period of time, try our unoccupied property insurance page.
Can I get insurance for a holiday home?
Regular home insurance policies are unlikely to cover a second home, which may be left unoccupied for long periods of time and could be subject to additional risk factors if the property's let out. There are specialist holiday home insurers who can offer you quotes, though - try our dedicated holiday home insurance page.
Does my family's home insurance cover me as a student?
Student insurance can be a diverse area that needs careful consideration. If you're in halls of residence then you're likely to need a dedicated student policy, although it's possible that your family's home insurance may be extended to cover your needs.
If you're renting in private accommodation, you may be able to find appropriate cover through a regular home insurer, using our contents insurance search.
What's classed as a self-contained property?
A property is considered to be self-contained if it was constructed (or has been adapted) for use as living accommodation and has its own kitchen, bathroom and toilet facilities (and these are not for communal use with other properties).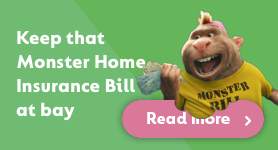 You should only describe your home as self-contained if it conforms to this description and has its own lockable front door.
Examples of self-contained properties may include annexes or 'granny flats' attached to (or part of) a main property, or conversions where, say, a large house has been converted into separate flats or bedsits.
How do I know if my property is a listed building?
A listed building is one which has been placed on the Statutory List of Buildings of Special Architectural or Historic Interest. In England and Wales you can search the National Heritage List† to find out if your property is listed. Alternatively, you can contact your local authority.
What's specialist home insurance?
If your home is not a standard build ie brick walls with a tile roof, you may require specialist home insurance. Features such as flat roofs or thatched roofs are widely viewed as non-standard by insurers.
Can I get home insurance if I have a conviction?
You should be able to get home insurance if you have a criminal conviction, but you're likely to find your choice more restricted and your premium more expensive.
Why do you ask about cats and dogs?
This is an entirely optional question for research and marketing purposes, but you should be aware that insurers typically exclude cover for accidental damage caused by pets.
How can I make my home insurance cheaper?
There are a number of factors which could help to reduce your home insurance premium, including improving your home security and increasing your voluntary excess.
Any other questions?
See if you can find the answers in our home insurance guides.
By Sean Davies
[SeanSocialShare]