Is your handbag, rucksack, day pack or briefcase and all its contents covered by your home insurance when you're out and about?
Key points
Check your contents insurance to find out if your bag and contents are covered inside and away from the home
Ask your insurer about additional cover for outside the home if it's not included as standard
Check the individual item and total contents limits for personal possessions provide enough cover
Like most people, your bag is probably home to all your personal essentials when you're not at home - money, cards, sunglasses, makeup, phone and possibly other gadgets too.
So what would you do if it was lost or stolen?
First port of call - make sure your gear is properly insured under your home insurance, contents insurance or personal possessions cover.
Will your home insurance cover a handbag and its contents?
Your home contents policy is the first place you should check to see if your handbag and its contents are covered.
Most policies will cover valuables as standard, up to a specified limit. These individual items will usually be insured up to a certain limit for each item - generally, from £1,000 to £3,000, each depending on your policy - and up to an overall specified limit.
As long as your bag (or bags) and the items they carry don't exceed these limits, they'll be covered inside your home.
However, if you own a very expensive designer handbag, phone or another gadget worth more than the single item limit, you may be required to take out extra cover.
If you don't tell an insurer about these then you won't be able to claim for them, so it's always worth checking with your insurer.
Cover outside your home
Home contents insurance will usually cover your possessions while they're within the boundaries of your home.
On 20 July, 2017, GoCompare analysed 433 contents insurance policies listed on the matrix of independent financial researcher, Defaqto. 
A whopping 90% of policies would cover contents in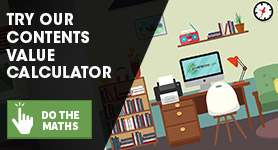 the open (outside, but within the perimeters of your property) worth £300 or more - so if your bag got pinched while you were getting in the car, it's likely you'd be able to claim.
And good news designer junkies, 6% would cover you if the bag and its contents are worth £1,000 more. 
Chances are you'll stay covered when stepping over the property boundary too - only 2% of policies wouldn't offer 'single item away from home' cover as part of its personal possessions clause. 
Most policies will cover money and keys away from the home as standard - replacing the locks is a breeze - and some will cover mobile phones, so some items may be covered as standard.
The important thing is to read your policy documents to find out exactly what's covered and what isn't.
When you consider the value of all the items you carry around outside the home, it may be worth considering adding extra cover to protect them.
How do you insure your handbag outside your home?
To insure your handbag (or day pack, or another bag you use outside the home), check your policy or ask your insurer to see if you can add cover outside the home.
The majority of home insurance policies allow you to add personal possessions cover as an optional extra - and this will include your bag and its contents.
Some companies also offer specific handbag insurance, which might be worth considering if you own a lot of expensive handbags.
Personal possessions cover
The majority of home insurance policies allow you to add personal possessions cover as an extra - and this will include your bag and its contents
Sometimes known as personal belongings, or 'all risks' cover, personal possessions cover extends your home insurance protection for items that you regularly carry with you.
This means you will be insured for loss, theft and damage away from home, often abroad too.
Bags, purses, wallets, mobile phones, tablets, sunglasses and jewellery will be included, while cash and credit cards may also be covered - sometimes these are specified separately under the 'personal money, credit and debits cards' section of your policy. 
Check to see what the individual item and total value limits are, to ensure you have enough cover for the items you tend to carry around, but avoid overspending on more cover than you need, too.
As with contents insurance, you may have to declare any item over a certain value - this might typically be from £1,000 to £3,000 depending on your policy - and you will usually pay the same standard excess you've agreed on any claims, too. 
As always, check the policy wording carefully to make sure you're covered.
Standalone handbag cover
Some insurers offer a specific product for handbag insurance, covering them anywhere in the world.
James Farley at specialist insurers Assetsure explains "this is worth considering if you have a number of expensive handbags that would exceed your contents cover, or if you're renting or staying in someone else's home and don't have your own insurance.
"Every situation is different, so this may work better for you."
If you're considering taking out handbag insurance, find out whether it covers the bag's contents as well as the bag itself.
Some policies will even help you sort things out if your bag and its contents are lost or stolen.
It's worth checking whether you'll get better value from adding personal possessions cover to your home insurance, which would cover you for other items too.
Insuring individual items in your handbag
Another option is to insure the most important items you carry around individually - by buying mobile phone insurance cover, replacement keys cover and so on. Adding personal possessions cover to your contents insurance will generally work out cheaper, so check before deciding to go down this route.
Handbag cover with car insurance
Some car insurers will include personal effects cover, for handbags, wallets, phones and other essentials up to a specified value that are stolen from or damaged in a car.
Check your car insurance policy for details - it will often specify that valuables must be locked away out of sight, otherwise, they're not covered.
My handbag's been stolen
In order to make an insurance claim for a lost or stolen bag, you'll need to report it to the police, but then there are seven important steps to take before you do anything else:
Cancel all your bank and credit cards
Call your mobile provider to block your account
If you lose any means of ID such as a passport or driving licence, inform the relevant authorities
Make a list of everything else of value in the bag for your insurance claim
Consider getting locks changed if your bag contained keys
Inform your insurer
Search out any receipts you have for missing items to make your claim easier
How to prevent handbag theft
Opportunists are everywhere, and there are ways you can protect your bag from crime:
Try to carry your bag across your chest and keep your hand on the fastening
Don't keep phones, purses or wallets in outer pockets where they're easily accessible
Obviously, don't leave your bag unattended - and when you're sat at a table, put it between your feet in front of you, rather than hanging it over the back of a chair
Try not to carry all your valuables around if you don't need them. For instance, just take one bank card out with you, rather than all of your cards
Take photos of valuable items you carry around so you can prove ownership
Download an app to help locate your phone if it's lost or taken - for example, Find my iPhone or Where's my Droid

How much will handbag insurance cost?
Adding cover for your handbag outside your home will vary from insurer to insurer, but listing high-risk items on your contents insurance or adding personal possessions cover is generally cheaper than buying separate policies for individual items.
Whether it's a flaunt-able fashion accessory or more of a practical kitbag, the chances are you rarely leave the house without your handbag.
Your handbag's simply one of life's necessities, and that increasingly applies for men, too - when the Financial Times runs an article called 'Totes Amaze - how to carry off a man bag in style', you know it's serious, so make sure insurance is something you don't leave home without, along with your bag.
by Katrina Hendley