Find out more about taking out extending warranty cover on your home's brown- and white-label goods.
Key points
You're likely to be offered an extended warranty at point of sale - but this won't necessarily offer you the cheapest or best policy. If you want this cover, shop around for it, and consider policies covering multiple appliances
Insurance for your household appliances can act as an extended warranty offering replacement and/or repair of items you may consider essential, such as washing machines and fridges
Electrical and/or mechanical failure are typically the faults insured
Before committing to domestic appliance insurance, check what the manufacturer's warranty covers, think about the protection you have from other sources and consider whether you need the extra policy
Self-insuring may be an alternative option to consider
If you look around your home you're likely to see a huge range of appliances that you take for granted, but that modern life would be so much more difficult to survive without.
Cookers, fridges, freezers, washing machines, driers… many may even consider that their world would come crashing down without the dishwasher, microwave, TV, stereo or other entertainment systems.
Many of these items won't necessarily be covered by your home insurance, although if you have accidental damage cover this may provide some protection.
When bought new, such goods should have come with a manufacturer's warranty offering replacement or repair in the event of a fault. This protection may typically last for a year, although longer and shorter periods are possible.
At the point of sale, it's more than likely that you'll be offered an extended warranty - which you'll be required to make an additional payment for - offering extended protection against electrical and mechanical faults.
There are a variety of things to consider before choosing to take out this cover, but the first point is to realise that taking such protection out doesn't have to be done through the seller.
It's possible to arrange appliances insurance yourself, a policy that can offer the essential features of an extended warranty, and more.
If you want the sort of protection that can be offered by an extended warranty or appliances insurance, your best chance of finding the right deal at the right price is by shopping around and comparing policies.
With appliances insurance, it's also possible to insure multiple appliances on one policy, including items you already own. This is likely to cost more than insuring just one item, but it should prove cheaper and more convenient than taking out a number of extended warranties on different, individual items.
What type of goods are covered by appliances insurance?
A huge variety of white goods (typically defined as kitchen appliances) and brown goods (typically defined as audio-visual systems) can be covered by household appliance insurance, any limits depending on the individual provider and/or policy.
Some of the more typical domestic appliances covered include:
Cookers (oven and hob)
Microwaves
Fridges, freezers and fridge-freezers
Washing machines, tumble driers and washer-driers
Dishwashers
Televisions and digital TV boxes
Music systems
Games systems
PCs (personal computers)
DVD players
Emergency replacement or repair of domestic appliances
If you've gone to the expense of taking out appliances insurance or an extended warranty, one thing you may want to ensure is included on your policy is a guarantee of speedy replacement or repair.
Read the terms and conditions and look out for a rapid-response call-out number.
Exclusions on appliances insurance and extended warranties
Even if you've taken out appliances insurance or an extended warranty, it's important to be aware that you won't be covered in all circumstances.
Accidental damage and theft, for example, are typical exclusions, although it's possible that your home insurance  may be able to help you out in such cases.
On appliances insurance, look out for limits that are placed on the age and value of individual items and on the number of call-outs, and make sure that the brand that produced your appliance isn't excluded (you should expect all major brands sold in the UK to be covered).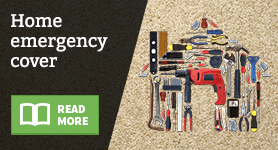 Cosmetic damage may not be covered, and a sneaky exclusion to look out for is where repair and labour are covered, but not the cost of the parts.
If you're taking out insurance for an appliance you already own, look out for a no-claim period, meaning you may not be covered for it for the first few days or weeks.
On policies for multiple appliances, look out for limits placed on the number of items, for single-item limits and for maximum claim limits.
Do I need appliances insurance?
Before taking out appliances insurance, the first thing to do is to look at the protection you have from the standard warranty.
Some manufacturers will even extend the lifetime of the warranty for free, only asking that you register the sale with them. It may be possible to arrange free three-year, five-year and even lifetime warranties this way.
Remember also that you'll have a level of legal protection as part of your consumer rights. All goods should be expected to be of reasonable quality, to do their intended job and to last 'a reasonable length of time'; the length of that period will depend on factors including the nature of the product and the purchase price.
You may be able to get help under Section 75 of the Consumer Credit Act  if you used a credit card  to pay for the goods. Some packaged bank accounts  also offer extended warranty cover.
In the event of a true household disaster, remember that your home contents insurance should be in place to replace your lost goods, and such a policy may also offer accidental damage cover for appliances.
Should you have home emergency cover  in place, it's possible that - depending on the policy - this will offer you the peace of mind you need for essential appliances.
Did you know…?
Landlords may find that landlord appliance insurance is included as part of a landlord insurance policy
If you're a tenant, you shouldn't have to take out cover for appliances that have been provided by the landlord; whether or not the landlord is duty-bound to replace appliances you deem essential will depend on the terms of your tenancy agreement, though.
The other thing to think about is self-insuring, where you use the money you would have laid out on appliances insurance or an extended warranty to build up a savings pot  that can be used to replace old goods.
When you add up the cost of the premiums you'd pay for extended warranty cover, you may think twice before taking it out… but also think about the way you manage your money.
If there's no chance that you'll put these premium savings away in an emergency pot and will instead blow the lot, then it may be sensible to have an insurance policy in place to help you repair or replace essential items in the event of their breakdown.
In making your calculations, try to consider the speed with which technology moves on.
Within a few years you may find that entertainment systems in particular will have developed considerably, and that the 10-year warranties you took out on the VHS and ZX Spectrum no longer seem quite so sensible.
Even if you still consider older technology essential, it's likely that (if it's still available) it will have reduced in price over the years. This could mean that self-insuring would have given you the funds to buy the latest model, while an extended warranty or appliance insurance would only repair or replace an old, dated one.
By Sean Davies
[SeanSocialShare]