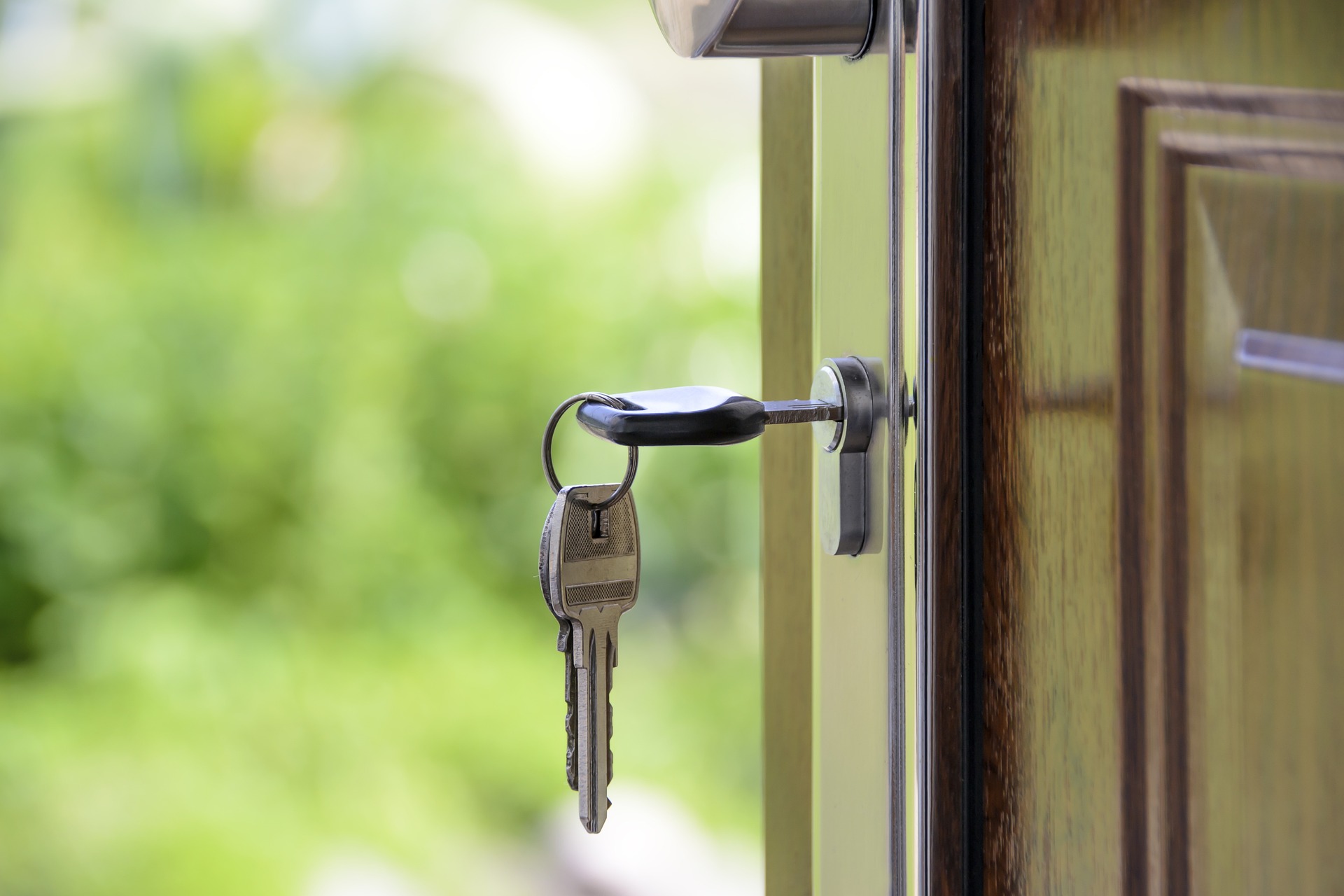 Home insurance applications can be a difficult process for homeowners. Before filling out an insurance form, many of us will need to do a little research about our property's structural history, building composition and market value, as well as a valuation of our home's contents.
Getting this paperwork in order can better prepare us for any challenging questions that crop up on insurance applications. However, with much of this information not readily available, we wanted to find out how many of us have employed guesswork when it comes to answering confusing questions.
To find out, we asked the nation which insurance questions they found the toughest to answer, and if they admit to estimating.
Almost 3 in 10 Brits guess the answers to home insurance questions
Despite home and contents being voted the second most important insurance type, 28% of us admit to guessing answers when filling out our applications.
As well as bumping up your monthly premiums, inaccurate answers also run the risk of invalidating your insurance policy should you need to make a claim. Guessing your home's distance from water, for example, is something that 26% of us admit to, but it is important for insurers when evaluating flood risk. In the event that your home is flooded, your insurers may not pay out if you provided incorrect estimates about the property's distance from water.
Astonishingly, contents cover is the biggest culprit, with the majority of our respondents foregoing a proper valuation assessment. Of those who admit to guesswork, 34% of respondents named 'costs of home's contents' as the question they'd likely estimate.[1]
Other questions that made the top 10 included: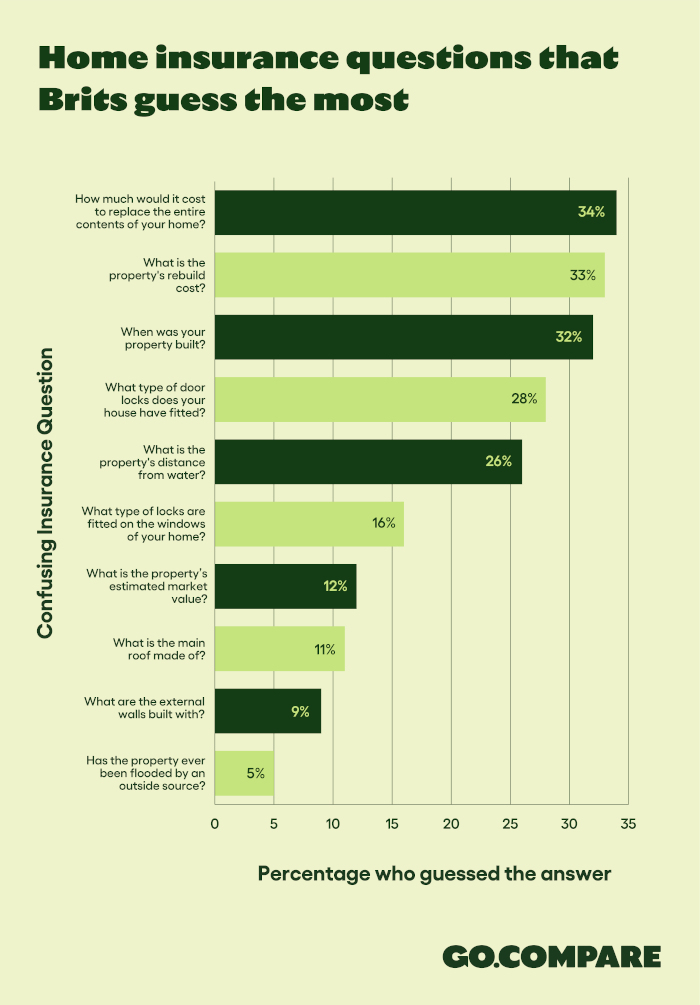 Confusing questions debunked
60% of guessers said that they estimated their answers simply because they didn't know how to find out the correct answer. Guesswork and approximations are unlikely to cause your home insurance claim to be rejected. However, inaccurate answers could mean you end up paying more for your premium or risk not being fully covered.
To help you get a better understanding of your property, we've debunked the nation's most commonly guessed questions and created a helpful guide for homeowners.
How do I calculate the value of my home's contents?
As the question UK residents were most likely to estimate, we're here to help you get a more accurate idea of the cost of your contents in just a few easy steps.
Walk around your property, making a list of your possessions. This includes carpets, curtains, and garden furniture, plus any items you keep in the attic, shed, garage or outbuildings.
Estimate how much each possession costs. If you're not sure, do some research to find what similar items are worth.
For expensive single items, like jewellery or gadgets, we recommend getting an up-to-date valuation from a professional.
Add up the total combined cost of all your possessions to work out the amount of cover you need.
Issues caused by estimating the value of your home's contents
Overestimating the worth of your contents could mean paying more in premiums than you need to. But it's a delicate balance, as underestimating the value of your contents could mean you're not fully covered in the event of damage or theft.
Calculating the value of your contents accurately will mean you're not paying more than you need to while still being covered for the things that matter.
What is the rebuild cost of my house?
The rebuild cost of your property is simply the amount of money required to reconstruct your home from the foundation up. This will include the cost of building materials and the price of associated labour to rebuild your home.
You can usually find the rebuild value in the following paperwork:
Your mortgage valuation report
The deeds to your home
A surveyor's report
Your buildings insurance renewal documents
Alternatively, you can hire a chartered surveyor to evaluate your home and prepare a rebuilding cost assessment. Although this can cost a few hundred pounds, it may be worthwhile to get a more accurate figure.
If you've made significant changes to your home, like adding an extension, then you're likely to need a new rebuild value and should let your insurer know.
Why do I need to know my property's rebuild cost?
Calculating the rebuild cost of your home is a necessary part of getting a home insurance quote.
If the worst happens and your property is damaged or destroyed, for example in a fire or by flooding, you'll need your insurance company to pay out the funds to rebuild part of, or all of, your house.
Bear in mind that the rebuild cost will be less than the price you paid for your property, or, in other words, your home's market value. This is because the cost of rebuilding doesn't include the price of the land your home is built on.
More information on how to calculate your home's rebuild costs can be found in our guide to rebuilding costs.
Issues caused by estimating the value of your home
If you underestimate the value of your home, your insurer might not pay the full cost of repairs if you need to make a claim.
For example, if you've told your insurer the rebuild value of your home is £100,000, but when it comes to claiming you discover the rebuild will actually cost £150,000, your insurer will only pay out the £100,000 figure you told them - so you'll end up losing out.
If you over-estimate the rebuild value of your home - you could end up overpaying for cover you don't need.
"Overvaluing the rebuild cost of your property could mean that you're paying more money than you should be for your home insurance, as your insurer will only ever pay the cost of the rebuild regardless," says GoCompare's home insurance expert, Ceri McMillan.
How do I know when my house was built?
If you own your home, the easiest way to discover its age is to look at your property's title deeds or title register.
These documents should have been sent over by your conveyancing solicitor shortly before you moved in. If you can't find your deeds, contact your solicitor or the mortgage company, as they may still have them.
This department keeps copies of title registers for more than 25 million properties in England and Wales which can be downloaded for a fee of £3 each. You can request a copy of your own title register from them or for a property you're interested in buying.
More ways to find out the age of your home, including the age of older properties, can be found on our helpful property guide page.
Issues caused by estimating the age of your property
Estimating the age of your property can affect how much you pay in premiums. For some period properties, construction materials may be costly or difficult to repair or may require specialised building techniques. These factors could lead to a higher insurance price.
Similarly, the newer your home is, the less likely it is to suffer from structural damage, dampness, subsidence and other issues. In turn, this could mean you end up paying less in premiums as your property is less risky to insure.
Confusing Questions Answered
For further guidance on tough-to-answer insurance questions, take a look at our advice and resources for each confusing question.
What type of door locks does your house have fitted?
What is the property's distance from water?
What type of locks are fitted on the windows of your home?
What is the main roof made of?
Has the property ever been flooded by an outside source?
About the data
[1] To collect the data, we surveyed 2,000 UK residents via YouGov. The survey ran on 21 October 2022 and all respondents were selected at random. All statistics featured on this page are sourced via this survey unless otherwise stated.