Home risk report: The UK locations most at risk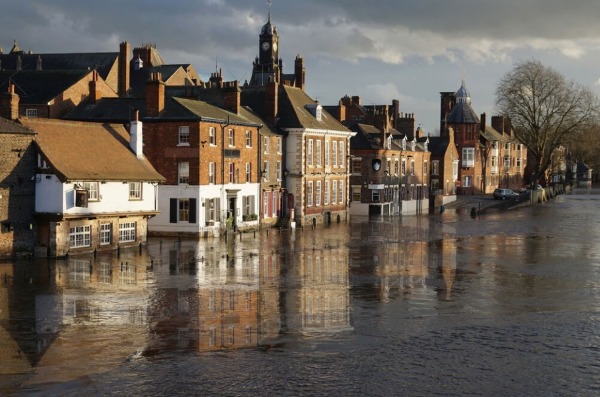 Was that an earthquake or just a big lorry going past? In the UK, we're relatively fortunate compared to some parts of the world. The risk of earthquakes and hurricanes are quite low, and when they do strike they're often forgotten about by the next morning.
However, some areas of the country experience them more than most, and buying property there could see the price of your home insurance go up.
We look at where natural phenomena such as flooding, fires, earthquakes and more are most likely to happen, helping you make a more informed (and better prepared) decision when it comes to your home insurance.
Bristol is the UK's most at risk destination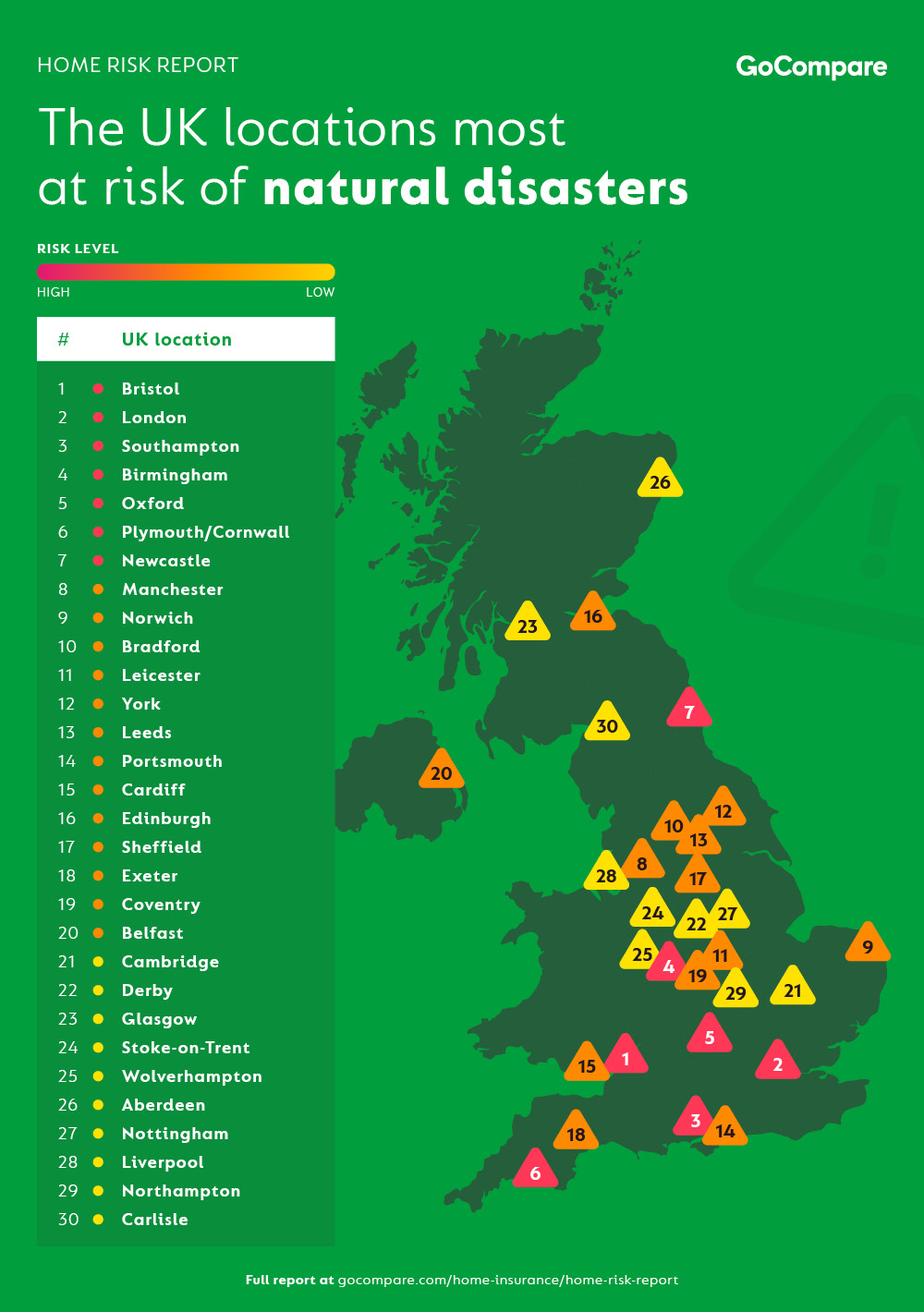 Straddling the River Avon, Bristol's picturesque nature is more likely to be disrupted than anywhere else in the UK. Our national index was based on a combination of flooding, earthquakes, building subsidence (also known as sinkholes), fires and coastal flooding, with Bristol grabbing the top spot from the likes of London and Southampton.
Between 2009 and 2017, Bristol experienced 20 fires, making it joint second overall. Earthquakes are less common, with only three in the past five years, but there is a high risk of subsidence damage and a medium risk of flooding, all adding to the city's total score.
In second place is London, which scored slightly higher for fires (30 between 2009-2017) but experienced no earthquakes. Southampton comes in third place, with 292 homes at risk of coastal flooding adding to its overall score.
The top 10 UK cities most at risk from the elements
| Risk Ranking | City | Fire likelihood score (0-5) | Subsidence risk rating (0-5) | Flooding likelihood score | No. earthquakes 2015-2020 | No. houses at risk of coastal flooding | Total risk score |
| --- | --- | --- | --- | --- | --- | --- | --- |
| 1 | Bristol | 3 | 4 | Medium | 3 | 0 | 90 |
| 2 | London | 4 | 5 | High | 0 | 0 | 87 |
| 3 | Southampton | 2 | 3 | High | 0 | 292 | 86 |
| 4 | Birmingham | 5 | 3 | Medium | 4 | 0 | 85 |
| 5 | Oxford | 3 | 3 | Medium | 4 | 0 | 82 |
| 6 | Plymouth/Cornwall | 2 | 2 | Low | 184 | 478 | 82 |
| 7 | Newcastle | 2 | 3 | Medium | 16 | 0 | 76 |
| 8 | Manchester | 2 | 5 | Low | 5 | 0 | 69 |
| 9 | Norwich | 5 | 2 | Very Low | 0 | 320 | 67 |
| 10 | Bradford | 2 | 2 | Medium | 7 | 0 | 64 |
Carlisle is the safest place to live in the country
If it's a relatively risk-free life you're after, look no further than Carlisle. Situated just 10 miles south of the Scottish border, the Cumbrian city experienced fewer than five fires between 2009-2017, with zero earthquakes and a low risk of both flooding and building subsidence. Its central location also makes coastal flooding nothing more than a bad dream, with landlocked locals free to roam the streets with dry feet.
The second safest place to live in the UK is Northampton. Famed for being in the middle of six fields, it's only experienced one recent earthquake, while the open land around it sees flooding minimised.
Liverpool completes our top three, with the Mersey hub's biggest risk coming in the form of fires - they've suffered 10 of them in recent years. While their coastal position does pose a slightly higher threat of flooding, the clever architecture and flood defence systems see locals safe from soggy socks.
Nottingham, Aberdeen, Wolverhampton and Stoke all also scored relatively low, showing the benefits of a central location away from large bodies of water.
The UK's 10 safest cities
| Safety ranking | City | Fire likelihood score (0-5) | Subsidence Risk Rating (0-5) | Flooding likelihood score | No. earthquakes 2015-2020 | No. houses at risk of coastal flooding | Total risk score [1] |
| --- | --- | --- | --- | --- | --- | --- | --- |
| 1 | Carlisle | 1 | 1 | Low | 0 | 0 | 9 |
| 2 | Liverpool | 2 | 2 | Low | 0 | 0 | 24 |
| 3 | Northampton | 1 | 2 | Very Low | 1 | 0 | 24 |
| 4 | Nottingham | 1 | 1 | Low | 2 | 0 | 25 |
| 5 | Aberdeen | 2 | 0 | Ave. | 0 | 0 | 27 |
| 6 | Wolverhampton | 1 | 2 | Low | 2 | 0 | 30 |
| 7 | Stoke-on-Trent | 1 | 2 | Medium | 3 | 0 | 32 |
| 8 | Glasgow | 2 | 2 | Ave. | 0 | 0 | 33 |
| 9 | Derby | 1 | 1 | Medium | 1 | 0 | 35 |
| 10 | Cambridge | 0 | 2 | Medium | 1 | 0 | 39 |
London, Norwich and Birmingham face more fires than anywhere else
When it comes to house fires, London, Norwich and Birmingham sadly share first place. Having each experienced around 30 between 2009-2017, both the capital, the Norfolk city and the second city's statistics give homeowners there plenty of reasons to be careful.
In second place, we have a tie between Oxford and Bristol, with data showing they experienced between 11-30 fires during the time period looked at.
Third spot is also taken by a tie, with a whole host of cities such as Liverpool, Leeds, Manchester and Newcastle reporting between 5-10 fires breaking out.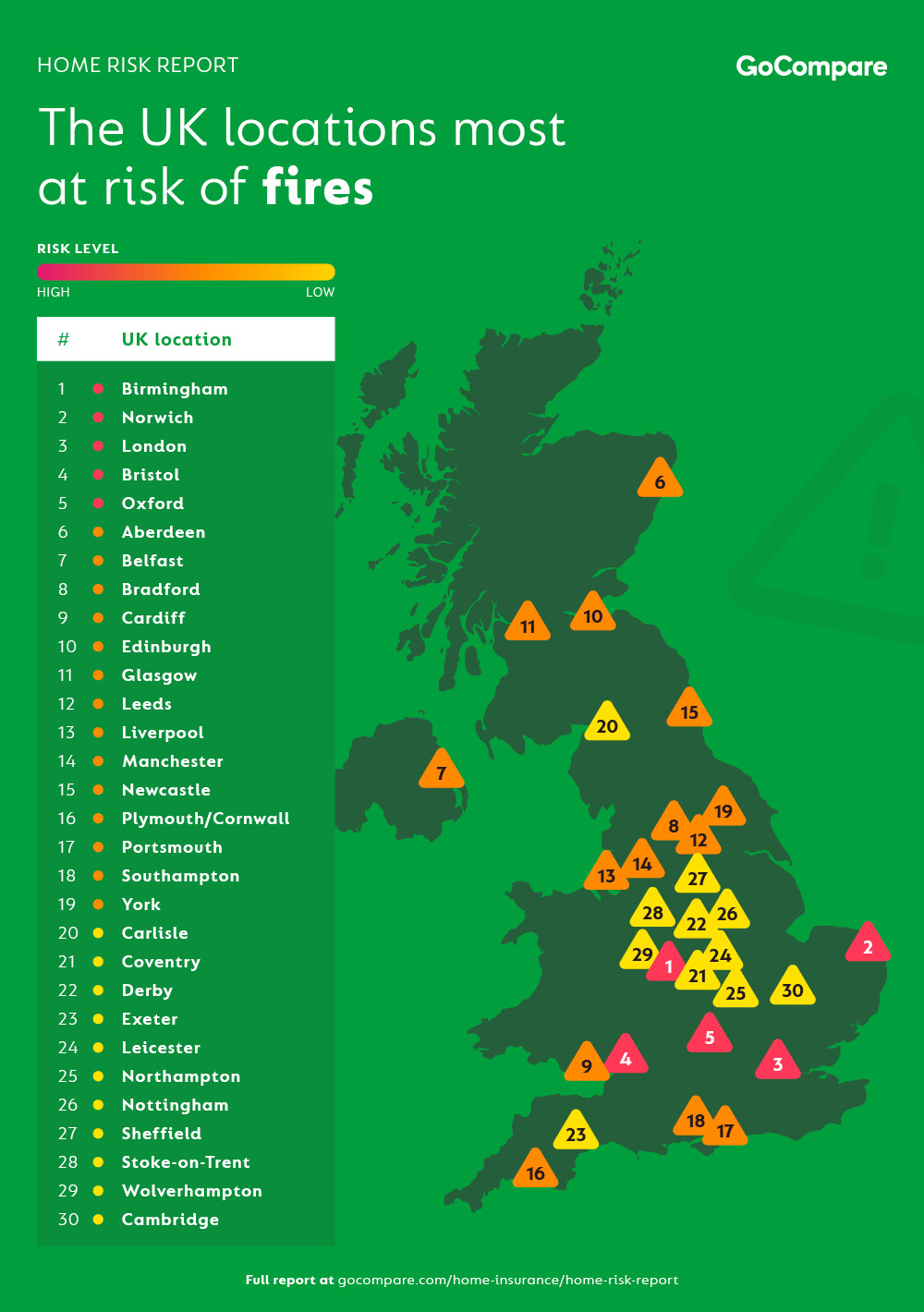 The most common causes of house fires
1. Cooking equipment - Pots and pans can easily overheat and start a fire, especially if you leave them unattended.
Faulty heating - Portable heaters can overheat and set nearby items on fire. Try to keep them away from things like curtains and soft furnishings.
Smoking inside - Cigarettes not put out properly can stay burning. If you knock them onto the floor, the fire can soon spread.
Electrical equipment - If an electrical item isn't wired correctly, or you overload a plug, fuses can blow and fires can start.
Candles - While they might look (and smell) pretty, candles can easily become deadly if placed in the wrong position or left unattended.
Check your smoke alarms are working properly and regularly tested to help prevent fires starting.
Leeds, London and Southampton face high risks of flooding
Running alongside the River Thames, London faces a high risk of flooding whenever water levels rise. This is particularly heightened by the amount of non-permeable surfaces the city is made up of. Concrete surfaces and metal buildings are perfect places for puddles to form, causing water to sit and eventually overflow the drains.
This water all ends up in the Thames, which ends up coming back onto the land.
Southampton's flood levels come from its seaside position. 292 homes there are at risk of coastal flooding, with residents paying the price for their stunning views.
If you've ever wondered why home insurance policies ask how far you are away from running water, flooding is your answer. Water damage can devastate properties, ruining floors, furniture, electrical items and even the building's structure.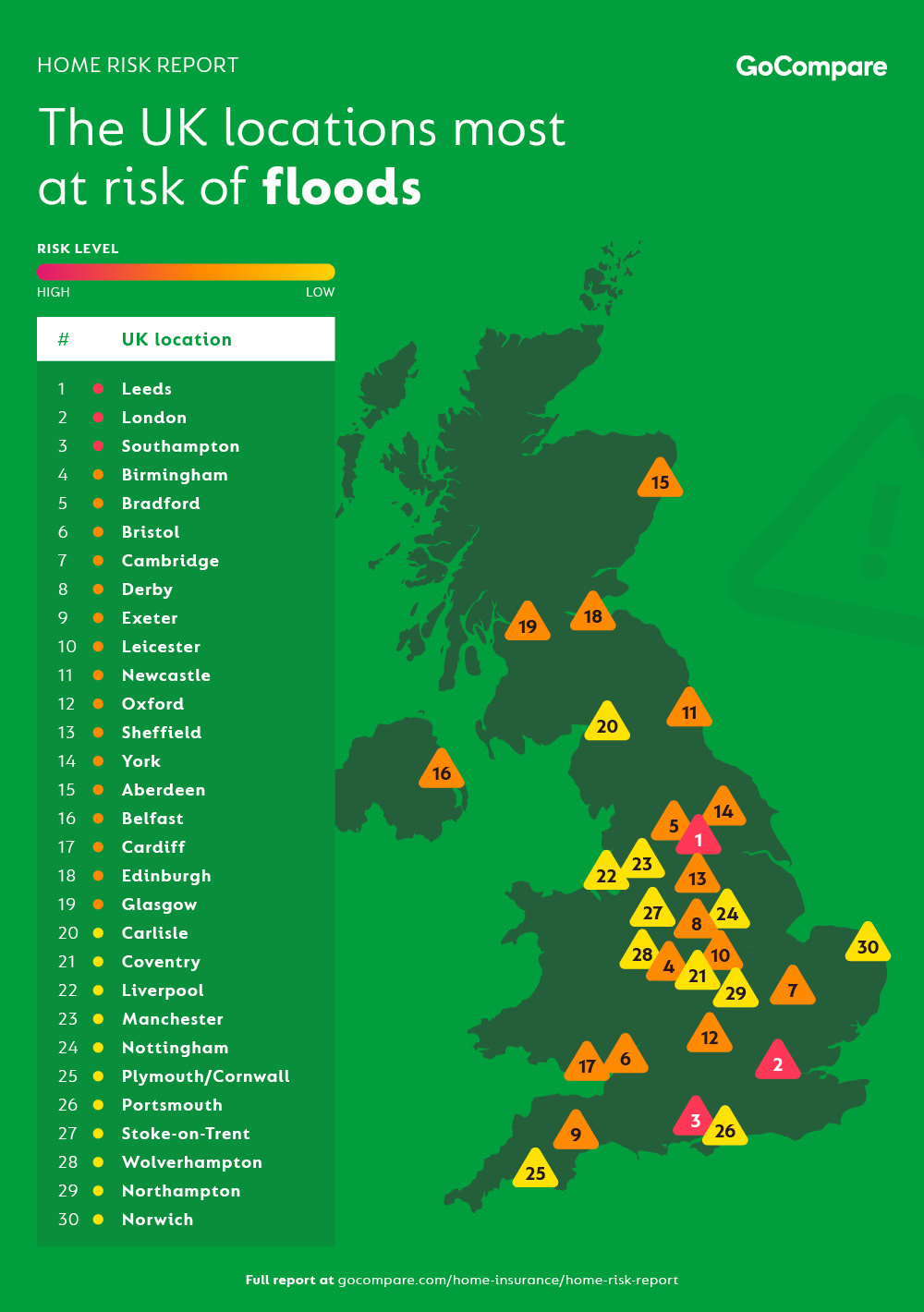 How to check if your home is at risk of flooding
The main cause of flooding in the UK is rivers bursting their banks due to heavy rainfall. If your house is near water, it's well worth checking if it has experienced flooding before. The government website lets you check your postcode for flood risk, showing you what the likelihood is in your area.
If it's high, you should look at installing some sensible flood precautions. Choosing tiled or wooden flooring in downstairs rooms will prevent carpet damage, while moving any power fixtures higher up the walls could save you a fortune should the worst happen.
Your home insurance cost will be higher if flooding has previously happened in the area, but you'll be grateful for the cover if water gets in.
Plymouth and Cornwall shaken by 184 earthquakes
When it comes to earthquakes, Plymouth and Cornwall are the out and out winners. Between them, they reported 184 quakes from 2015-2020, over 10 times more than second place Newcastle with 16.
Despite this big number, most of the earthquakes were relatively small and were in fact caused by human activity. Geothermal, oil and coal energy companies have been responsible for many of them, drilling deep underground to unlock elements that can be used in nearby homes.
For most of the UK, earthquakes are incredibly rare. If you do feel one, the chances are it will be a low magnitude and unlikely to cause serious damage to your home.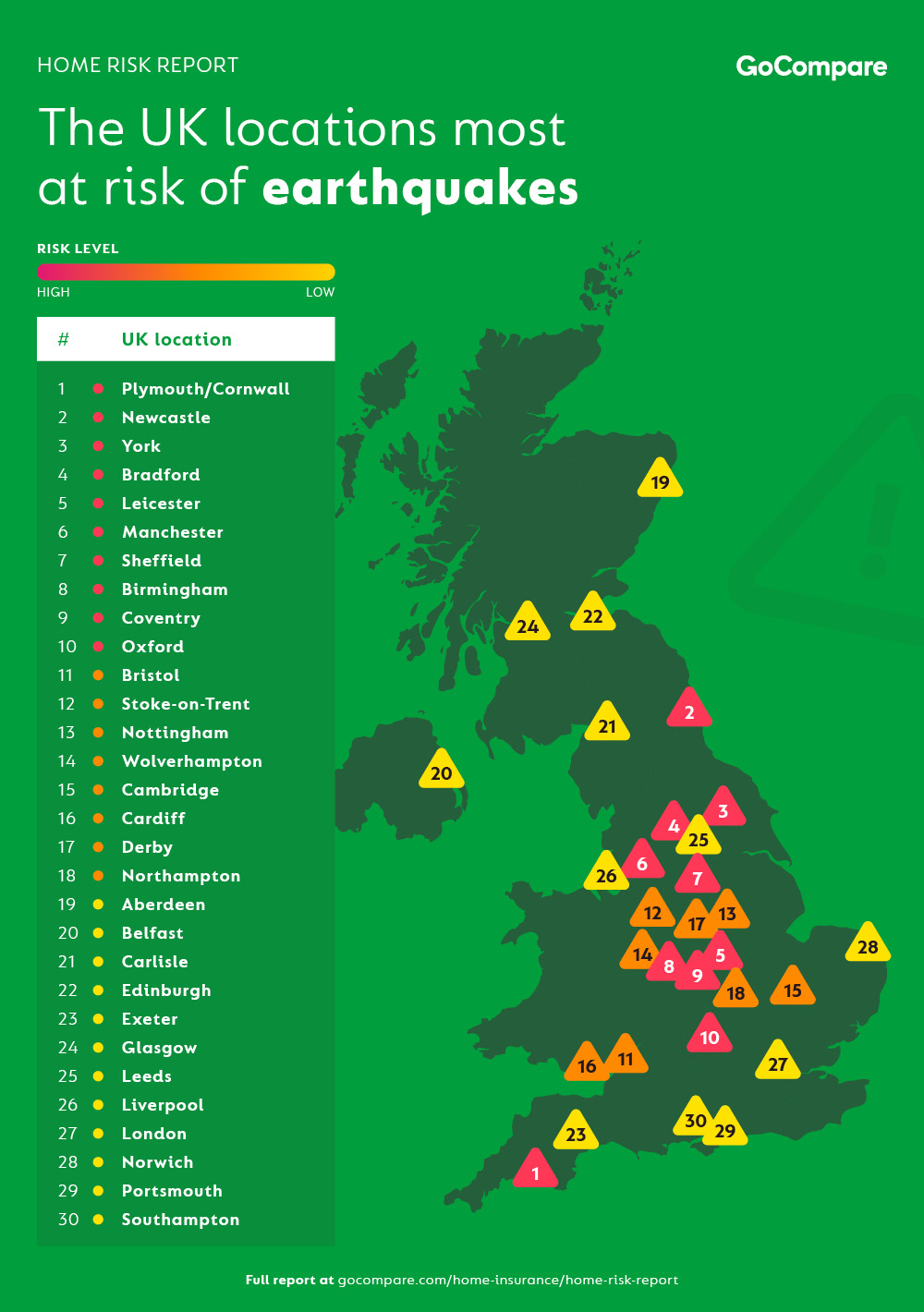 What to do if your home is in an earthquake
It's unlikely you'll experience a dangerous earthquake in the UK, but if one starts, you should:
Take cover under a desk or table to stop falling debris hitting you.
Stay inside until the shaking has stopped.
Stay away from any furniture that could fall on you.
Stay away from windows and lights, where the glass may break.
If you're in bed, stay there and hold on.
Manchester and Birmingham both suffer with subsidence issues
Building subsidence - more commonly known as 'sinkhole' problems can be a homeowner's worst nightmare, especially if you live in Birmingham or Manchester. According to our subsidence map, both cities suffered from a higher than average amount of damage, while Newcastle and London also fared badly.
Building subsidence happens when the ground beneath a property shrinks, pulling the foundations with it. It can be caused by prolonged dry spells sucking the moisture out the ground, or tree roots soaking up any rain. Dry ground will crack and crumble, sadly seeing your foundations do the same.
It can be an expensive problem to fix, as new foundations will be needed as well as potentially new walls, flooring and structural repairs.
Lower risk cities for subsidence issues include Aberdeen, York, Nottingham and Exeter.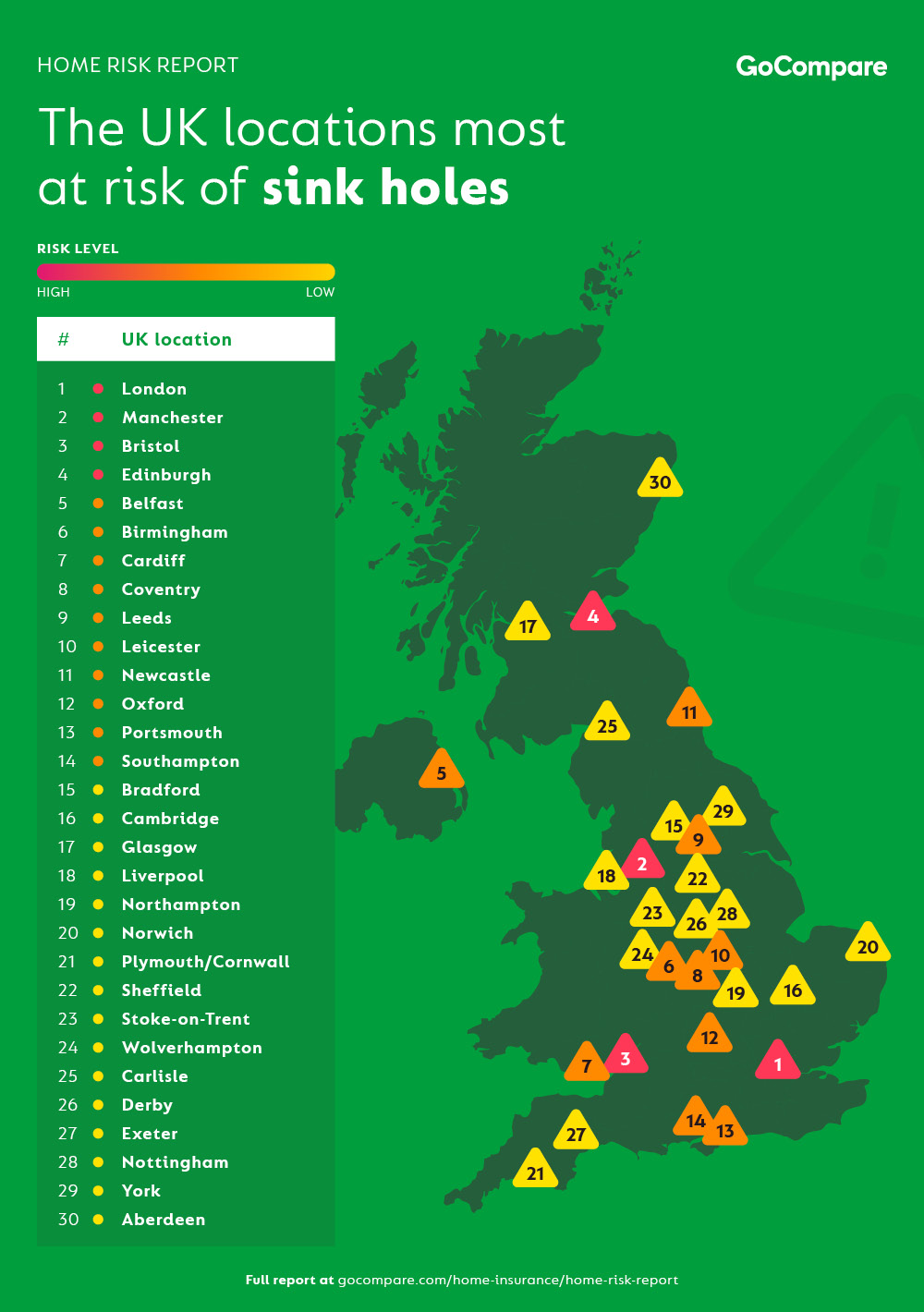 How to prevent subsidence in your home
A home survey should spot any risk of subsidence before you move in, allowing you to make an informed decision before collecting the keys. However, there are a few things you can do to prevent any subsidence happening in the future.
Make sure all trees and shrubs are planted at least five meters away from your home to stop roots causing damage.
Prune branches on any nearby trees and remove any that are too close.
Maintain pipes and drains to stop water leaking into your home's foundations.
What else should you look out for when buying a home?
While there are lots of things you might like from a new home, there are a few that are essential to check. Things like signs of rising damp - black marks on the walls or peeling wallpaper - could be really expensive to put right, while Japanese Knotweed is a fast growing nightmare. The weed can grow a staggering 10cm a day, seeping into cracks in your home's masonry and ruining your foundations. It's a legal requirement to stop it spreading, and could be another costly problem to deal with.
Older buildings might also feature asbestos, a potentially hazardous material that must be removed, while busy roads could cause structural damage and smoke stains as well as morning headaches.
Be survey smart to prevent future problems
One of the most important stages of buying a home is getting a survey carried out. A survey can tell you anything from the real mortgage value of the home, through to any structural damage that you'd need to fix if you bought it.
There are six main types of home survey, each coming with its own benefits.
Mortgage valuation survey
The least expensive of all the surveys, a mortgage valuation survey will typically set you back £150. Its sole purpose is to convince your mortgage lender that the home is worth what you're paying for it. It won't look for any building issues or required repairs.
New build snagging survey
As the name suggests, this survey is for new build properties. It looks for any issues with your development and usually costs around £300. The building developers are responsible for fixing any issues the survey finds.
Building survey
With prices starting at around £400, a building survey will uncover any issues that need your attention. Anything from damp through to wonky floorboards, loose roof tiles and faulty fixtures will be spotted, with a 1,2,3 scoring system showing you which problems need fixing first.
Full structural survey
This fully comprehensive survey will do everything but lift up the floorboards. It can cost upwards of £600, but will offer detailed reports on required repairs and leave you in no doubts about what's needed in your home. These surveys are particularly good for older homes.
Home buyer report
Suitable for a relatively modern home and starting at £400, this is a fairly comprehensive report that will flag any major building issues. It won't look underneath the floors or behind the walls, but will give you a good idea of the valuation of your home and the costs involved in any required repairs.
Condition report
This basic traffic light survey only costs £250, and will help you find any risks or legal issues surrounding the property. It won't offer any advice or valuation.
Do home insurance policies cover natural disasters?
While we hope your home will never be struck by an 'act of God', if it is, your home insurance policy should cover it. Most home insurance providers will include things such as flooding, fire and earthquake damage but the terms and conditions can be very specific and will vary by provider.
As you can never predict when such a catastrophe will strike, it's always good to make sure your home insurance offer protects you. While some areas of the UK are more prone than others, it's impossible to know for sure what nature will do next.
Compare home insurance deals today to better protect your home and see how much money you could save.
Methodology
[1]An index was created by ranking each area on the metrics below, giving areas with a low risk of the hazard a low score and those with a high risk a high score. These scores were then added together to give a 'Total Index' score and therefore show areas with a high likelihood of natural hazards.
These metrics were indexed by ranking those with a high likelihood of a disaster with a high index score (30), and those with a low likelihood a low index score (1). These scores were then totalled for the city to give a score out of 150 (5x30).