Most successful home influencers
DIY might seem like a hassle to most of us, but there are some people earning big money for the little jobs around the home
The world's most successful home influencers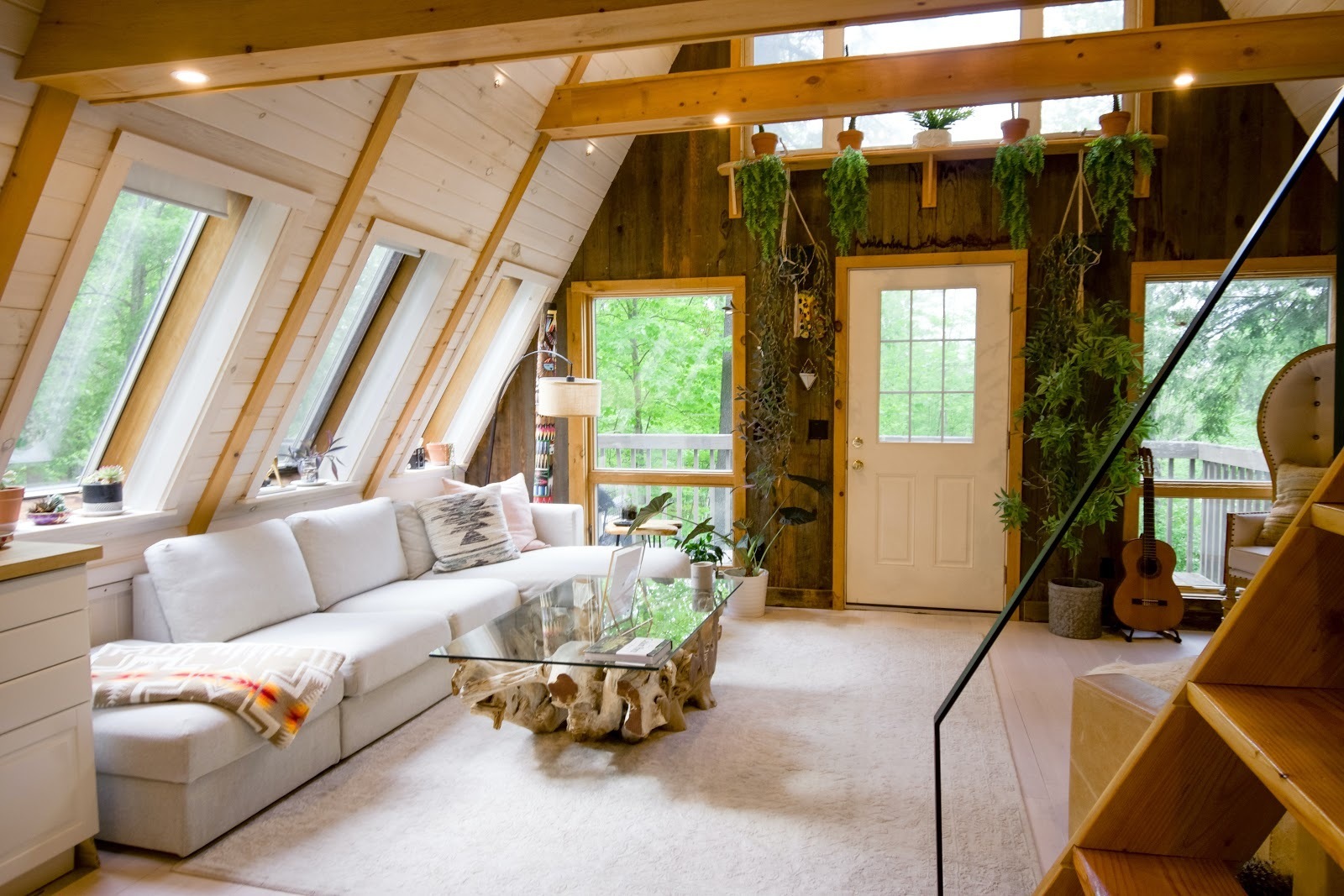 DIY has been a go-to lockdown hobby for many. Cancelled plans have left most of us with little else to do, so making our homes look their best - while remaining home insurance-compliant - has been a good way to spend our free time. But some people are doing it for more than just personal gain - there are financial gains to be had too.
Let's take a look at the home influencers that are improving their bank balances as well as their properties, with some potentially earning thousands for their social media content.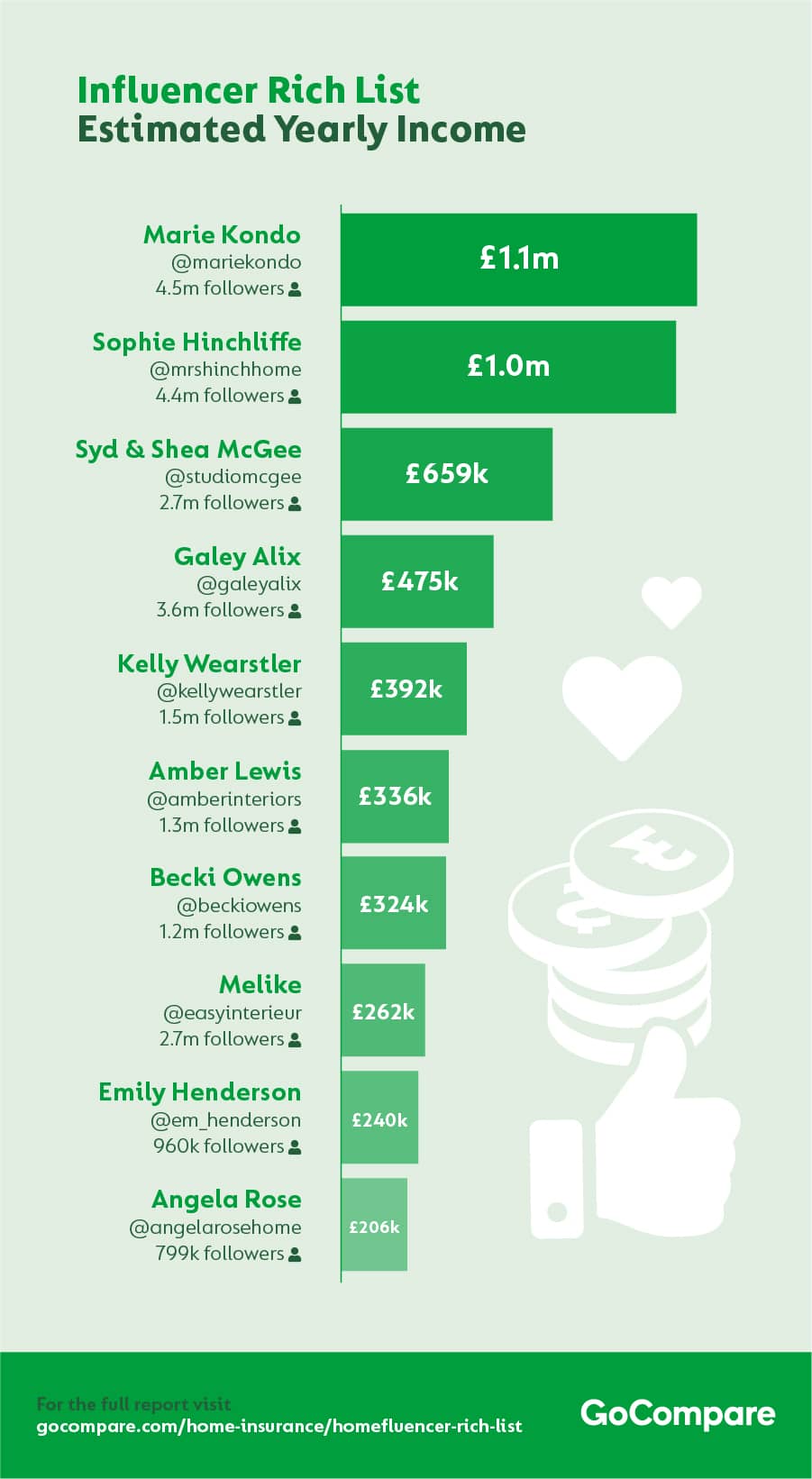 Marie Kondo has the potential to earn over £1,000,000 on Instagram alone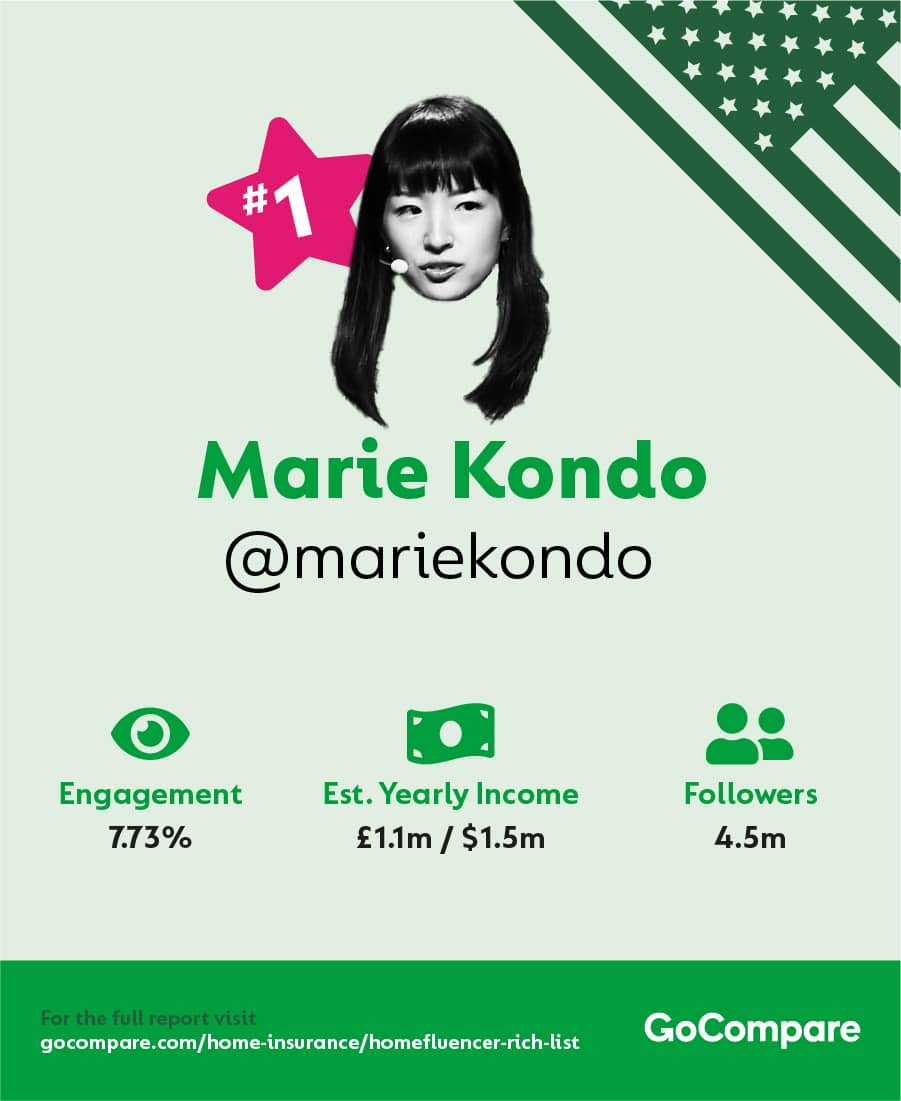 The most successful home influencer on our list is Marie Kondo. The tidying expert advises that you don't need to keep things you don't love. Thanks to her 3.98m Instagram followers, she earns an estimated £17,000 per post while her YouTube account is estimated to top up her income with an additional £1,400 for every video.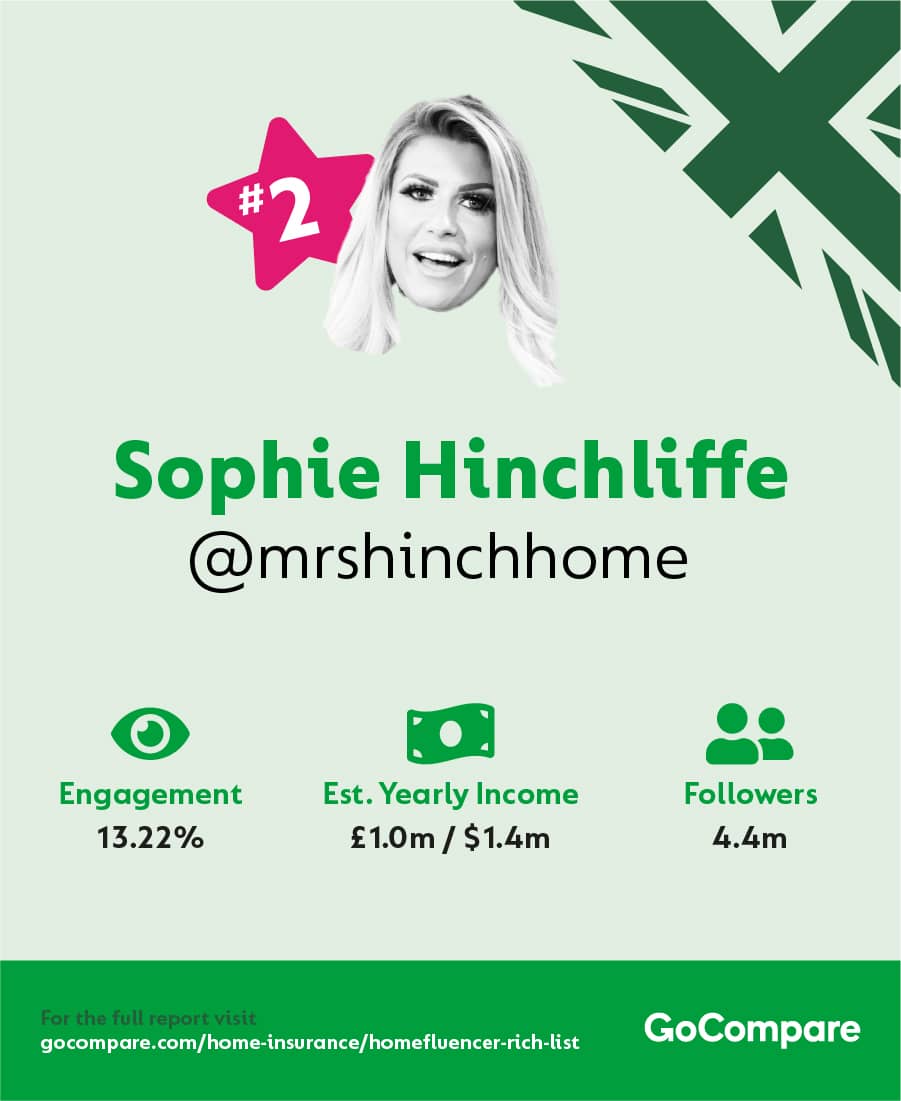 In second place is Sophie Hinchliffe. More commonly known as Mrs Hinch, the expert cleaner can expect to earn an average of £17,200 every time she posts on Instagram, with her 3.99m followers lapping up her top tips on how to keep your home spick and span.
At peak popularity, she was responsible for home cleaning products selling out - the 'Mrs Hinch effect' meant any time she mentioned a product in one of her posts, shops would see their shelves emptied as fans rushed to stock up on her latest must-haves.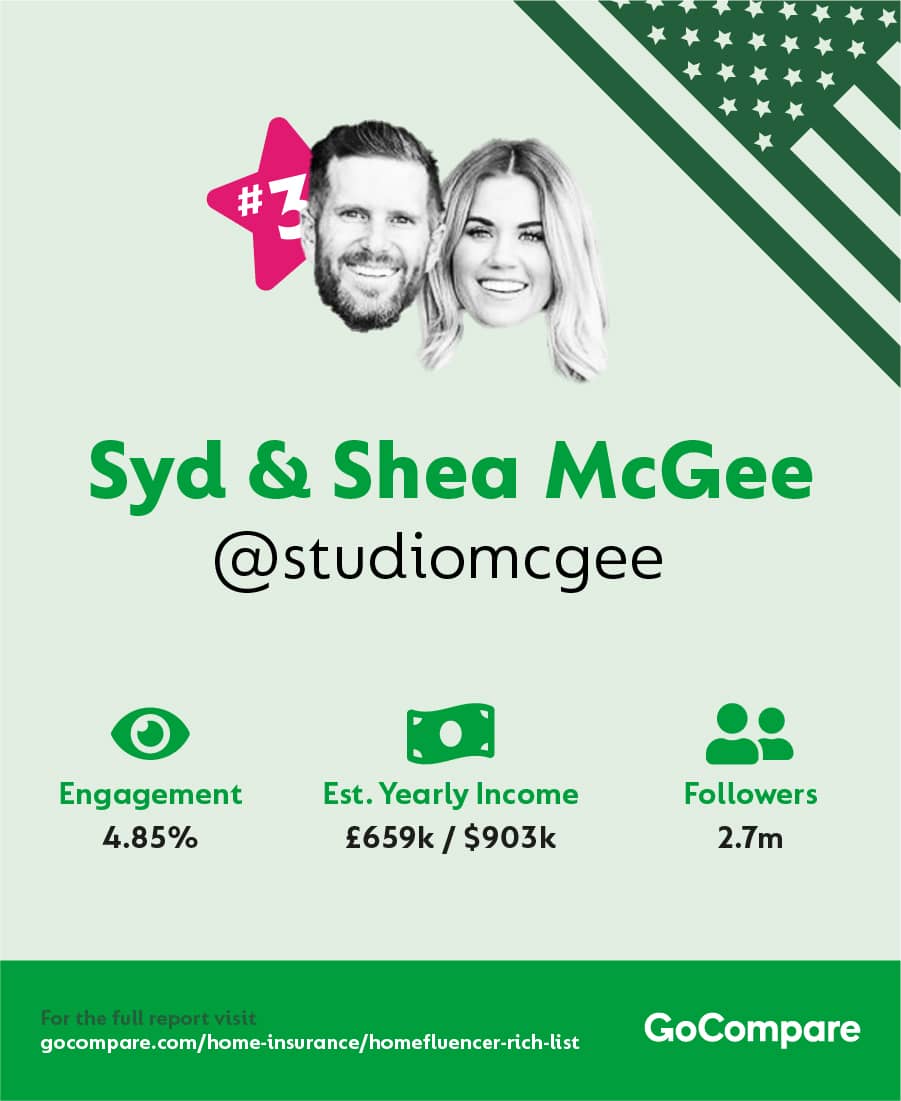 Completing the top three is Studio McGee, made up of married couple Syd and Shea. The hosts of Netflix's Dream Makeover are estimated to earn over £659,000 a year through social media alone, not considering their other earnings. With 2.4m Instagram followers and an additional 283,000 YouTube subscribers, they can expect to earn £10,600 per upload.
The world's top 25 DIY and interior earners
*5 x sponsored posts for each month on Youtube & Instagram & TikTok
Rank
Influencer
Country
Total followers (TikTok, Instagram, YouTube)
Est. Yearly Income (£)*
Est. Yearly Income ($)*
1
Marie Kondo
mariekondo
Los Angeles, US
4,587,617
£1,110,402.60
$1,521,251.56
2
Sophie Hinchliffe
mrshinchhome
Essex, UK
4,407,121
£1,042,862.40
$1,428,721.49
3
Syd & Shea McGee
studiomcgee
Utah, US
2,774,633
£659,827.20
$903,963.26
4
Galey Alix
galeyalix
Florida, US
3,629,763
£475,275.60
$651,127.57
5
Kelly Wearstler
kellywearstler
Los Angeles, US
1,560,554
£392,194.98
$537,307.12
6
Amber Lewis
amberinteriors
Los Angeles, US
1,303,417
£336,000.00
$460,320.00
7
Becki Owens
beckiowens
California, US
1,254,875
£324,000.00
$443,880.00
8
Melike
easyinterieur
Berlin, Germany
2,748,114
£262,168.20
$359,170.43
9
Emily Henderson
em_henderson
Los Angeles, US
960,485
£240,526.20
$329,520.89
10
Angela Rose
angelarosehome
Idaho, US
799,894
£206,391.48
$282,756.33
11
Oliva Bowen
thebowenhome
Essex, UK
640,338
£168,000.00
$230,160.00
12
Julia Marcum
chrislovesjulia
Idaho, US
655,850
£160,712.88
$220,176.65
13
Noell + Daniel Jett
jettsetfarmhouse
Florida, US
2,854,625
£155,743.80
$213,369.01
14
Erin
mytexashouse
Texas, US
581,492
£150,700.80
$206,460.10
15
Liz Marie
lizmariegalvan
Michigan, US
564,273
£145,401.60
$199,200.19
16
Drew Scott
lonefoxhome
California, US
1,495,803
£135,685.20
$185,888.72
17
Hilton Carter
hiltoncarter
Maryland, US
455,727
£120,000.00
$164,400.00
18
Paula Sutton
hillhousevintage
Norfolk, UK
454,155
£114,880.38
$157,386.12
19
Becky Wright and Kelsey MacDermaid
thesorrygirls
Toronto, Canada
2,339,950
£109,703.58
$150,293.90
20
Ashley Gray
thegrayhome
Stirling, UK
435,254
£108,275.94
$148,338.04
21
Billie & Greg Shepherd
homewiththesheps
Essex, UK
384,088
£102,000.00
$139,740.00
22
Niki Brantmark
myscandinavianhome
Malmö, Sweden
351,652
£90,000.00
$123,300.00
23
Anissa Zajac
housesevendesign
Indiana, US
346,904
£90,000.00
$123,300.00
24
Sarah Sherman Samuel
sarahshermansamuel
Los Angeles, US
336,293
£84,000.00
$115,080.00
25
Randi Garrett
randigarrettdesign
Arizona, US
295,504
£79,927.20
$109,500.00
The UK takes pride in its homes too - with Mrs Hinch leading the way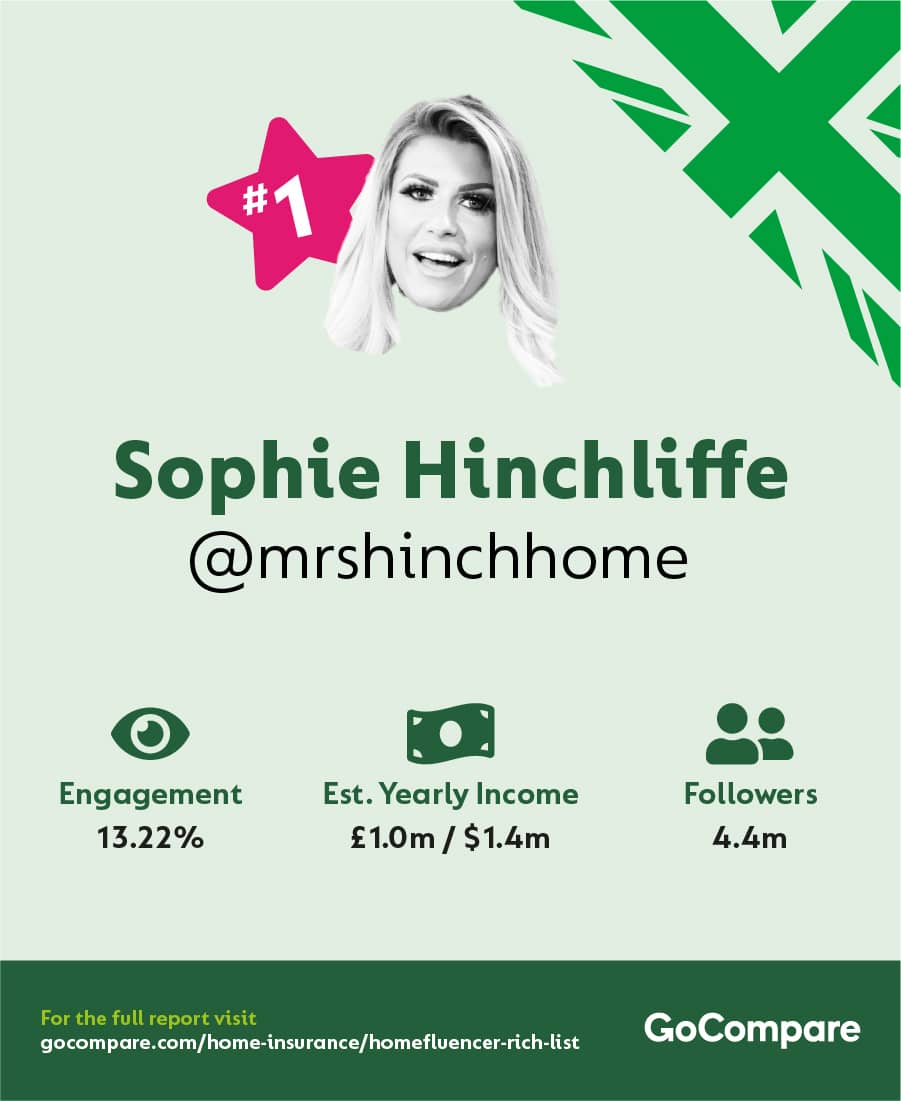 It's not just on the global stage where home influencers can earn their fortune - we Brits can't get enough.
Mrs Hinch leads the way in the UK, with her 3.99m Instagram followers and 410,000 TikTok subscribers helping her earn over £1m in estimated annual income.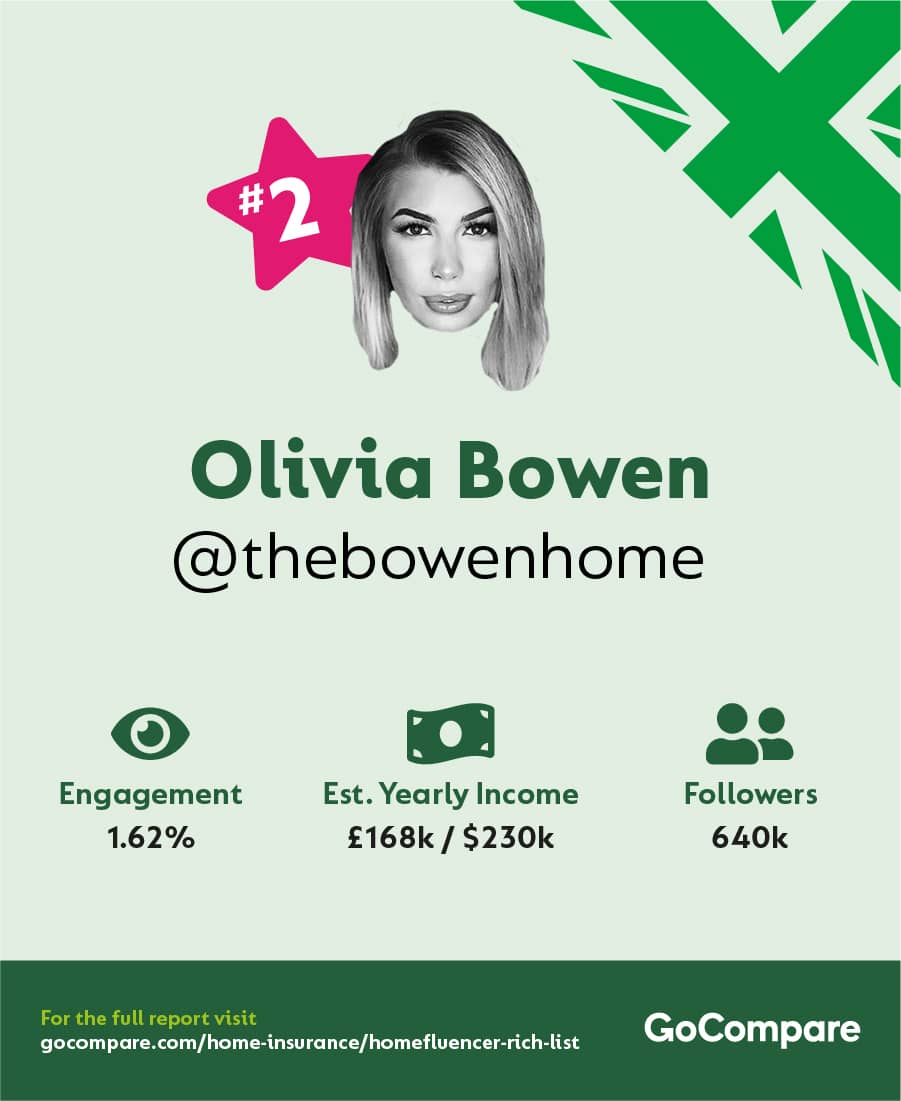 With 640,000 Instagram followers, Olivia Bowen's home account @thebowenhome comes in second. The former Love Island runner-up earns an estimated £2,800 for every image she shares on her home improvements account alone. This is separate from her personal profile, which boasts 2.5m followers, giving her the potential to earn £11,100 per post.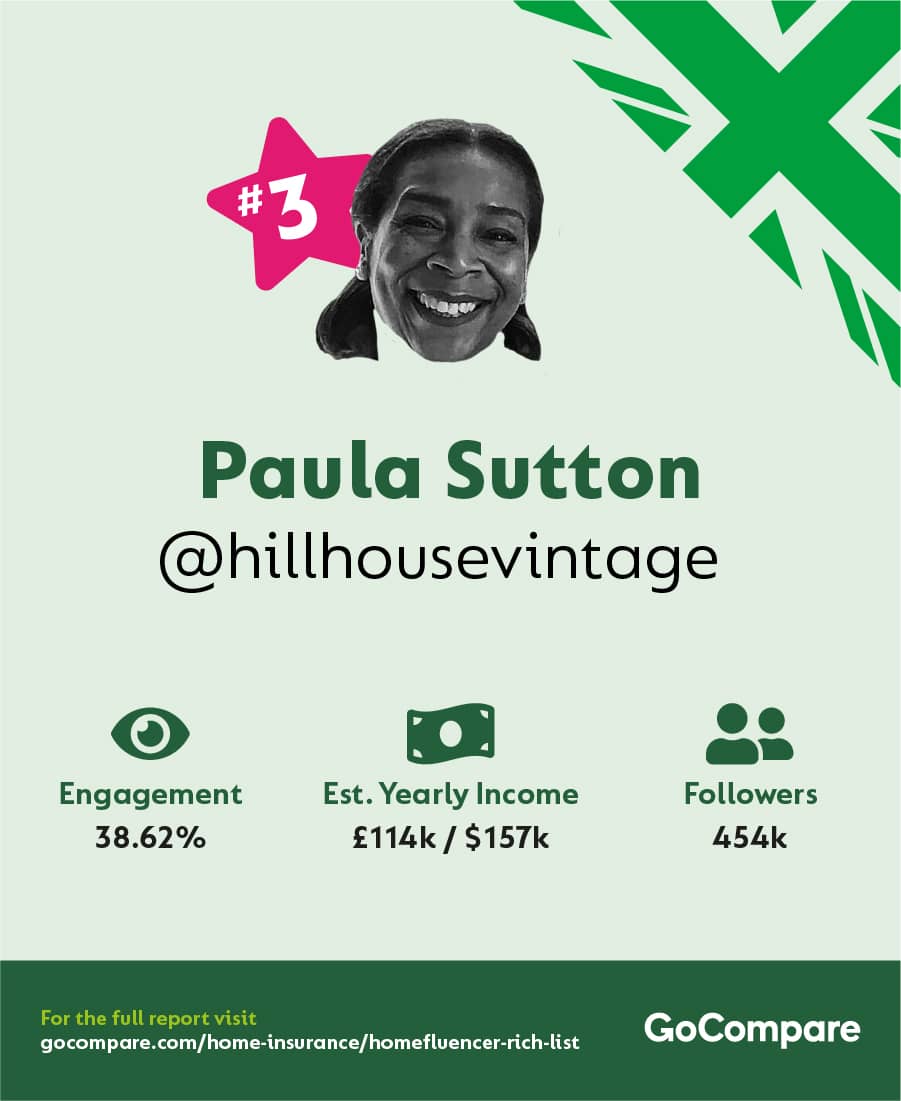 The UK's top three is completed by Paula Sutton. She shares images of her idyllic countryside lifestyle with her 451,000 Instagram fans, expected to earn her around £2,600 per post.
The UK's leading home influencers
Rank
Influencer
Est. Yearly Income (£)*
Est. Yearly Income ($)*
1
Sophie Hinchliffe (Mrs Hinch)
@mrshinchhome
£1,042,862.40
$1,428,721.49
2
Oliva Bowen
@thebowenhome
£168,000.00
$230,160.00
3
Paula Sutton
@hillhousevintage
£114,880.38
$157,386.12
*Based on 5 posts per month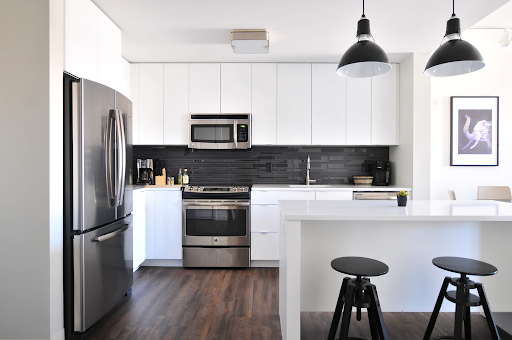 Reality TV and Influencers are cashing in on their homes
Olivia and Alex Bowen aren't the only reality TV stars making money by posting content of their home on social media. Many stars have jumped on the home-fluencer trend, sharing exclusive clips of their lavish homes on their dedicated Instagram 'home accounts'.
Here's how much additional revenue the 20 most followed celebrity home accounts could make each year:
Rank
Influencer
Country
Instagram Followers
Earning per Instagram Post (£)
Est. Yearly Income (£)
(5 posts a month)
1
Oliva + Alex Bowen
@thebowenhome
Essex, UK
640,338
£2,800.00
£168,000.00
2
Billie + Greg Shepherd
@homewiththesheps
Essex, UK
384,088
£1,700.00
£102,000.00
3
Georgia Kousoulou
@georgiakhome
Essex, UK
292,385
£1,200.00
£72,000.00
4
Charlotte crosby
@thecrosbymanor
Houghton, UK
247,598
£1,066.19
£63,971.66
5
Lucy Mecklenburgh
@lucymeckinteriors
Essex, UK
211,665
£914.15
£54,849.00
6
Rochelle Humes
@homehumes
Essex, UK
196,249
£843.88
£50,632.80
7
Chloe Ferry
@ferryhome
Newcastle, UK
188,342
£811.03
£48,661.74
8
Kady McDermott + Myles Barnett
@ourbungalowproject_
Essex, UK
185,985
£800.13
£48,007.80
9
Ferne McCann
@fernemccannhome
Essex, UK
166,811
£718.68
£43,120.80
10
Lydia Rose Bright
@lydiabrightshome
Essex, UK
149,977
£644.46
£38,667.60
11
Grace Beverley
@chezgrez
London, UK
119,823
£515.70
£30,942.00
12
Jacqueline Jossa + Dan Osboure
@homewiththeosbornes
Essex, UK
97,003
£417.17
£25,030.20
13
Jake Quickenden + Sophie Church
@oakhouse_home
Essex, UK
77,711
£334.50
£20,070.00
14
Jessica Wright
@jesswrighthome
Essex, UK
72,807
£313.14
£18,788.40
15
Oliver + Emma Lou Proudlock
@casaproudlock
London, UK
68,602
£298.09
£17,885.40
16
Kim Woodburn
@kimwoodburn
Surrey, UK
68,682
£295.82
£17,749.20
17
Emma Hill
@emmahillhome
London, UK
37,231
£160.12
£9,607.20
18
Tiffany Watson
@tiffanycwatsonhome
London, UK
35,524
£151.77
£9,106.20
19
Louise Teasdale
@louteasdalehome
London, UK
23,576
£101.40
£6,084.00
20
Yazmine Oukhellou + James Lock
@yaznlockieshome
Essex, UK
8,334
£35.85
£2,151.00
Britain's part-time home influencers are missing out on over £200,000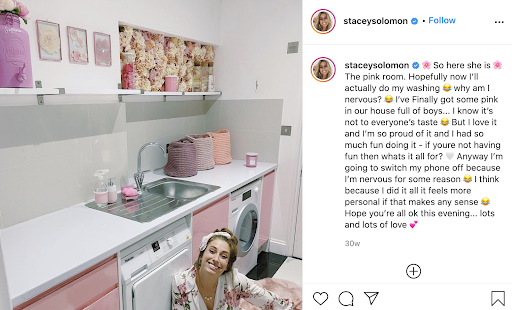 Other stars, such as Molly Mae, Stacey Solomon and Vogue Williams inspire their Instagram followers by showing off their home interiors and sharing cleaning tips.
These stars don't have a dedicated account for their home, so we've estimated how much extra they could earn if they set one up, based on just 20% of their personal profile fans following their home account.
Rank
Influencer
Estimated home account following (based on 20% of personal following)
Estimated home account earnings per post (£)
Estimated yearly Instagram earnings (£)
(5 posts a month)
1
Molly Mae
@mollymaehague
1,035,728
£4,460.00
£267,600.05
2
Stacey Solomon
@staceysolomon
821,186
£3,536.15
£212,169.04
3
Millie Mackintosh
@milliemackintosh
283,519
£1,220.88
£73,252.53
4
Charlotte Dawson
@charlottedawsy
232,261
£1,000.15
£60,009.05
5
Vogue Williams
@voguewilliams
167,727
£722.26
£43,335.46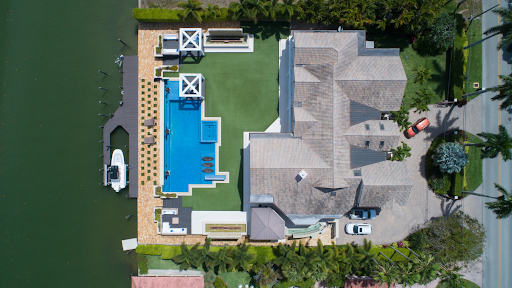 Kim Kardashian is missing out on $14.5m a year
Even more money could be made across the pond. Kim Kardashian's house is one of the most searched for celebrity homes, receiving over 21,000 searches a year online. If only 20% of her 204m Instagram followers were to follow a home account set up by the star, she could earn an extra $14.5m a year!
Rank
Influencer
Estimated home account following (20% of personal following)
Estimated home account earnings per post ($)
Estimated yearly Instagram earnings ($) (5 posts a month)
1
Kim Kardashian
@kimkardashian
40,981,095
$241,764.95
$14,505,897.29
2
Drake
@champagnepapi
15,132,718
$89,274.36
$5,356,461.43
3
Gigi Hadid
@gigihadid
12,766,925
$75,317.54
$4,519,052.12
4
Chrissy Teigen
@chrissyteigen
6,808,767
$40,167.82
$2,410,069.22
5
Jeffree Star
@jeffreestar
2,802,299
$16,531.96
$991,917.41
Thinking about becoming a social media sensation yourself?
As social media posts can earn a small fortune, it's no surprise that most people want a slice of the action to top up their regular income. We're no experts in interior design, but we do know a fair bit about insuring your possessions.
Before you wow your followers, make sure your contents insurance includes enough cover for all your belongings, so you're not footing the bill should your things get lost, stolen or accidentally damaged. There are some DIY jobs that could reduce the value of your home too, not to mention invalidate your home insurance.
We also suggest that you resist posting about expensive purchases or mentioning when you'll be away from home. It's basically advertising to thieves that your home is empty, and what valuable items you have. Only share with the people you trust.
It's also worth making sure you have enough buildings cover too. Compare quotes for your property and find cover that suits your needs, so you can rise to home influencer stardom knowing you have the right protection in place.
Methodology
We gathered the top 50 home accounts based on media mentions, while potential earnings for social media were calculated using Influencer Marketing Hub Tool's TikTok and Instagram money calculators.
All figures were converted from US dollars to pounds as on 1 February 2021. All follower/subscriber figures were correct as of this date too.
Celeb image sources:
Marie Kondo
WikiCommons
https://commons.wikimedia.org/wiki/File:Marie_Kondo_speaking.jpg
Sophie Hinchliffe
Credit: Ken McKay/ITV/REX/Shutterstock
https://www.telegraph.co.uk/news/2018/12/14/instagram-cleaning-star-mrs-hinch-secures-lucrative-book-deal/
Syd & Shea McGee
Credit: Instagram / Studio McGee
https://www.housebeautiful.com/lifestyle/a35282372/dream-home-makeover-shea-mcgee-pregnant/
Galey Alix
https://casaza.com/coffee-with/galey-alix-interview/
Kelly Wearstler
Credit: Masterclass
https://www.architecturaldigest.com/story/kelly-wearstler-is-teaching-the-first-interior-design-themed-masterclass
Olivia Bowen
https://influencermatchmaker.co.uk/celebrity-influencers/olivia-bowen
Paula Sutton
Instagram
https://www.thegoodwebguide.co.uk/the-edit/guest-edits/hill-house-vintage-paula-sutton/21514
Stacey Solomon
Instagram
https://www.instagram.com/p/CCq9LX2l5HH/