Insurance companies use risk-based pricing to determine home insurance premiums - learn the factors, then compare quotes to find the right deal for you.
When calculating home insurance premiums, insurers will consider many different factors before arriving at a quote for your property, including: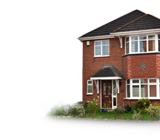 Security
Improving the security features of your home could help to lower the price of your premium as it reduces the risk of you making a claim. Examples include:
A professionally fitted and maintained burglar alarm system
Membership of an approved Neighbourhood Watch scheme
Approved security locks on windows and doors
Making sure all access points to your property are secure
Many insurers will be able to provide you with a list of measures you can take to secure your property, and if you follow these you could receive a cheaper quote.
Location
It's possible that your property may be located in a high-risk flood zone which is likely to increase the price of your premium - read our guide on flooding and home insurance.
Some property owners may live in areas that insurance companies consider to be high risk because crime such as burglaries and damage are more common - certain city centres could be examples. In such cases insurers may insist on particular security measures.
Unusual property features such as a thatched or flat roof will have an impact on your insurance quote
State of the property
Insurers will take into account the physical state of your property when calculating home insurance premiums, including the construction of the walls and roof.
Brick walls and tile roofs are the most common and tend to be the easiest to insure. Stone walls and slate roofs should also present little difficulty, but more unusual forms of construction may prove more problematic when seeking cover.
Subsidence
Insurance policies usually cover subsidence but you should check your policy terms and conditions to see if there are any limitations on your cover.
Your insurance company will want to know as soon as you suspect you may have a subsidence problem, and if a property has a previous history of this it may drive up premiums considerably.
Property features
Unusual property features such as a thatched or flat roof will have an impact on your insurance quote as such things are seen as a high risk to insurers.
Flat roofs are seen as offering easier access to burglars and could be more vulnerable to weather damage, whereas thatched roofs are more costly to repair if damaged and are more difficult to maintain.
Building and contents insurance
Whether you choose to purchase building insurance and contents insurance individually, or combine the two will have an impact on your premium.
It could potentially be cheaper and more convenient to combine the two types of insurance.
Rebuild cost
This is how much it would cost to rebuild your house completely in the event of it being damaged beyond repair. The figure should be inclusive of all materials required and building labour.
If your home is not a standard build, this could raise the rebuild cost. By calculating the rebuild cost of your property accurately you can help ensure you're getting the right home insurance policy at the right price.
By Abbie Laughton-Coles
[SeanSocialShare]