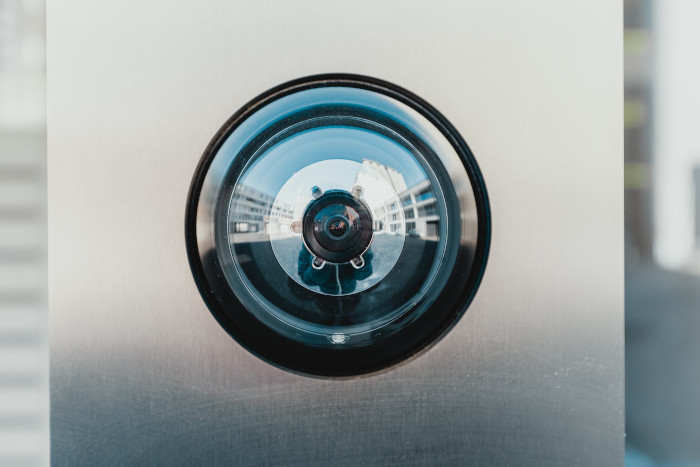 There were over 250,000 burglaries in the UK last year,[1] so it's no surprise that we're looking to tech that can help prevent these crimes and keep us safe.
In Britain, smart security is starting to become standard, but many of us are still unsure.[2] Let's dive deeper into what you've had to say about these new home safety gadgets.
What is smart technology?
Smart technology, in the context of home safety features, refers to the connectivity of the items. Most smart devices that are used for home security are connected to apps through the internet. Video doorbells, for example, can be viewed from phones or tablets, and smart locks can be controlled by voice commands or apps.
Unlike traditional security products, users are more involved with monitoring and controlling the devices to oversee and command their home safety. Our research found that the most popular type of new technology was video doorbells, which are currently used in 4.2 million British households. 3.9 million households employ wireless security cameras, making them the second most popular product. Smart locks, on the other hand, were the least popular devices, with only 3% of the nation's households featuring them.[2]
Britain is divided on smart home safety technology
The nation seems to be split down the middle on whether smart technology is a trusted way to improve the safety features of our houses. Our research found that 50% of people didn't trust the new tech, whereas the other 50% did.
Next, our study explored whether age impacts our trust in security technology. With millennials and zoomers growing up in a cyber world, surely they'd be more likely to trust it? Well, turns out it actually makes little difference.
Surprisingly, 54% of 18 to 34-year-olds didn't trust the tech, compared to 46% of 35 to 54-year-olds, suggesting that older generations were slightly more trusting. Those aged 55 and over were split exactly 50/50 on trusting and not trusting smart safety devices.
So, could lack of trust be the reason why we're still resisting smart home gadgets?
Why don't people want smart home safety technology?
The main reason people don't use home safety technology was because of the cost, with 44% of UK adults asked stating that this was what prevented them from purchasing. This indicates that there could be a large proportion of people willing to use these devices, but don't feel that the benefits outweigh the cost of implementing them, or that they simply cannot afford to have them in the first place.
Although some may argue that these technologies can save you money, there is no guarantee that they will work to prevent a crime. As it stands, contents insurance and home insurance are the best ways to protect your home and your belongings from unexpected crime and emergencies.
Hacking fears
Price was not the only factor that discouraged people from purchasing these items, as the aforementioned trust also plays a significant role. The threat of devices being hacked was the reason that almost a third (30%) of people decided not to use these safety measures - the second-largest off-putting aspect.
The millennial generation - who have been brought up with a more ingrained sense of connectivity to the world - may be expected to harbour more fears around hacking and information security than Generation X or boomers, who have had less experience with technology. Our research contravened this stereotype, however, and found that all age groups feared hacking equally.
Since video doorbells (the most common smart home security product) are often not encrypted they are left open to the risk of hacking. This means that the device implemented for safety could provide a gateway for criminal activity.
Understandably, people may worry about hacking when it comes to new technology. As we've already addressed, burglary makes up a considerable number of crimes. Computer misuse (the criminal activity that hacking falls under), however, accounted for 1.9 million crimes in the year 2021 - almost eight times the number of burglaries.[1]
Since cybercrime is a global threat, these numbers may not include instances of criminals abroad accessing UK software. The Russian-Ukrainian conflict has also brought increased worries as Russian-speaking cyber groups have posed a serious threat to UK interests.[3]
Difficulty of use
There are plenty of us out there that have yet to wrangle the best performance from our burglar alarms, disturbing our neighbours with the ongoing siren as we try to remember the code. In fact, 17% of people hadn't added smart security to their homes because they were worried about its ease of use.
If anyone would like to implement these technologies but feels concerned about not being able to use them properly, be aware that there is plenty of help available to ensure you get to grips with these safety gadgets.
Users can search online for video demonstrations or use the instructions provided with each product. Since many of the devices are app-controlled, you should be able to command these gadgets correctly if you have a good understanding of your smartphone.
Brits born before 1967 were the most likely to be put off by concerns over the tech's difficulty to set up and use, with 21% of over 55s saying this would prevent them from purchasing. Meanwhile, 18 to 34-year-olds were less worried about this, but it was still an off-putting factor for 16% of this age group.
Not considering it necessary
Close to a quarter of respondents (24%) didn't bother to purchase smart home safety technology because they didn't think it was necessary. It has always been difficult to measure the success rate of security features in the home, especially when considering deterrents.
A burglary that doesn't happen can't tell us anything, as we can't be sure of the reason it didn't occur. Likewise, it is difficult to gauge whether burglaries that did occur, happened due to a lack of prevention tactics or as a result of other reasons. Since these devices are still relatively new to the market, it will be a while before enough data can be collected to prove their efficacy.
Until then, if you decide that there is a benefit to you, whether that's a feeling of security and peace of mind, a desire to remain up to date with the latest tech, or a want to simply keep a closer eye on your front door, then it may be worth your while to implement them.
About this data
[1]Crime rates used in this report were taken from the ONS report on crimes year-end 2021.
[2]To collect data for this report, we ran a YouGov Survey of 2,000 UK adults. Respondents were selected at random across several demographics. All statistics were sourced from this survey, unless otherwise stated. To work out the number of households with a video doorbell, we took the percentage of respondents with a video doorbell (15%) and multiplied it by the number of households in the nation (28.1million, according to ONS data). Likewise, a similar calculation to work out the number of households with wireless security cameras was carried out but with the adjusted figure for this product (13.7%).
[3]Information relating to cybercrime was drawn from the National Crime Agency.