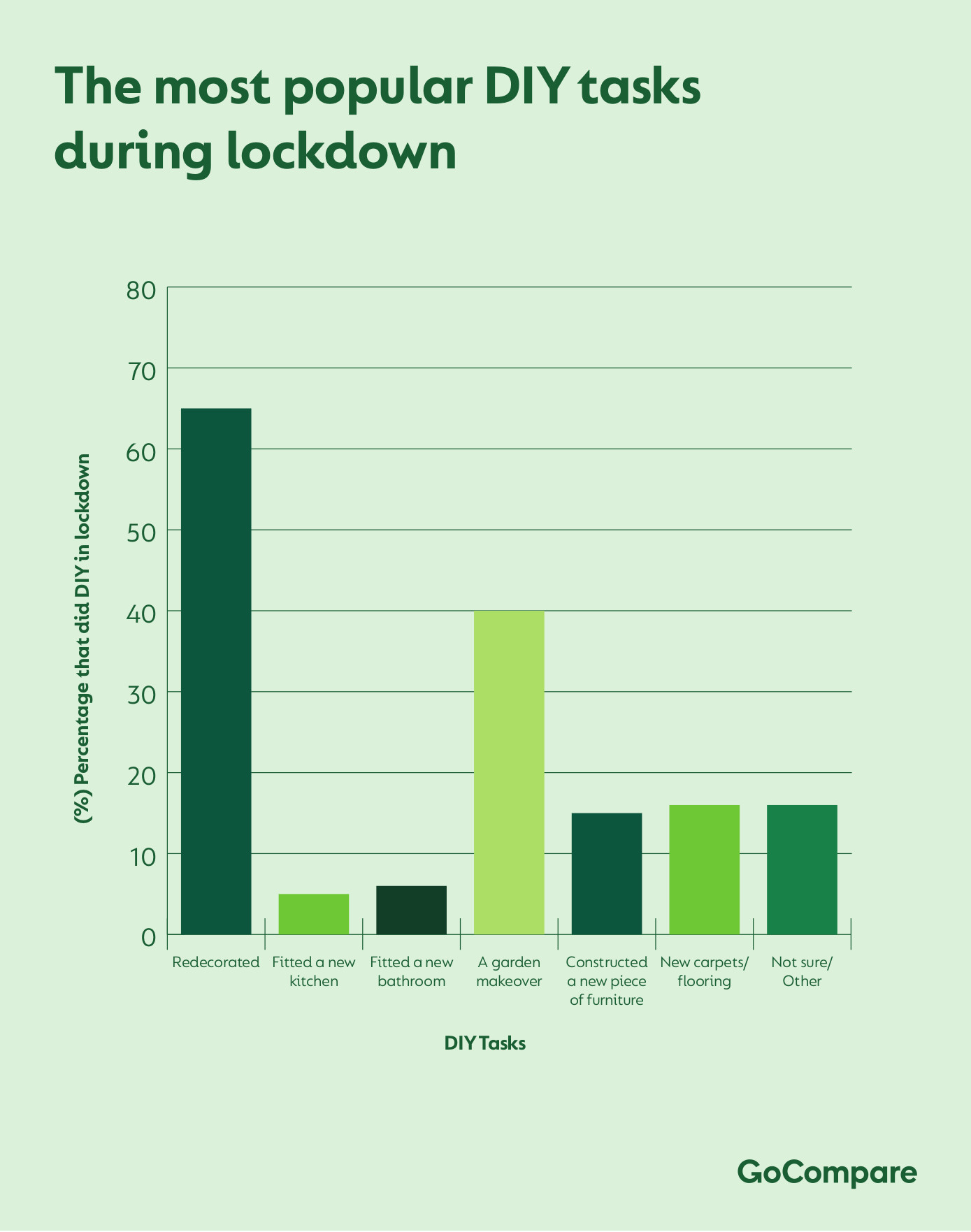 Lockdown prompted Brits to create more comfortable homes
Interestingly, the most popular tasks among DIY-happy homeowners did not always align with what was likely to add the most value to their house or return the highest profit.
The most worthwhile home DIY tasks (based on value added)[4]:
Redecorate
Give your garden a makeover
Fit a new kitchen
Fit a new bathroom
Invest in new carpets/flooring
Homeowners added over £11.5bn in value to England's properties by redecorating, and a further £7.1bn by giving their gardens a makeover. These two tasks also left DIY-ers with the highest average amount of profit.
Fitting a new kitchen was a less common DIY task for homeowners. Although, those who did spend time doing this added the highest amount of value to their home (compared to the other main DIY jobs), and still made a profit doing so. However, homeowners should be cautious about how much they spend on each project, as costs can quickly creep up, but may not provide the highest returns.
Meanwhile, replacing your old carpet is, unfortunately, not thought to add any value to your house. Homeowners won't have seen any profit if they opted to do this, despite the billion-pound total investment. So, rather than forking out for new flooring, it may be more worthwhile to give your walls a fresh lick of paint.
While the majority of homeowners were confined to their houses during the lockdown, it seems many were seeking ways to make the best out of the situation. More than half (55%) of DIY-ers told us that the reason they took on a project was to make their house more comfortable. This shows that they were focused on making their time at home as enjoyable as possible.
Keeping busy was also on our minds at a time when many of us were unable to work. Rather than worrying about adding financial value to our properties (which just 13% cited as the reason for their DIY), we aimed to stay busy instead. This was the main motive for 23% of DIY-ers, and the second-highest in total.
Lockdown DIY: a success story or a downright disaster?
Although many homeowners were keen to 'do-it-themselves', how did their properties fare without professional help? According to our survey results, 83% of DIY-ers did complete the jobs they started, while 15% said the work was still in progress.
This means that just 2% left their tasks unfinished (and have no plans to finish them, either). Interestingly, the project that was most likely to be left unfinished was fitting a new kitchen, which was also the most likely to leave DIY-ers unhappy with the end result.
On the bright side, a massive 97% of homeowners stated that they were happy with the results of their home improvement work, suggesting that Britons are skilled DIY-ers after all.
One such DIY-er is GoCompare's Head of SEO, Victoria from Swansea, who spent the lockdown installing a completely new bathroom suite with her partner. They even managed to repair a leak in the process.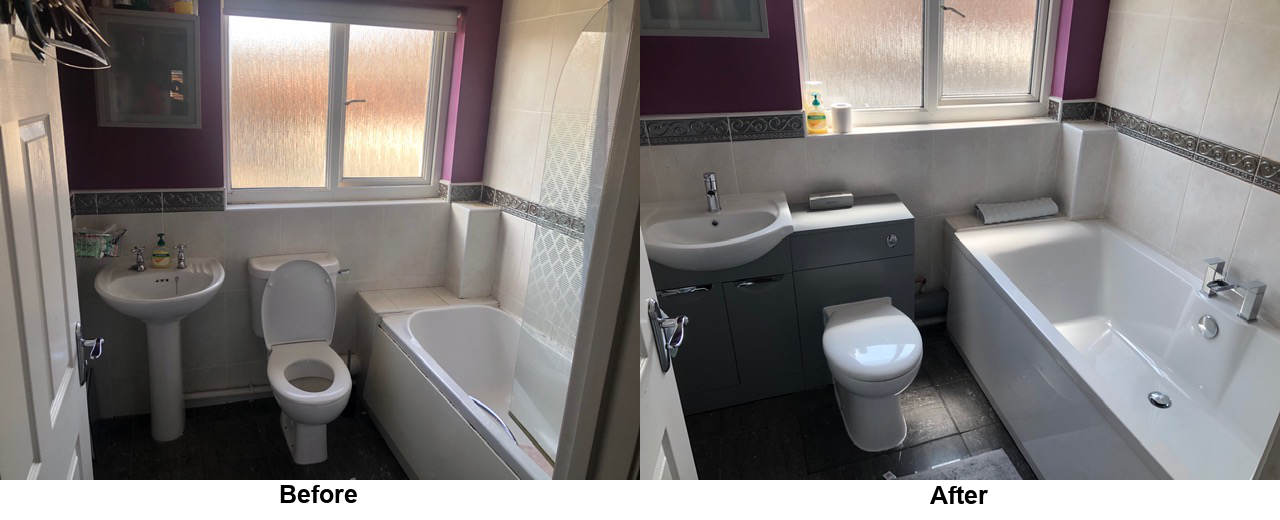 Victoria and her partner decided to improve their bathroom so that their home would be more comfortable during lockdown. She said: "When we looked into the costs of it all, we found that it wasn't going to be too expensive and decided it would be nice to have better facilities while we were stuck at home.
"My partner previously worked as a plumber, so along with a few YouTube videos, we were able to install the new suite ourselves. We're absolutely delighted with the results."
How DIY affects your home insurance
Home insurance policies with accidental damage cover will safeguard you from accidents that occur in your property. However, policies without this type of protection rarely stretch to damages caused by poor workmanship or amateur DIY.
Therefore, before you carry out your DIY work, it's important to check your policy documents for any exclusions. It's also worth notifying your insurer about your plans before you begin, especially if you'll be performing any major renovations or structural work, as you might be required to get additional cover.
Similarly, if you're uncertain about how your home project has turned out, it might be best to call in the professionals to take a look and ensure your policy remains valid.
What about the DIY no-goers?
Our findings also showed that 39% of UK homeowners didn't do any DIY during the lockdown. It turns out that our day jobs were the main reason for this. While lots of workers were furloughed during the pandemic, it appears those who continued to work throughout didn't have the time for other projects.
The next most common reason was not having the correct DIY expertise. Surprisingly, over half (51%) of those that did do some DIY work said they learned their skills from friends and family. This was followed by watching online videos, which taught 30% of people who fitted their own kitchen how to do it.
Just 10% had professional training and had learnt while at work. However, many avoided DIY jobs because they didn't have the money, were too busy, or lacked the motivation. Plus, some simply felt that their home didn't need any changes.
About this data
[1] To calculate the total value added to England's homes, we asked homeowners what DIY tasks they did during the lockdown and how much they spent.
In our survey, 61% of participants (or "homeowners") stated that they did some DIY work during the lockdown, performing an average of 1.5 DIY tasks each. These projects added an average of £2,005.88 to the value of each home, which equates to a total of £26.7bn of value added to England's homes.
Focusing only on the DIY tasks that are known to add value (79.5%), we calculated our total figure of £21.3billion.
[2] An average of the estimated added value for each task was taken, equalling £2,005.88.
[3] To calculate the total estimated value added to England's homes per task, we first multiplied the percentage of respondents who did that task by the number of homeowners in the country. Then, we multiplied this by the estimated value added per task.
[4]The most worthwhile DIY tasks out of the five researched. These are ordered from most to least based on the estimated value added to homeowners' houses. We also deducted the estimated amount of value added from the average spend of each task to calculate the estimated profit.
Data sources
The percentages of estimated added value per task are based on if they were applied to HM Land Registry average house value in July 2021 of £245,218.00 (for a semi-detached house).
The number of homeowners is 63% of English households (which is equivalent to 14,600,000 homeowners), according to official government data on homeownership.