Don't get taken for a ride with mountain bike insurance
Cycling is one of the most popular recreational sports activities in the UK. Protect yourself and your bike with mountain bike insurance. 
Key points
Specialist mountain bike insurers often promote discounts periodically, so it's worth keeping an eye out for what's on offer
Bike insurance may be covered under home contents cover. However, this typically only covers bikes when they're stored at home
If you're travelling abroad, you'll likely need additional insurance to cover you outside of the UK
A learned scholar once wrote, "Life is a rollercoaster, you've just got to ride it". For cyclists, life's joyride can be made a whole lot easier on two wheels. 
In 2016, the British Social Attitudes survey found that almost two million Brits cycle every day, with a further 2.6 million people claiming to cycle between two and five times a week. That's enough saddle sores to keep Savlon in business for decades to come! 
With almost five million UK cyclists on the road twice or more a week, it should come as no surprise that there are a fair few options when it comes to bike insurance. Luckily bike cover doesn't need to be a bumpy ride. We've outlined the most common options available to make your journey as smooth as can be. 
What is mountain bike insurance? 
Cycling has been described as "the most fun you can have between your legs". While that statement is certainly debatable, it's undoubtedly an enjoyable hobby for many nonetheless… the cycling, that is. 
Just like you'd insure a car, a bike isn't much different. In fact, some mountain bikes are worth an astronomical amount of money, and can exceed the price of a car by thousands of pounds (with some worth as much as £15k). The chief difference between the two is that bike insurance isn't a legal requirement.
In a nutshell, mountain bike insurance keeps your bike protected should the worst occur, covering you for a whole host of eventualities. These include everything from theft and vandalism to accidental damage and hazardous collisions. 
As a general rule of thumb, most cyclists will have bikes worth £2k and under. If you live for two-wheeled transit or happen to own an expensive bike, mountain bike insurance could be a wise move.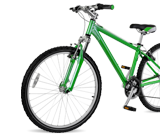 Do I need mountain bike insurance? 
According to the British social attitudes (BSA) survey in 2017, 42% of Brits over five years old own a bicycle. Whether those bikes come with an ultra-light, carbon fibre frame or stabilisers and a flowery basket, that's still - to misquote Robert Plant - a whole lotta bikes. 
Sadly, that also translates into a lot of stolen bikes too, making bike cover all the more sensible. However, bike insurance may be an expense you are already paying for. 
If you have a comprehensive home insurance package, it's worth checking if bikes are covered under your existing home contents policy. Some insurers include bikes under their contents cover as standard, meanwhile others offer this as an optional extra. 
However, not all contents insurance will be suitable for your cycling needs; eg some policies only cover the bike when it is stored inside your home, garage or shed. Be sure to check the small print to avoid any nasty surprises down the road. 
What does mountain bike insurance cover? 
Typical mountain bike insurance cover will protect you from a whole host of eventualities, designed to see you back in the saddle in no time. Features that commonly come as standard include cover for damage/theft, legal expenses, replacement cycle hire and accessories. 
Optional extras typically cover public liability and personal accident claims, providing additional protection for riding mishaps and unfortunate incidents. Meanwhile, further add-ons are available that cater for the nature of your cycling activity, such as EU cover and competition use. 
Some insurers also include roadside recovery as standard. However, this isn't always universal. Roadside recovery is a handy trump card to have in your pocket, so it's worth double-checking if your chosen insurer covers this as standard. If it's not, you could quite literally find yourself left out in the cold. 
It's also worth noting that exclusions often apply and certain circumstances can void a claim. These can range from missing proof of ownership to improperly securing the bike before leaving it. Meanwhile, if you use your bike for work purposes other than commuting (eg courier, food delivery, etc), this is also considered as grounds for rejecting a claim. 
Which mountain bike insurance is right for me? 
If you're looking for a more comprehensive package for elite riders, many companies offer extensive and in-depth policies aimed at serious cyclists. These are ideal for those that enter events, cycle abroad or actively compete in races, typically including competition cover and perks such as physio and dental cover.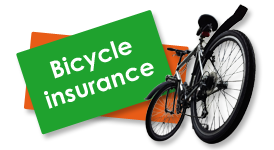 In addition to the above, downhill mountain bike insurance may also fall into a different insurance class again, due to the nature of the activity (typically done on steep, rough terrain). Always check with your insurer beforehand to make sure the policy you're signing up for covers the task at hand. 
Mountain bike insurance abroad 
Cycling holidays are a popular activity among avid cyclists. As such it's important to remember that, when it comes to mountain bike insurance, UK cover doesn't always hold up abroad. 
While some policies will cover European travel, if you're planning a cycling holiday outside of the EU, chances are you will need additional mountain bike insurance. South Africa, for example, is a popular destination for cycling holidays, yet one that requires additional cover - such as mountain bike holiday insurance. 
So, if you are planning on sampling the legendary Cape Epic route, it's worth making sure you're covered before you leave British soil. 
What do mountain bike insurance reviews say?  
As far as mountain bike insurance reviews go, there are a handful of specialist insurance providers that stand out above the rest. 
Brands like Yellow Jersey, CyclePlan and PedalSure are popular choices among British cyclists, and offer a variety of cover options for both seasoned vets and rookies alike.  
Top tips for mountain bike insurance 
Most specialist bike insurers offer a discount of some sort to rope you in, so it's definitely worth shopping around before you saddle up with one supplier. Taking the time to compare mountain bike insurance quotes could be the difference between paying full whack and reaping a monster discount. 
Typical mountain bike insurance offers include lower introductory rates for new customers and multi-bike discounts for cyclists with numerous bikes to cover. Even if you're a returning customer that's happy with your current insurer, some providers even offer a renewal discount as a means of retaining your business. 
So there you have it – enough info to talk the torque with any insurance salesman. Now on your bike! 
By Martyn Grant