Buying a new build? Here's everything you need to know about keeping it safe with home insurance for new builds
Key points
Protect a new build with home insurance, and buildings and contents insurance
Make sure your new home has a guarantee from the builder that offers a fixed period during which you can raise any issues or snags
If one insurer won't insure you because the postcode is unrecognised, shop around - it won't be the case with every provider
Is there anything more pleasant than a newly built property?
The chance to move into a brand new home where everything from the oven to the bath is absolutely brand-spanking new.
And that 'new home experience' is one that more and more British buyers are experiencing, thanks to a surge in the number of new homes being completed.
In the first three months of 2017 alone almost 40,000 new homes were completed and a further 43,170 started, according to data published by the Department for Communities and Local Government, in 2017.
And a lot of the state support for home buyers encourages them to purchase a new build property, such as the Help To Buy equity loan scheme.
If you're one of the thousands of Brits who buy a new build home each year then you will want to know you've protected your investment.
That's where home insurance comes in and owners will usually want to take out both buildings and contents insurance.
Buildings cover protects against risks to the actual structure of the home, while contents cover protects your belongings inside it.
So, is home insurance any different with a new build home?
Are new homes cheaper to insure?
One of the great things about a newly built home is that it's built with all the latest technology. They're often cheaper to heat and filled with more efficient and up-to-date appliances, meaning they cost less to run.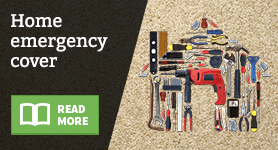 Importantly, they're also often more secure than older homes and fitted with the latest and most secure doors, windows and locks. Some insurers will offer cheaper buildings and contents cover to homes that are fitted with the most modern and effective locks, so that can bring down the cost of your cover.
Not every insurer will lower their premiums and not every newly built home is fitted with market-leading locks. However, the more effective security of new builds can make them less of a target to thieves, meaning fewer claims and lower premiums over the years.
Having said that, it's not always plain sailing with a new home.
Protect new builds from issues
Although a newly built home is less likely to have issues that affect older properties such as damp or subsidence, buying one does not completely insulate you against risks.
In fact, there have been instances of new builds being so poorly finished that the buyer cannot move in, although these are thankfully rare.
Paula Higgins, chief executive of the Homeowners Alliance, said: "One of the biggest issues we're seeing new homeowners face is unfinished or shoddily finished properties.
"Unfortunately, once a buyer has exchanged contracts it can be difficult to get a builder back on site to fix any issues - despite what the warranty may say!
"We would always recommend getting a snagging list before exchanging contracts - and a full survey if you have concerns  - if you can get your housebuilder to agree to this (not all do, shockingly enough)."
What kind of guarantee do I have on my new build home
Most new homes will come with some sort of guarantee.
That will come in part from the builder itself, which will offer a fixed period during which you can raise any issues or snags. but you'll usually also have one from one of the guarantee providers operating in the UK.
One of the biggest issues we're seeing new homeowners face is unfinished or shoddily finished properties. Unfortunately once a buyer has exchanged contracts it can be difficult to get a builder back on site to fix any issues - despite what the warranty may say!
One of the most common warranties is the Buildmark cover offered by the NHBC, which provides insolvency cover for the buyer during the build - assuming they buy off plan - and then further protection on the finished home. So, during the first two years when the builder is responsible that's a resolution service and for years three to 10 it provides insurance for structural damage to certain parts of the home.
If the NHBC has been appointed for building control then it will also cover for breaches of the Building Regulations, so it's a useful safeguard for buyers.
Buildmark is not the only such warranty and it's a good idea for new build buyers to find out exactly what protection they have if something goes wrong with their purchase.
Buildings insurance and structural warranties
Most people accept that they need contents insurance, to protect their belongings from damage, theft or loss. Even if you don't own your home it's sensible to protect your stuff.
But if your newly finished home has a 10-year warranty then you might feel pretty relaxed about buildings insurance.
However, you will almost always need to protect your new home with a buildings insurance policy on top of the guarantees provided by the scheme.
In fact, your mortgage lender will almost certainly require you to take out buildings insurance for your new build, to provide additional protection to your warranty.
Paula Higgins explains: "Warranties usually last for 10 years but only cover smaller defects for the first two years. After that the warranty just covers structural problems. Furthermore weather damage is not covered by the new home warranty and while damp and condensation can be covered this is only if they have occurred as a result of the builder's failure to meet the warranty provider standards.
"It's also advisable to take out contents insurance. This isn't a prerequisite to getting a mortgage, but it's a useful product to have."
I heard you can't get home insurance for a new build
There have been a few recent cases where buyers have struggled to insure their newly build homes because insurers don't recognise their new postcodes.
The problem stemmed from a few insurers failing to update their databases regularly enough, meaning the computer simply said 'no' when homeowners applied for cover.
If you can't get insurance from your chosen provider then don't panic - it doesn't mean that you'll be refused it by every insurer.
Compare policies and find another good option for your new home.

By Felicity Hannah