Compare home insurance quotes for your non-standard construction
Key points
Homes that aren't made of brick or stone with a tile or slate roof are usually classified as non-standard
Prefab homes with timber and steel frames can be difficult to insure, as these materials can erode or rot over time
Asbestos may also be an issue with prefab homes, and require specialist removal if disturbed
Do you have a unique property? If so, you may be in need of non-standard construction insurance. 
Grab a hard hat and a sledgehammer as we look to deconstruct the jargon and help you get your head around non-standard construction home insurance. 
What is a non-standard home? 
A non-standard construction is typically considered by insurers to be any dwelling that's built from materials that don't conform to usual housing conventions. 
While this doesn't quite stretch to igloos, pillow forts and treehouses, it does cover a lot of ground, nonetheless.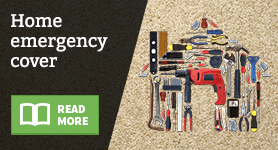 One of the main differences between a standard home and non-standard home is the materials used for the walls and roof. 
Most UK houses are made from brick or stone with a tile or slate roof. Anything that doesn't follow this trend can usually be classified as a non-standard home. 
What are prefab houses? 
After World War II, prefabricated houses were a big part of the government's effort to get Britain back on its feet, and put a roof over its collective head. 
This resulted in hundreds of thousands of prefab houses popping up around the country seemingly overnight. 
However, there was a small problem with this. Most prefab housing was meant to be a temporary solution, and many of these houses had an expected lifespan of just 10 years. 
This has made certain prefab houses difficult to insure and caused many to be labelled as 'defective housing' as a result. 
This is particularly evident for builds such as Aluminium B8 and Arcon bungalows. That being said, the steel framed houses produced by the British Iron and Steel Federation (BISF houses) were luckily built to last, and are more often than not still mortgageable and insurable to this day. 
Concrete and prefab homes
Concrete buildings or prefab homes often fail to show their flaws, as many have a normal brick facade.
These homes, however, may be suffering damage such as crumbling concrete and rusted steel rods, making them very difficult to insure.
Other examples of non-standard construction 
Other examples of non-standard constructions include those made with traditional materials, such as cob houses and clunch houses. These tend to be made using a more archaic method of construction. 
Cob structures typically consist of a primitive cement often made from subsoil, water, lime and straw (among other things) while clunch houses are comprised predominantly of chalky limestone. 
Other non-standard constructions in the UK include the awesomely named bungaroosh homes of the south-east. 
These were particularly popular in the Brighton region during the 1700s and 1800s, and have structures containing everything from broken bricks, cobblestones and pebbles to wood, flint and sand. 
What are the problems with non-standard housing? 
Some of the most common issues relate to the structural integrity of the builds themselves. 
Even steel-framed housing can be susceptible to rusting, while timber-framed houses can rot over time. 
This can seriously damage the foundation of the house, making it a potentially life-threatening hazard. 
Asbestos
Asbestos was used in building construction in the 20th century until around 1970, including in concrete cladding and panels for the walls and ceilings of some houses.
So long as asbestos homes aren't damaged, or in a position where they could become damaged, they shouldn't present a risk to occupants.
In addition to that, many of these older houses – particularly the prefab houses built post-war – were originally constructed with asbestos walls and/or roofs. 
While this can be remedied by a trained professional, it can be costly. Worse still, asbestos removal may not always be included in your home insurance policy. 
In fact, asbestos removal is often only covered by home insurance when the asbestos itself is disturbed as a result of a third-party issue; for example, if a storm sent a tree through your house and damaged an asbestos roof. 
Meanwhile, if you cave in an asbestos wall as part of a haphazard DIY project, chances are your insurer will chalk it up to your own negligence. 
If you suspect your property has asbestos, it's well worth contacting your local council. 
Besides the fact that it's dangerous to tamper with asbestos yourself, you may even be able to get the asbestos removed free of charge by the council. 
Where can I find non-standard construction house insurance? 
One of the main issues people encounter when looking for non-standard buildings insurance is that many high-profile insurance companies lack the expertise to provide an accurate quote for this kind of property. 
This lack of product knowledge and unfamiliarity with the risks of non-standard housing can result in over-inflated premiums, and potentially a refusal to insure you at all.
Luckily, there are plenty of specialist non-standard home insurance companies who know exactly what they're dealing with. 
If you do find an insurance company willing to cover your home, be sure not to underinsure in pursuit of a cheaper deal. 
For the sake of a few quid here and there, it could well cost you a lot more in the long run. 
Compare home insurance for non-standard construction houses 
For a whole host of options, take the non-standard bull by its non-standard horns and compare non-standard home insurance quotes today. 
We could help you find the cover you need to keep your unique home protected – regardless of what it's made of. 
By Martyn Grant