Guide to insuring homes made from non-standard construction materials
Key points
Homes built with non-standard materials may be harder to insure than more conventional properties
Be honest and accurate with insurers when declaring details of your home's construction
Timber-frame buildings and thatched cottages are amongst those classed as non-standard
Whether you live in a suburban semi, a tiny terrace or a sprawling country manor, home insurance is essential - and just like houses, insurance policies come in all shapes and sizes.
But if your property is built with non-standard materials rather than the more common bricks and mortar, you may find it harder to get the right cover for you and your home.
Insuring non-standard construction
If you're a fan of self-build programmes like Grand Designs, you'll know that homes can be built out of materials most people would never even think of.
If you're lucky enough to live in a house made of glass, a post-modern corrugated iron shack or an eco-home built into a hill, you'll still need buildings cover.
When you enter Gocompare.com's home insurance comparison process, you'll be asked about the construction of your home and what your external walls are built from.
You'll be shown three options - brick, stone and other. If your home's external walls aren't made of brick or stone, click other, and you'll be presented with a drop-down menu with a list of options:
Need more information?
Flint
Timber frame with brick walls
Timber frame with plaster panels
Concrete
Corrugated iron
Prefabricated - non-combustible
Prefabricated - combustible
Timber
Asbestos
Glass
You'll also be asked about the construction of your roof. Non-standard roof options include:
Concrete and prefab homes
Concrete buildings or prefab homes often fail to show their flaws, as many have a normal brick facade.
These homes, however, may be suffering damage such as crumbling concrete and rusted steel rods, making them very difficult to insure.
Asbestos
Asphalt
Concrete
Corrugated iron
Felt on timber
Glass
Shingle
Thatch
Timber
It's important to be honest with your insurer about the construction of your home, as if you make a mistake and need to claim in the future you may find you've invalidated your cover.
We hope that you try our quick and easy comparison service to search for suitable policies, but bear in mind that the number of insurers willing to quote for non-standard constructions may be more limited than for standard builds, and the premium may be higher.
The more unusual the property the trickier your search is likely to be.
See also:
In certain cases you may need to consider going to a specialist insurer or broker, and perhaps speaking to them directly rather than quoting online.
"Insurers can be nervous when it comes to covering homes that aren't built with standard bricks and mortar, but that doesn't mean homeowners can't find the right policy for their home," said Gocompare.com's Ben Wilson.
"Finding the right cover may mean going to a specialist, but it's always important to check the wording of any policy to make sure your home is protected in the way you think.
"Using a comparison website can also be a quick and easy way to find the right policy for you and your home."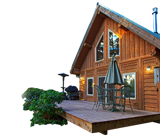 Is my home of non-standard construction?
Your property doesn't have to be built with uncommon materials to be non-standard.
A thatched cottage or a timber-frame building may be considered non-standard, despite the fact there are large numbers of them across the UK.
Listed buildings can also come under the umbrella of homes of non-standard construction, and may also require specialist insurance.
Why are homes of non-standard construction more expensive to insure?
When it comes to insuring homes that are made of anything other than bricks and mortar, providers can err on the side of caution.
A major factor when calculating home buildings insurance is your property's rebuild cost - that is, what it would cost to rebuild your home if it was destroyed.
Asbestos
Asbestos was used in building construction in the 20th century until around 1970, including in concrete cladding and panels for the walls and ceilings of some houses.
So long as asbestos homes aren't damaged, or in a position where they could become damaged, they shouldn't present a risk to occupants.
Most home owners can use a rebuild calculator to help them work out the rebuild cost of a home, but properties that are built with unusual materials can be more of an unknown quantity.
To find out the rebuild cost you may need to consult a surveyor.
The risks that can affect non-standard properties are also hard to assess, hence why premiums - for both buildings and contents - may be higher than with a standard home.
For instance, while homes with a thatched roof are no more likely to catch fire than a home with a tile roof, they are more flammable once alight.
This means that damage from a fire would be far more extensive in the former than it would be in the latter.
Similarly, if your home has a shingle roof, it could be more prone to weather damage than conventional tiles and more costly to repair as well.
By Emily Bater