Subsidence bringing you down? Compare quotes for subsidence insurance today!
Key points
Cracks in the walls, sticking doors or windows, and ripples in the wallpaper could be signs of a subsidence issue developing 
Victorian and Edwardian houses and those built on clay soil are likely to be more susceptible to subsidence 
Most buildings insurance policies include subsidence cover, but it's worth checking to make sure as policies can vary
If you're unlucky enough to have subsidence, it needn't be the end of the world. 
Get the drop on your home insurance as we descend into the nitty gritty to give you the lowdown on all things subsidence. 
What causes subsidence?
As you might expect, the most common causes of building subsidence are all related to the state of the ground that rests beneath your home. 
These include: 
Clay shrinkage
Water escape
Solution features
Mining
Poor foundation
Organic fill decomposing 
Clay soil can be particularly problematic, and is one of the main causes of property subsidence in the UK. This is due primarily to the fact that it's more sensitive to moisture than other soils. 
Older houses can also be more susceptible to subsidence issues as they typically have a shallower foundation than today's standard. 
Houses with trees nearby can fall victim to subsidence too, due to the roots damaging the soil beneath the surface. This is particularly evident during prolonged periods of dry weather. 
What are the signs of subsidence in a house?
The effects of subsidence can be a slow-burning process and take time before they really make a notable impact on your home.  
That being said, there are a few tell-tale symptoms to watch out for:  
New cracks appearing in walls and brickwork 
Noticeable sticking of doors and windows 
Fresh crinkles and ripples in wallpaper
If you notice any of these early signs of subsidence damage, play it safe and contact your home insurance provider ASAP. 
They can then send an expert out to investigate.
Do I need subsidence insurance?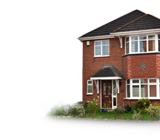 With fees of up to £15k for structural repairs such as underpinning, the effects of housing subsidence can really get you in a hole, both literally and financially. 
If your home is at risk of subsidence, it's well worth taking the time to really look over your buildings insurance documents and see just what you're covered for. 
If your property has previously suffered from subsidence, your home is more in need of it than ever. 
Insurance for properties with subsidence history can be expensive and difficult to find cover for, so you'll likely need to go with a specialist insurer. 
What does subsidence insurance cover?
According to the Financial Ombudsman Service, most household building insurance policies cover loss and damage caused by subsidence, provided you inform your insurer as soon as you're aware of the issue. 
This will typically also include the cost of alternative accommodation, should you need to vacate your property while the problem's being fixed. 
However, it's important to note that the majority of these policies only cover the cost of repairing the damage caused, not the cost of preventing further subsidence from occurring. 
It's also worth noting that you may need specialist cover if you live in a listed building or your property has non-standard features, such as a thatched roof. 
If your property has a history of subsidence, specialist cover may be your only option, as a moderate to high risk of subsidence can often deter a standard insurer.  
How much does subsidence insurance cost?
The true cost of subsidence will be unearthed in the event of a claim. 
If you do need to make a claim on your cover, most insurance companies require you to pay a hefty excess, typically in the region of £1,000. 
However, when there's existing damage or subsidence history, some providers may call for a subsidence excess of up to 3% of the sum insured on the building.
Some policies may not cover damage to external features of your property, such as garden walls, fences or gates. 
While that may seem like a non-issue on the surface, the expense of these repairs can add up to a lofty figure, taking your subsidence repair costs to another level. 
Where can I find the cheapest subsidence insurance?
When it comes to hunting down cheap home insurance with subsidence cover, it's worth shopping around and comparing policy prices. 
Bear in mind that the cheapest option may not always be the best though. 
You should opt for a deal that covers everything you need it to. 
By Martyn Grant