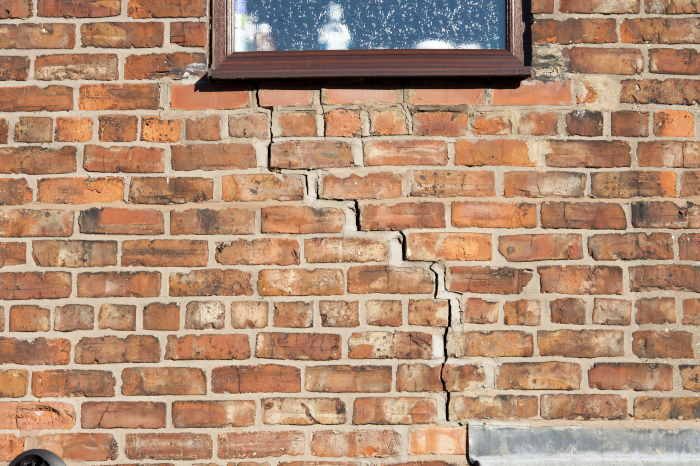 The UK has seen a rapid increase in extreme weather conditions in recent years. Named storms and heatwaves have become increasingly common, which many experts attribute to global warming.
As well as highlighting serious concerns over the state of the environment, these severe conditions can also bring more immediate problems for homeowners, including subsidence. Flash floods, storms and prolonged droughts are all linked to subsidence, so are we seeing an increase in structural issues as a result of the planet's climate crisis?
To find out, we've reviewed our data on home insurance quotes to see how many homeowners have previously claimed for subsidence and analysed whether this number has gone up over the last 10 years. Is global warming leading to an increase in subsidence issues, and if so, what can we do to protect our homes?
What is subsidence?
Subsidence occurs when the ground beneath a property loses moisture due to prolonged dry spells or the presence of trees and shrubs, causing the soil to contract and sink. As a result, the property's foundations can shift out of place, damaging the building's floors, walls and overall structural integrity.
Is global warming leading to a rise in subsidence issues?
In addition to an increase in extreme weather conditions, the last few years have also brought about a significant rise in subsidence problems. In fact, between 2012 and 2021, there was a jaw-dropping 637% increase in the number of home insurance quotes which showed a history of subsidence claims. This is equivalent to an average annual increase of 27.8% over the last ten years.[1]
This issue has become particularly prevalent in the last five years. Since 2017, there has been a 51% increase in the number of quotes with a history of subsidence claims, compared to the five years prior.[1]
Chris Carlton at Geobear, a leading ground engineering company, said it's "impossible" not to link this to climate change: "In the past, dryer summers have caused what is known as a surge event in insurance circles. This is where the exceptionally dry, hot summers cause tree roots to migrate deeper to seek water, this sucks greater moisture out of deeper clay soils and causes more subsidence to happen."
Carlton also warned that we may see another surge in subsidence issues this year: "In the past thirty years, these surge events had happened every eight years or so until 2018. The barren summer of 2018 dried the UK soils in the southeast causing a surge. Now in 2022, the dry spring and summer is causing the potential for another subsidence surge."
How to prevent subsidence
Although subsidence is on the rise, there are a number of steps you can take to try and reduce the chances of it affecting your home.
Maintain vegetation and plumbing
The main precaution you can take is to ensure that any vegetation close to your home is properly maintained. Trees and large shrubs can dry out the soils around a property, which may lead to subsidence. If you're worried that some vegetation around your house may become problematic, be sure to seek professional advice before taking any action.
Meanwhile, poorly maintained drains, pipes and gutters can also cause subsidence. Plumbing leaks can soften and wash away soils, so it's important to keep these in good condition.
Adopt a more sustainable lifestyle
Chris Carlton from Geobear explained that we can work collectively to reduce subsidence issues by addressing the ongoing climate crisis, highlighting that removing vegetation is not the answer: "We can all help reduce subsidence cases by being more sustainable. Addressing the climate emergency is the only action that can be taken to remove the danger of subsidence caused by tree roots and clay.
"When curing subsidence, do not accept tree removal as an option, trees are required to counteract climate change. There are solutions such as geopolymer injection that can be done which means trees can stay."
Ensure you pick the right home insurance policy
Unfortunately, some instances of subsidence are unavoidable, which is why you should take out a home insurance policy that will keep you protected in such circumstances. Most building insurance policies will provide cover for structural issues caused by subsidence, as well as any costs of alternative accommodation if your home becomes uninhabitable due to the damage.
However, be mindful that any impact to surrounding structures may not be covered, unless it occurs at the same time as the damage to your home. This includes patios, driveways, fences, gates and garden walls. It's also possible that you may not be covered if your property has had subsidence problems in the past, so you'll need to keep this in mind when managing any issues with the building.
How to check for subsidence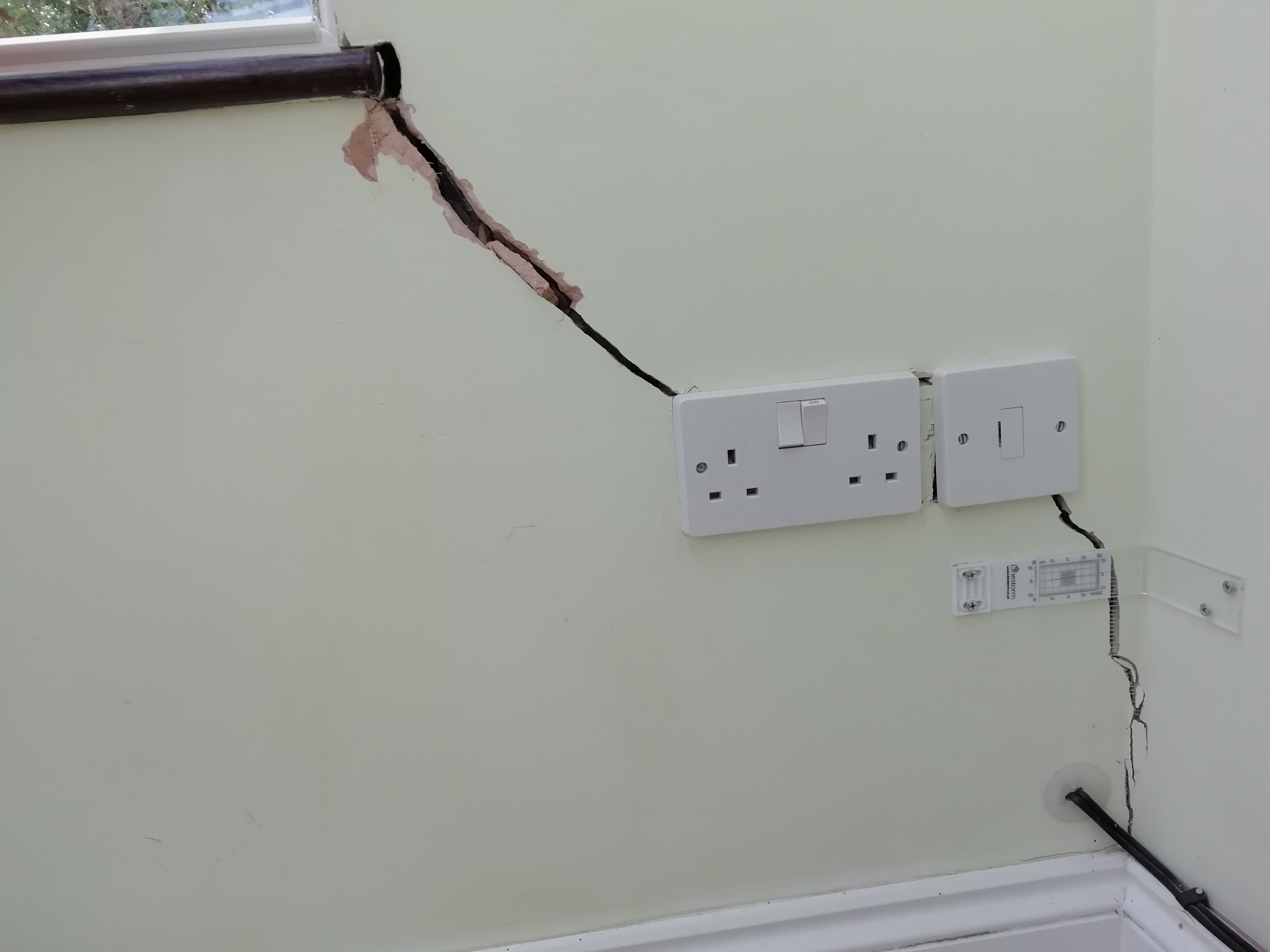 When checking for indicators of subsidence, be sure to keep an eye out for any cracks suddenly appearing in your property's walls (both internally and externally), particularly around doors and windows. This is a telltale sign of subsidence, so you should take action straight away if you notice any new fractures. Subsidence cracks are typically diagonal, thicker than a 10p coin and wider towards the top.
You should also look for ripped wallpaper and any doors or windows that appear to be sticking out. Of course, these issues aren't always caused by subsidence, so there's no need to panic if you find one of these problems.
If you're house hunting, it's also worth checking whether the properties you view have a history of subsidence. Carlton advises that you request this information from your agent: "It's important to ask whether the property has suffered from subsidence and also whether it has been repaired.
"If there has been a repair it should have been signed off by a structural engineer and a Certificate of Structural Adequacy issued, you should request these documents be passed to the conveyancer.
"Where there has been no subsidence, try to learn the soil type and have a look for vegetation. It's worth looking around the property for signs of distress, and if spotted, raise concerns."
What can you do if your home is subsiding?
If you think your home may be subsiding, it's important that you react quickly. Carlton at Geobear advises that you contact a professional (like your insurer or a specialist repair firm) straight away so that the problem can be properly diagnosed. They can then confirm whether the damage was caused by subsidence and begin to take the necessary action.
Carlton also added that, reassuringly, modern techniques can solve some subsidence issues within a day, so it might not become a long-term issue for your property.
About the data
[1]These statistics were created by reviewing GoCompare's home insurance quotes data between 2012 and 2021, split by month. We checked how many quotes had indicated a history of subsidence claims in each year, and found that there was a 637% increase within this timeframe.