Use our top home insurance money-saving tips to find the right policy at the right price and cut the cost of your premium.
Key points
Shop around for the right cover every year and avoid falling into the auto-renewal trap
Try to pay annually and - if you need both - to consider combining buildings and contents insurance
Only pay for the cover you need, and take care with packaged add-ons
Think carefully about security measures and maintenance, and read our tips for more in-depth guidance
Finding a cheap home insurance quote can seem like a challenge, but there are tips which could help to lower your premium without compromising on the cover you need.
Shopping around is the first and, arguably, the most important step and GoCompare helps you to quickly and easily compare multiple insurance brands, looking at policy features as well as price.
It's vital to remember that the 'shopping around' tip doesn't end after you've done it for the first time.
Auto-renewal of insurance is one of the most costly mistakes made by consumers as insurers rely on the convenience people see in staying with the same provider to gradually push up the renewal premium, sometimes to extortionate levels.
In addition to comparing different policies every year, other tips which could help to lower your home insurance premiums are: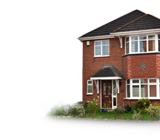 Try to pay annually
Paying monthly can be convenient, but in the long term, it's almost always more expensive than paying for your insurance up front with one lump sum.
The savings to be made by paying in one go can be so significant that, if you can't afford it, it's worth considering other options such as paying on a 0% credit card - just make sure you can pay off the balance on the card before the interest-free period ends.
Buy building and contents insurance together
If you need both, it's possible that buying buildings insurance and contents insurance together will offer a significant saving over buying separately. Dealing with just one insurer may also be more convenient.
Did you know...?
Smokers may pay more for their home insurance because of the additional fire risk
Increase your voluntary excess
Voluntary excess is the amount you agree to pay towards a claim in addition to the compulsory excess set by your insurer.
By opting to pay a higher amount of voluntary excess when you take out your home insurance policy you may receive a lower premium.
Always make sure that you set the voluntary excess at a sum that you would comfortably be able to afford in the event of making a claim, though.
Pay for the right level of cover
Many people tend to over-estimate the rebuild cost of their home and under-estimate the level of contents cover they need.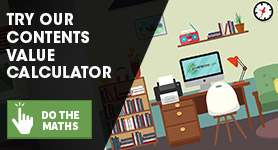 To help you get it right, we can help you calculate contents value and, in the GoCompare quote process, you'll have access to the rebuild calculator supplied by the Building Cost Information Service (BCIS).
Only pay for what you need
You're likely to be offered a wide variety of optional extras when you apply for home insurance and it's important to make an informed decision.
Remember that packaged products can be confusing and potentially worse value than sourcing products separately. Areas you need to think about include home emergency cover, accidental damage, legal expenses and matching sets insurance.
You'll also need to think about any personal possessions cover for items taken outside the home. Again, think about cover you may have from another source - such as travel insurance or a packaged bank account - and pay for what you need, but not for more.
Administration charges are one of the great hidden expenses on home insurance
No-claims discount
If you don't make a claim on your policy you can build up a no-claims discount when it comes to renewal.
This may be worth considering if you're thinking about making a small insurance claim that you could instead pay for yourself to preserve your no-claims discount.
It also means that avoiding incidents can be key to keeping your home insurance cheap year after year, a major factor to consider when thinking about areas such as security, home maintenance and fire prevention.
Protect against house fires
Fitting at least one smoke alarm on each floor of your property is a valuable safety precaution and one that could also benefit you when it comes to shopping for your property insurance.
A large proportion of house fires are caused by cooking or smoking and many insurers will ask if you're a smoker. If you are, don't be tempted to lie in an effort to keep premiums low as it could invalidate any claims that you make.
Improve your home security
Most insurance companies will factor in whether you have adequate security on your property when calculating your premium.
Factors they may consider include:
Approved locks on external doors
Key-operated locks on windows
Installation of a working burglar alarm
Security lighting
Time-switch lights for when the property is unoccupied overnight
If you're considering installing additional security, check with your insurer for approved brands and devices. Be aware that you won't necessarily recover your outlay in premium savings.
Join a Neighbourhood Watch scheme
If you live in an area that's covered by a Neighbourhood Watch scheme you may qualify for a discount on your home insurance.
Maintain your property
As suggested, avoiding incidents is perhaps the best route to keeping down insurance costs and to cutting the expense of property ownership generally.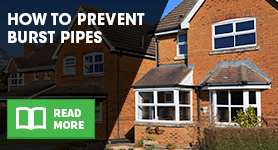 As just one example, burst pipes in cold weather are common in the UK, so by insulating your pipes adequately, you could reduce your chance of having to make a claim, and if your pipes aren't lagged you probably won't be able to make a claim at all.
Think about potential weather damage and ways you can avoid it, so loose roof tiles, broken guttering and the condition of your windows won't give you a headache.
Trees and other foliage can cause significant damage to property, so keep them maintained, or chop them down (provided they're not protected by a Tree Preservation Order) if they become too much of a problem.
If you are considering home improvements, remember that you may need to contact your insurer before work begins and you should think about reassessing your cover levels when the job is complete.
Avoid business use of your home
If you work from home on anything other than an occasional basis you'll need to inform your insurer and may have to pay more for your cover - read more in our article on insurance cover if you work from home.
Think about who you live with
Be aware that other people living under your roof can have an impact on the premium you pay. If, for example, a resident has a criminal record, it may push up the cost of your policy.
Think about where you live
If you're searching for home insurance it may be a little late for this advice, but where you live will be a major determining factor in the price you pay for a policy.
This could be for any number of reasons including high crime rates in the area, a history of flooding, subsidence in the property, its construction from non-standard building materials, or if it's a listed building.
Pay attention to administration charges
Administration charges are one of the great hidden expenses on home insurance and it's all too easy to ignore their details when arranging cover.
If, for example, in the course of the policy you move house, make home improvements, need to alter the level of contents cover or have residents moving in or out, some policies may allow you to make the change for free, others may charge.
We checked Defaqto on 26 April 2019 and found that of 387 home buildings policies, 64% charged an adjustment of £10 or less, but 16% policies charged £20 or more - you've got to really watch that small print. 
When you arrange cover it's worth looking at these charges - paying £5 or £10 more for insurance with reasonable administrative fees may save you much more in the long run.
Shop around for the right quote
As already indicated, our top tip for getting the home insurance cover you need at the right price is to shop around. There are four common ways of doing this:
Use a home insurance comparison site such as GoCompare
A time-efficient way of comparing prices and policy details through one quick and easy search. You'll have access to products from most of the UK's leading insurers and you can search at any time of the day or night. Note that you may have more difficulty in finding the appropriate quote if your circumstances or property are unusual.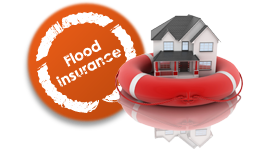 Phone individual companies
This can be time-consuming, can limit the comparison against other providers and may restrict the times when you can search for your insurance.
But your queries may be answered straight away, you can haggle and it may be a way to find cover for unusual homes or circumstances.
Look at insurance companies' own internet sites
This allows you to get a quote in your own time, but this again can be a time-consuming option and one that limits the comparison against other insurers. Note that some insurers such as Direct Line do not feature on comparison sites.
Visit a broker or insurance company on the high street
Brokers will compare a number of different insurance companies on your behalf and this can be a way of finding cover for specialist houses or circumstances. Convenience can be a downside to using a broker and remember that your search will be limited to those insurance companies the broker deals with.
by Ryan Fulthorpe