Frequently asked questions on home phones
Get the answers to FAQs on home phones, then compare prices to find the right deal for you.
See also:
There are lots of different home phone packages available depending on what you require, including:
Home phone and broadband bundles
Home phone, broadband and TV bundles
Weekend and evening call packages
Anytime calling plans
Read more in our beginners' guide to home phone line rental.
Will I have to change my number?
No, you can keep your existing phone number when you switch suppliers.
How long will I be without my services if I switch?
Switching is hassle free - there's no interruption to your phone or broadband service.
How does home telephone line rental work?
A landline or cable landline can be rented from a supplier for a small monthly charge. Sometimes, suppliers bundle line rental charges into packages that also include other services, such as broadband and TV packages.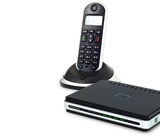 What are bundles?
Bundles are when suppliers offer packages that include more than one service, such as broadband, home phone and digital TV for one set monthly fee. This could be more cost effective than purchasing the services individually.
Which home phone supplier should I choose?
This will depend on the package that you're looking for and where you live. When looking for a home phone supplier consider comparing the:
Monthly package cost
Line rental cost
Calling rates
Terms and conditions of the policy
Should I just go for the cheapest deal?
Find the package that's right for you, factoring in things such as:
When do you make most of your telephone calls?
If there is a free call allowance, what does it include?
Do you mostly call landlines, or are a lot of calls to mobiles or international numbers?
What add-ons are available and how much do they cost?
Do you want to bundle your telephone calls and line rental in with other services?
Is customer service important to you?
Any other questions?
See if you can find the answers in our home phone line rental guides.
By Sean Davies