Keep in touch for less with our hints and tips for keeping down the cost of landlines and home phone bills.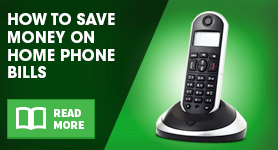 Gone are the days when landlines were our primary mode of communication - nowadays mobile phones, social media and email are our go-to methods of getting in touch quickly and flexibly.
Many people have done away with their landlines altogether, but for those who still rely on their home phones, or keep them 'just in case', there are lots of ways to save money on phone bills.
Get the best deal
First and foremost, make sure you're getting the best deal you can.
Compare home phone providers to find one that fits your needs and offers the greatest value.
Look at your bills
Go through your bills to determine exactly how much you're using your landline. If you're rarely making calls and mainly receiving them, you might be better off simply paying for cheap line rental.
If you tend to make calls in the evenings or at weekends, for example, look for a deal that takes this into account.
If you have a decent broadband connection you can almost entirely negate the need for a landline by using internet options
Understand your plan
A lot of phone tariff providers divide calls between 'peak' and 'off-peak' times.
Obviously it makes sense to make calls during off-peak times, which are cheaper, but some plans will allow for a number of peak minutes free or at a reduced cost.
Make sure you know when these time periods are. Traditionally, off-peak hours were 06:00-18:00, but some providers have moved theirs to 07:00-19:00.
Knowing when your peak hours are means you're better able to control the cost of calls.
Limit the unlimited
While a lot of phone providers offer so-called 'unlimited' evening or weekend calls, they're usually referring to calls of up to 60 minutes (or 90 minutes, in some cases).
Did you know...?
It's possible to cut costs without switching provider by using an override service
The only way to get around this is to simply hang up then call back.
Change your payment method
Most providers will offer a discount to customers paying by direct debit and to those that opt to pay up-front for the year ahead, while choosing electronic rather than paper bills could also offer savings.
Call your provider and ask what reductions they could offer you if you changed the way you pay.
Sign up to override providers
It's possible to cut costs without switching provider by using an override service.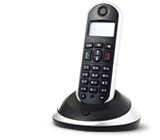 This involves dialling a prefix number to connect to the service, and then paying the cost of the subsequent call, which often works out cheaper than landline and mobile tariffs.
Different override providers specialise in calls to different areas and countries, and you can sign up to as many as you like.
Bundle up
Consider packages that include television and broadband as well as a landline service.
If you're already paying for a TV subscription and/or internet then it might be cheaper to add a phone line to the deal, rather than paying for it separately.
Be sure to shop around, though.
Say no to 0870
Premium rate phone numbers - those starting with 0870, 0845 and 0800, for example - are rarely included in a phone tariff's 'free minutes' allocation, and can really push your bills up.
After all, these are the numbers banks and businesses use, and how often do they leave you hanging on hold for long periods of time?
Instead of ringing these premium lines, visit SayNoTo0870.com to find the geographical (and therefore much cheaper) numbers for many well-known companies.†
Make the most of mobile
If you have a mobile phone contract it's likely that it'll include some free, or even unlimited, minutes to landline numbers.
Make a 'call-back pact' with friends and family so that the person with the mobile makes the call to the person with the landline, rather than the other way around.
Also, keep on top of your mobile phone usage throughout the month. If you find you've got minutes left over it might be worth simply using your mobile to make a call, rather than your landline.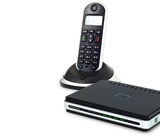 Use the internet
If you have a decent broadband connection you can almost entirely negate the need for a landline by using VoIP (Voice over Internet Protocol).
This sounds a bit complicated but it simply means you make phone calls over the internet instead of with a phone.
If you have a webcam, headset or even just a mic and speakers, free software such as Skype will let you call anyone in the world for free (providing they're using the same software).
Mobile phone apps such as FaceTime also allow you to make free calls providing you're connected to wi-fi.
Ask for help
If you're claiming benefits or are really struggling to pay your bills and are dependent on your landline, speak to your provider about a 'social tariff'.
They aren't always advertised and are usually only available at the discretion of your provider, but they may minimise the cost of having a home phone.
By Rachel England
[SeanSocialShare]