Scottish charm in abundance - compare hotels in Glasgow
Star ratings, board types, budget-friendly… If you need a hand when it comes to comparing Glasgow hotels, we're here to help. Read on to find out what we have to say about hotels in Glasgow and how you can save money on your booking!
Key points
Glasgow is the fifth most popular city for visitors in the UK, and with so much tourism there's plenty of hotels and attractions there
There are plenty of hotels in Glasgow's city centre and a few near its airport. For the more inexpensive hotels, try looking for ones that are more out of the way, as they're likely to be cheaper
Check whether your preferred Glasgow hotel has a cancellation fee and remember to sort out some travel insurance – even if you're a UK resident you might still need it!
Glasgow started out as a rural settlement on the River Clyde in Scotland, and is now the fifth most popular city for visitors coming from outside the UK.  
It's Scotland's largest city, and has plenty of entertainment for all sorts of holidaymakers and business travellers. 
Glasgow also has great links with other areas of Scotland, like the Highlands, the Isle of Arran and other surrounding islands, as well as Edinburgh.  
Hotels in Glasgow 
There's lots of things to gawp at in Glasgow, like the SEC Centre and the SSE Hydro, Glasgow Cathedral, The People's Palace, Glasgow Botanic Gardens and too many museums, theatres and art galleries to name.  
Where there are lots of tourist attractions, there are usually lots of hotels to accommodate them.  
Glasgow city centre hotels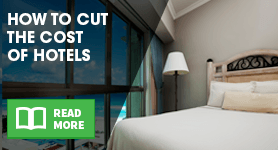 Right in the heart of all the action, there's a range of hotels to suit all budgets.  
For those of you seeking some five-star Glaswegian glamour, take a look at the Glasgow Marriott Hotel, or the Hilton Glasgow, which both have relaxing spas, indoor pools and gym facilities.  
There's also the Jury's Inn, Novotel and the Abode Glasgow hotel if you're after plush four-star accommodation.  
Holidaying in Glasgow on a budget? Compare independent hotels like Glasgow House and hotel chains like the Holiday Inn to find out which offer the best value for money.  
For cheap hotels in Glasgow, you might also want to consider staying further outside the city, as places like the Busby Hotel and Glasgow Pond Hotel might be able to offer cheaper prices than the budget city centre hotels.  
Hotels near Glasgow Airport 
Glasgow Airport is about half an hour away from Glasgow city centre, and it offers plenty of international and UK flights. 
A few hotels are dotted around Glasgow Airport, if you wanted to stay nearby.  
There are two three-star Holiday Inn hotels, a Premier Inn, a Travelodge (are you spotting a theme here?) and the four-star Courtyard Glasgow Airport hotel situated in or right outside the airport. The latter even offers a shuttle service to the airport.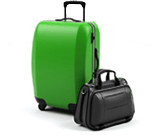 Glasgow hotels near SSE Hydro and SEC Centre  
The SSE Hydro is an events venue in Glasgow city centre, overlooking the River Clyde. The SEC Centre is another events centre with an onsite hotel, the four-star Crowne Plaza Glasgow.  
Other hotels nearby include the Hilton Garden Inn and the Campanile hotel. A Premier Inn and Village Hotel Glasgow are situated just across the river from both event centres.  
Board type 
Board type refers to what meals are included in your accommodation costs.  
If you want breakfast, lunch and dinner, the full works, then all-inclusive might be the way for you to go.  
Would you prefer to find lunch yourself? If so, half-board, which includes breakfast and an evening meal, could be the right option for you. 
Did you know...?
The Horseshoe Bar in Glasgow has the longest bar in Europe at 104ft 3in. Glasgow also has the tallest cinema in the world. With 18 screens and six floors, it can host around 660 people.
For more dining freedom, and usually a cheaper price, the bed and breakfast (B&B) board type could be suitable. Or if you want to sort out your meals yourself, room-only or self-catering might just work the best.  
When choosing your board type, consider what plans you have while you're holidaying in Glasgow.  
If you don't plan on spending much time away from the hotel, then all-inclusive might suit you. But if you'd like to explore the city and its surroundings, then a freer board type would probably be better. Also, consider your budget, as the less inclusive options will usually be cheaper.  
Star ratings 
Star ratings are a UK hotel classification system that rates hotels between one and five stars, with one being the lowest and five the highest.  
These star ratings are based on things like cleanliness, hotel amenities and room quality – as well as the lingual diversity of the staff, for the more upmarket hotels.   
Most Glasgow hotels are rated three stars and up, with four and five-star hotels being concentrated in the city centre.  
Save money by comparing Glasgow hotels  
Don't want to spend ages scouring the web for the best hotel deals? We don't blame you! 
Luckily, we've taken the hassle out of hotel comparison. Through our site, you can get a list of Glasgow hotels in moments, which you can filter by things like budget, board type and star rating.  
This means you can see a range of Glasgow hotels and easily compare prices to find out which offers the best value for money.  
The cheapest hotel isn't always the best option, so weigh up the hotels in Glasgow carefully to find the right choice for you – comparing hotels with us could save you money, as well as time!  
We'd also suggest trying to be flexible with your travel plans, and see if you can avoid peak times, as hotel prices (as well as flight costs) will likely be higher during popular times and special holidays, like Christmas and the summer hols.  
Check to see whether your preferred hotel charges a cancellation fee, and don't forget to organise your UK travel insurance well in advance of your trip to Glasgow – you never know when it might come in handy! 
By Amy Smith