If you're heading to Inverness, compare hotels for a great deal
Planning a Loch Ness monster hunt? You'll need somewhere to stay and, if you don't fancy camping, that means a hotel. But with so much choice available, we can help you choose the right hotel in Inverness for you.
Key points
Prices can vary considerably by board type and season, so compare your options to find a great price for your hotel in Inverness
Inverness is home to a few dog-friendly hotels, so you can bring your pet along for the trip
There are no hotels on the premises of Inverness Airport, but there are several options nearby
Even if you aren't a fan of hunting cryptids in freezing Scottish waters, you might be interested in a holiday in Inverness. It's an area steeped in Gaelic history, and near the Highlands for those who enjoy hiking in dramatic country scenery. For those who prefer a nip of the good stuff, it's also close to several Highland distilleries. 
So, in advance of your trip, let us help you choose the right hotel for you.
Hotels in Inverness
Known as the capital of the Scottish Highlands, Inverness is a rapidly growing city. From its proximity to Loch Ness and distilleries to the gorgeous countryside that surrounds it, it's somewhere well worth visiting. 
It has a range of hotels of different board types and star ratings to suit every visitor. The prices often depend on how far ahead you book your room, so bear this in mind when looking.
The following hotels and rough prices were correct in May 2018.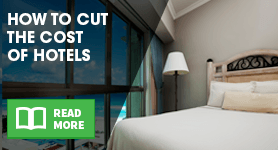 Hotels in Inverness city centre
The city centre is home to many of the usual suspects like Jurys Inn, Mercure and Travelodge. 
But you can also find smaller, independent properties like Glenislay Guest House or The Waverley Guest House for the relatively low price of £70 per night. Glenislay Guest House is room-only, so you'll need to go out and get food. The Waverley Guest House is a bed and breakfast (B&B), so breakfast is included in the price of the room, but all other meals will need to be sourced elsewhere.
Luxury hotels in Inverness
If you prefer the finer things in life, you may want to look at the more luxurious hotels in Inverness. The prices in such places will fluctuate according to when you want to stay. 
For example, the Glenmoriston Town House offers rooms for as little as £70 in the off season, but in summer the prices can rise to as high as £200 or more. Elsewhere in the city centre, the pentahotel provides similar luxury for the slightly cheaper on-season price of up to £170 per night.
Dog-friendly hotels Inverness
Normally, man's best friend has to stay at home or with a kennel while you go off on holiday. However, there are several hotels in Inverness that allow dogs, from the Mercure to the pentahotel, and from the Kingsmills Hotel to the Rocpool Reserve. 
So, if you and your pooch want to go for a good long walk in the nearby highland scenery, you can stay in some of these hotels.
Budget hotels in Inverness
For those who want to simply lay their head down after a lengthy day of aquatic behemoth hunting or whisky distillation, Inverness offers plenty of budget hotels. 
From the Glendruidh House's rooms at the low price of around £60 per person to the Glen Mhor Hotel and Apartments at as little as £40 per person per night, you can get somewhere for everyone in Inverness.
Hotels at Inverness Airport
There are no hotels on the premises of Inverness Airport, but there are several close by. They run the gauntlet from genuine Victorian townhouse – the Inverness Palace Hotel – to the modern, like the Redcliffe Hotel. If you need to stay over before going to or from the airport, we can help you find the right one for you.
Wherever you stay, we hope you have a great time in Inverness.
By Nick Dunn