Discover the luxury of hotels in Kuala Lumpur
Take a break in the Garden City of Lights and book yourself into a hotel in Kuala Lumpur.
Key points
The luxury five-star hotels may not be that expensive if you book at the right time
There's lots of very cheap shared accommodation throughout the city
Kuala Lumpur International Airport hosts a couple of hotels if you need to leave or arrive at an awkward time
The capital of Malaysia, Kuala Lumpur has long been associated with luxurious holidays and jet-setting tourism. In 2016, it was the seventh most-visited city in the world. If you're thinking of booking your holiday, or possibly a business trip, we've come up with the low-down to the city's range of hotels.
Hotels in Kuala Lumpur
From resplendent five-star haunts of celebrities to cheap and cheerful places to lay your head, Kuala Lumpur has it all. Although a long-haul flight out might be expensive, your bedroom when you get there need not be.
All hotels and rough prices were correct in May 2018.
Cheap hotels in Kuala Lumpur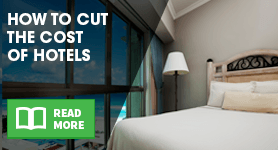 Depending on how far ahead you book your stay, you could get a room in a lodge like the Hotel Royal Palm Lodge for as little as five pounds per night. But, if shared accommodation isn't the relaxing break you'd intended for, you could plump for somewhere like the NU Hotel, where a night's stay might be as cheap as £30 for a double room – and if you don't have anyone to share with, you've got a nice big double bed to curl up in after your lengthy flight.
Prices will vary between hotels, but the easiest way of saving money is to book as far ahead as possible. You could gamble on the possibility that hotels will drop their rates the closer it gets to your intended date, but it's quite a risk.
Kuala Lumpur airport hotels
There are several hotels operating out of Kuala Lumpur International Airport. So if you've got a flight – or arrive in the city – at ludicrous o'clock in the morning, it might be worth getting forty winks in one of them.
Both Sama-Sama and Tune operate a pair of hotels on the premises of the airport itself, which is quite convenient. Sama-Sama is the more expensive of the two operators, with prices anywhere between £50 and potentially as high as £90 or more, while Tune Hotel's rooms come in at between £20 and £50 for a night.
Further afield you can hunker down in the Adiff Palace Hotel, or the Sky Star hotel, both of which charge about £20 for a room.
Five-star hotels in Kuala Lumpur
As a tourist destination, Kuala Lumpur is well-known for its vibrant city atmosphere and its luxurious hotels. So, if you feel like pampering yourself and splashing out on a truly indulgent holiday experience, you could book a room in a five-star hotel.
Star ratings aren't universal, so there's no internationally-agreed method of awarding the stars. Generally speaking, they're awarded based on the quality of service provided and amenities available within the hotel. So, the higher the rating, the better your holiday experience is likely to be.
Within Kuala Lumpur, five-star stays can be enjoyed at the Traders Hotel, the Majestic Hotel (though we rather feel the clue is in the name for that one), the Face Suites Kuala Lumpur and the Grand Hyatt, among others. On offer in these plush locations are such hedonistic delights as spas and pools, as well as air-conditioning, a limo/town-car service, and free laundry services. Prices range from upwards of £120, so if you really want to spoil yourselves, these could be the hotels for you.
There are plenty of other luxury hotels dotted around the city, though they may not all boast five stars. These include the Shangri-La Hotel and its palm-lined pool, the St. Regis with its views of the Petronas Towers, and the tranquil oasis of the Villa Samadhi.
Top tip for a cheap stay in Kuala Lumpur
If you're desperate for a sunny city break, we reckon Kuala Lumpur's hotels offer an excellent opportunity to enjoy a luxurious holiday without breaking the bank. Beyond booking well ahead of time, we think the best way to save money on your hotel is to compare them. Our hotel comparison service has made that process easier, and you can compare hotels by price, star rating and board type with ease.
By Nick Dunn