Sun, sea, squares and volcanoes – see it all from your Sorrento hotel
You can find Sorrento on the south-west coast of Italy, but how can you find great Sorrento hotels? Step this way and find out!
Key points
There are a couple of cheap hotels in Sorrento, but as it's a popular destination, these get snapped up fast. Compare Sorrento hotels to find ones that suit your budget and needs
Whether you're going on a family vacay or you're going all-out posh, Sorrento will surely have a suitable hotel
For something small, chic and interesting, look into Sorrento's boutique hotel scene – there's some real hidden gems!
Sorrento is a town on the Amalfi Coast with views over the Bay of Naples, Capri and Mount Vesuvius.  
It's got narrow streets, a cafe-laden square, and a few bustling marinas. Just 50 minutes north around the bay are the ancient ruins of Pompeii, the city that was swamped by the AD79 eruption of the infamous (and still active) volcano, Mount Vesuvius. 
As well as being spoilt for choice for things to see and do, you'll also have heaps of options when it comes to comparing hotels in Sorrento.  
Cheap hotels in Sorrento 
Want to save money on your Sorrento hotel? Well, we've taken the hassle out of hotel comparison with our accommodation search, which you can use to filter Sorrento hotels by things like budget, board type and star rating, to see what suits you best.  
Cheapest doesn't always mean the best, so weigh up the hotels in Sorrento carefully to find the right option for you – comparing hotels with us could save you time and money!  
We'd also suggest being flexible with your travel plans, and avoid peak times if you can. Hotel prices (and flight costs) rise during popular times and special holidays, like Christmas and the summer hols.  
Don't forget to organise your European travel insurance well in advance of your trip to Sorrento – you never know when it might come in handy!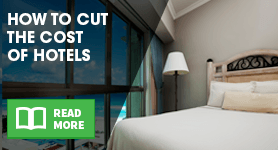 Cheap hotels in Sorrento include Hotel Florida Sorrento, Hotel Spicy (ooh!) and Hotel Il Faro. 
You could even try staying in a hostel like the Ulisse Deluxe Hostel, if you don't mind sharing facilities. 
Five-star hotels in Sorrento 
If you're after a bit of pampering and preening, there are lots of luxury hotels in Sorrento.  
The Bellevue Syrene is a five-star hotel with a good view over the Gulf of Naples, with Mount Vesuvius looming in the background. There's a private promenade ('beach') with sun-loungers set over the ocean, a spa, two restaurants and an outdoor pool. 
The Grand Hotel Royal is another jaw-dropping palace of posh. It's surrounded by exotic parkland and, like the Bellevue, has a view over the Bay of Naples and Mount Vesuvius. It's got a pool, 'beach' deck, wellness centre, and a few eateries and bars.  
Hotels don't have to be five-star to be luxury. Sorrento hotels that have four-star ratings are great for treating yourself too. The Grand Hotel Riviera is a four-star hotel in Sorrento, that has a pool, 'beach' deck, a couple of restaurants, a bar and snack bar.  
Sorrento family hotels 
Taking a trip with the whole family? You'll want a hotel that balances kid-friendly fun and relaxation for the adults. Here's a few we've found:  
Hotel Eden – garden, pool, buffet breakfast, children's playground, family rooms and a bar. 
Hilton Sorrento Palace – indoor and outdoor pools, terrace, exclusive lounge and pool area, fitness centre, garden, tennis court, family rooms and children's menu.  
Grand Hotel Excelsior Vittoria – spa, kids' pool, swimming pool, garden, gym terrace, entertainment and live music, buffet breakfast, free WiFi, kids' playground and TV channels.  
Did you know...?
Actress Sophia Loren made a rom-com titled Scandal in Sorrento. She's one of Italy's most honoured actresses (and one of the most beautiful!)
Alternatively, you could rent a family apartment or villa, if you don't want to risk the little tykes disturbing other guests (or being disturbed by someone else's children!).  
Boutique hotels in Sorrento 
Small, stylish and sometimes a bit quirky, boutique hotels in Sorrento are great for those who want to stay somewhere a little different.  
Sorrento Flats has a fully equipped communal kitchen, offers a buffet breakfast, and has a variety of rooms (plus an apartment and villa) decorated in white with a bright accent colour. It also has a partnership with a local wellness centre and a central location.  
Maison La Minervetta is a coastal hotel with clifftop views of the Bay of Naples and Mount Vesuvius. It's got a pool, terrace, bar, jacuzzi, free WiFi, it's adult-only – and did we mention the awesome views?!  
Hotel Palazzo Guardati is a boutique hotel in the centre of Sorrento with warm browns, soft colours, creams, marble bathrooms, parquet floors, chandeliers, and a rooftop terrace with pool. Yeah, there's a pool on the roof. 
All-inclusive hotels in Sorrento 
For breakfast, lunch and dinner at no extra cost, then an all-inclusive Sorrento hotel might be the way for you to go.  
If you'd prefer to sort out lunch yourself, then half-board, which includes breakfast and an evening meal, could be the right option for you. 
For more dining freedom, and usually a cheaper price, bed and breakfast (B&B) might be best. If you want total freedom when it comes to your meals, room-only or self-catering might work best.  
When choosing your board type, consider what plans you have while you're holidaying in Sorrento.  
If you don't plan on straying too far away from the hotel, then all-inclusive might suit you. But if you'd like to explore the city, Bay of Naples and Pompeii, then a more flexible board type would probably be better. Also, keep your budget in mind, as the less inclusive options will usually be cheaper.  
By Amy Smith