Get the answers to FAQs on income protection policies, then compare quotes to find the right deal for you.
See also:
What's income protection insurance?
Income Protection Insurance (IPI) could replace your income with a monthly payout should you be unable to work due to injury, illness or unemployment.
Read more in our beginner's guide to income protection insurance.
Do I need income protection insurance?
This product is designed for anyone who might struggle to meet financial commitments if they're unable to work.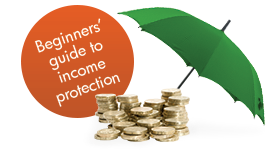 What does income protection cover?
There are three main cover areas to choose from:
Accident and sickness only
Unemployment only
Accident, sickness and unemployment cover (ASU)
How much can I claim with income protection insurance?
It varies from policy to policy, but usually the maximum amount you can claim is your net (after tax) monthly earnings, minus the amount of any state benefits you're eligible for.
This generally works out at around 70% of your gross (pre-tax) monthly earnings and is tax-free.
Another option is to insure a lower percentage of your income, which means your premium should be lower but you'll receive less in the event of a claim.
Some insurers also offer the option of protecting the value of any employment benefits such as a company car or private health insurance. Such benefits may also be known as benefits in kind, or P11D benefits.
How long does income protection insurance offer cover for?
Depending on your policy, payouts will continue until you return to work or until the policy expires - which is usually at the end of a fixed period, or when you reach retirement. This is known as the benefit period.
How long will a policy last?
Using Gocompare.com's service you can choose anything between one and 75 years, but note that most providers will only cover you up to retirement age, and the maximum age insurers generally regard as acceptable as a retirement age is 70.
Once selected the policy will remain in force for the chosen length of time so long as you continue to pay the premiums.
What's a guaranteed policy?
With guaranteed policies, the premium you pay stays the same throughout the policy term unless you increase the cover available. This is generally the most expensive type of policy in the short term, but it could be more cost effective in the long run.
Did you know...?
Some policies offer cover if you can't do your regular job, others will only cover you if you're unable to do any job
What's a reviewable policy?
Premiums are reviewed regularly and can change due to age or changes to your health. Reviewable policies usually start cheaper than guaranteed policies, but they may end up being more expensive. You can read more about high-risk life insurance in our guide.
What's an age-related policy?
With age-related policies, premiums increase every year in line with your age. Policies are popular amongst those who are more likely to make a claim, such as smokers and those with high-risk occupations.
What's short-term income protection insurance?
Short-term income protection policies will provide protection for a fixed amount of time after a successful claim, typically paying out for six months to a year.
What's long-term income protection insurance?
Long-term income protection provides cover if you become seriously or terminally ill and are unlikely to work again.
What's mortgage payment protection insurance (MPPI)?
Mortgage payment protection insurance, also known as MPPI, is a form of income protection that can provide policyholders with a payout which is equivalent to their monthly mortgage payments during the period in which they're unable to work.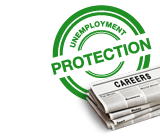 What's unemployment protection insurance?
As the name suggests, unemployment protection insurance - also known as redundancy insurance - is a form of income protection that could provide cover should you find yourself out of work by paying out a monthly sum for a predetermined period.
What's loan protection insurance?
Loan protection insurance is a form of income protection that could pay your monthly loan repayments if you're not able to work because of an accident, illness or unemployment.
What's payment protection insurance (PPI)?
Payment protection insurance, or PPI, is a form of income protection that provides cover for loan repayments and/or minimum monthly credit card payments should you be unable to work.
Is income protection the same as critical illness cover?
No, although they're often confused. Essentially, the right income protection policy should pay out a regular sum if you're too ill to work (for a short or long period), while critical illness protection usually pays out a lump sum if you're diagnosed with a condition that's specifically listed on your policy, meaning you're unlikely to return to work for a long time, if at all.
What's a deferred period?
A deferred period, also known as a wait period, is the amount of time you have to wait before the insurer starts to pay out. This is usually between four and 52 weeks. There may also be the option to backdate payments to the time you were unable to work from, which is known as a back-to-day-one option.
Advice on income protection
If you enter Gocompare.com's income protection quote journey you'll see an 0800 number you can call for fee-free, impartial advice
What are occupation classes?
The occupation class on your policy plays a part in determining premiums and when you may be eligible for a payout, and there are typically three classes to choose from:
Own occupation: Cover if you're not able to perform your own specific job (likely to be the most expensive choice)
Suited occupation: Protection if you're unable to do a job that's suited to your experience and skills
Any occupation: Cover if you're unfit to pursue any occupation (likely to be the cheapest choice)
Can I get income protection if I'm self-employed?
Yes, the self-employed are one of the most common groups who take out IP cover.
Is it possible to take out a joint income protection policy?
It's not possible to take out joint income protection insurance because policies need to be tailored to individual circumstances, although the entire household income and requirements should be considered when arranging cover.
Can I take out more than one income protection policy?
It is possible to arrange more than one income protection policy, but you need to read the terms and conditions with care to ensure you're not paying for something that will be invalidated should you come to claim.
Contribution clauses mean you're unlikely to be able to claim more than 70% of your gross income, even if you had multiple policies where you were paying to cover 100% or more of your salary.
What's Family Income Benefit?
Family Income Benefit policies can cover the monthly income of the policyholder for a pre-defined period should he or she die. They're not widely available, but are thought to be a cost-effective cover option.
What's terminal illness cover?
Terminal illness cover can pay out if the life covered by an insurance policy is terminally ill. Some income protection policies offer such cover, either as a standard feature or an optional extra, but you should check your terms and conditions.
What's waiver of premium?
Waiver of premium provides a means of insuring your monthly payments in the event that you're unable to work due to ill health.
Payments are covered either until the end of the policy term, until you've reached a specific age, or until you're able to return to work.
What's an index-linked income protection policy?
If you're taking out a long-term policy remember that you should expect your wages to rise over time in line with inflation.
If you're looking to protect your lifestyle over the long term, paying extra to make your income protection policy inflation linked could work, although you'll pay more for it - read more about how to get the right income protection.
What other benefits come with an income protection policy?
In addition to a regular monthly payout, some policies may offer additional benefits. These can include: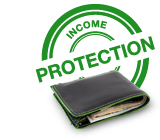 A lump sum at death
Support for rehabilitation
How much does income protection insurance cost?
Your premium will depend on many factors including:
Age
Medical history (yours and your family's)
Occupation
Whether you smoke
Alcohol consumption
Gender used to be a factor, but this changed following the 2012 European Court of Justice gender directive.
What exclusions are placed on income protection policies?
Read the terms and conditions of your policy carefully for exclusions that would invalidate a claim. Typical things excluded are:
Pre-existing medical conditions which you were aware of before taking out a policy
Disabilities or illnesses as a result of a criminal act
Self-inflicted injuries
Pregnancy
Alcohol or drug abuse
Remember that, as with any insurance, entering inaccurate information in your application could invalidate any claim.
Do income protection payments affect entitlement to state benefits?
In some cases, yes. Any payout will be taken into account if you apply for means-tested state benefits and might mean you receive a reduced amount, or no benefits at all.
What are the alternatives to income protection?
Consider any sickness and redundancy package you may have through your existing employment, any state benefits† you'd be entitled to and also other protection products you may have in place to protect you and your family, such as critical illness cover and/or life insurance.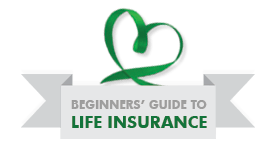 Self-insuring is another consideration, whereby you save the money that you would have paid in premiums to build up your own funds.
While everybody needs a rainy-day savings fund, you should be aware that you may need a very significant sum to match the sort of payouts that can be offered by policies like life insurance, critical illness cover and income protection.
Any other questions?
See if you can find the answers in our income protection insurance guides.
By Sean Davies