Learn what long-term income protection insurance does and doesn't cover and whether you may need to consider it.
Key points
Can offer monthly payments if you're unable to work
Read your terms and conditions with care to ensure you know what you are and aren't covered for, and when payments may start
Consider the pros and cons of income protection against critical illness cover
Long-term income protection can cover you in the unfortunate event that you become seriously or terminally ill, meaning that you would be unlikely to work for an extended period of time, or even ever again.
Policies typically start to pay out after a deferred period - usually between four and 52 weeks.
Depending on your terms and conditions, payouts will continue until you return to work or when the policy expires - usually when you reach retirement, or at the end of a fixed period.
Note that there are also short-term income protection options available that offer a much lower level of protection.
Income protection and critical illness cover
Long-term income protection is often confused with critical illness insurance but, although certain policies can sometimes appear to be very similar, they are different products.
Money Advice Service:
Before deciding on what's right for you it's worth finding out as much as you can and comparing the pros and cons of the different options.
Essentially, the right income protection policy should pay out if you're too ill to work (for a short or long period), while critical illness protection pays out if you're diagnosed with a condition that's specifically listed on your policy, meaning you're unlikely to ever return to work.
Typical income protection policies will pay a monthly amount that's related to your regular income, while most critical illness policies offer a one-off lump sum that's not necessarily related to your salary.
You decide how much cover you need and, the more you choose, the higher your premium is likely to be.
Critical illness insurance is related to you as an individual, but income protection is tied to your job.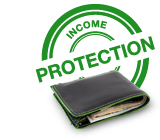 If you change occupation, you'll need to inform your insurer and the policy is likely to be adjusted accordingly.
Note that many life insurance policies include terminal illness cover and this is worth factoring into your calculations.
Guidance on the right product
We know that life protection products can be difficult to understand as well as being big financial commitments.
Gocompare.com's trusted income protection partners can offer fee-free, impartial advice. You'll see the appropriate 0800 number displayed in our income protection quote process, and you can also try our guide to getting the right income protection policy.
See also:
By Sean Davies