Find the right income protection insurance policy at the right price with the help of our money-saving tips, getting appropriate cover while cutting the cost of your premium.
Key points
Shop around for the right income protection comparing prices and policy features
Pay for the level of cover you need... and no more
Think carefully before ditching an existing policy, considering all the options open to you
If you've chosen to take out income protection insurance you'll be aware of how important a product it can be for you and your family.
As such, the last thing you'll want to do is skimp on the standard of cover.
What you should do, though, is try to ensure you find the most cost-effective protection you can, getting the cover levels you need at the cheapest price possible.
To achieve this our first and standard piece of guidance is to shop around, using a site such as Gocompare.com to assess multiple policies and providers in one quick and easy search.
Beyond that, though, there are a number of other money-saving tips to consider to ensure you're not paying more than you need to for the cover that you require.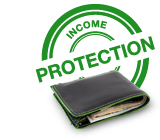 Don't over-insure
The key to getting the right policy at the right price is paying for the cover you need, but not for any more.
Income protection can typically cover up to 70% of your gross annual salary, but if you choose to cover a smaller figure - perhaps 50% - your premiums will be cheaper and you'll have a wider choice of insurers.
Before committing to the level of cover you need, try to work out exactly what you need an income protection policy to cover, considering that your outgoings may change if you're out of work and don't, for example, have to pay for commuting.
Remember also any additional sources that may impact on how much you need from income protection, including government benefits,† support and redundancy packages that may be offered by your employer, if you have critical illness cover and/or existing savings.
Joint income protection
It's not possible to take out joint income protection insurance because policies need to be tailored to individual circumstances, although the entire household income and requirements should be considered when arranging cover.
This differs to life insurance where joint life insurance may be the right option for some couples.
If you need help in working out the figures, when you enter Gocompare.com's income protection quote journey you'll see an 0800 number you can call for free, impartial advice.
Get the right cover for your circumstances
Working out the level of cover you need will inevitably depend on your individual circumstances including, for example, whether you have dependants to support, if you're trying to cover a short-term debt or, perhaps, to secure a 25-year mortgage.
There are long- and short-term income protection options to consider and, as you'd expect, you'll pay more for a longer-term option.
Do you need unemployment cover?
Some income protection policies cover accident and sickness only, others cover unemployment only, and some - the most expensive - cover accident, sickness and unemployment.
Before deciding you'll again need to consider your individual circumstances, factoring in things such as your job security and benefits from your employer such as redundancy packages and sick pay.
Take care with premium types
You'll typically have three choices when it comes to setting the premium you'll pay for the duration of the policy; guaranteed, reviewable or age-related.
Reviewable premiums are likely to appear to be the cheapest, but the premium level can be reviewed after a defined period, meaning that the cost of the policy is likely to rise over time.
Premium levels on a guaranteed policy will not change unless you change the policy, giving you more stability and potentially proving cheaper than reviewable policies over the long term.
An age-related premium may start out cheaper than either a guaranteed or reviewable policy, but the premium will go up year-on-year; the planned price rises should be defined at the outset of the policy, which should help you decide if this is the right option for you.
Cover the right occupation
When arranging a policy you'll be asked what class of occupation you'd like to cover, the options being any occupation (the cheapest), suited occupation or own occupation (the most expensive).
Again you'll need to think about your individual circumstances; if you'd be happy to take any job should you not be able to perform yours through accident, sickness and/or unemployment then an 'any occupation' policy may be suitable.
Did you know...?
The longer you're prepared to wait for the first payment, the cheaper the policy will be
Remember, though, that - as an extreme example - this could mean a Premier League footballer forced out of a contract by a leg injury not being eligible for a payout because they could work as a secretary.
Time matters
Time will have a huge impact on an income protection policy.
At the most basic level, covering a short-term loan will be much cheaper than arranging a policy to protect you should you be left without employment for the rest of your working life. But time factors also need careful consideration when looking at the following areas:
Inflation-linked policies
If you're taking out a long-term policy remember that you should expect your wages to rise over time in line with inflation.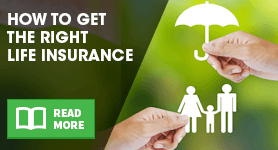 If you're looking to protect your lifestyle over the long term, paying extra to make your income protection policy inflation linked could be the right option.
Let cover levels fall over time
In contrast to an inflation-linked policy, you may find that allowing your cover levels to fall over time will be the right option for you.
This could tie in with, for example, decreasing mortgage payments as you pay down your household debt over time, less need for income when dependant children leave home and/or the start of pension payments.
Allowing cover levels to fall over time should save you money on premiums.
Deferral periods
When thinking about time, it's vital to remember the deferral period; this is the pre-determined 'wait period' before an income protection policy will start to pay out.
Healthcare insurers in the USA are already giving customers free fitness trackers and offering lower premiums or other benefits for meeting daily exercise goals
The period is typically between four and 52 weeks, and you're likely to find that the longer you're prepared to wait for the first payment, the cheaper the policy will be.
Do you need waiver of premium?
A waiver of premium clause will mean that, during periods when an income protection policy is paying you benefits, you won't have to keep paying the premium to keep the policy live.
It's possible that this will be a standard feature of your policy, but other providers may ask you to pay more to have waiver of premium included.
Consider the costs of this and whether you need it; if the policy is paying you enough, you may already have enough to cover the premiums.
Adopt a healthier lifestyle
When it comes to products such as life insurance, income protection, critical illness cover and health insurance, providers will typically charge lower premiums to younger and healthier people as they're less likely to claim.
You may want to consider trying to lose weight, cutting back on drinking, giving up smoking or taking more exercise.
This area of the insurance industry could be transformed in years to come by the rise of usage-based insurance (UBI).
As with telematics car insurance, firms like to use technology to monitor an individual's behaviour and base the premiums they charge on data rather than assumptions.
Healthcare insurers in the USA are already giving customers free fitness trackers and offering lower premiums or other benefits for meeting daily exercise goals.
Such practices may well become more commonplace in the coming months and years as technology intrudes into more and more areas of our lives.
Consider switching income protection provider
While regularly shopping round and switching providers for products like car insurance and home insurance is common advice given the perils of auto-renewal, it's an area that needs more careful consideration when it comes to life protection products.
Multiple income protection policies
It is possible to arrange more than one income protection policy, but you need to read the terms and conditions with care to ensure you're not paying for something that will be invalidated should you come to claim.
Contribution clauses mean you're unlikely to be able to claim more than 70% of your gross income, even if you had multiple policies where you were paying to cover 100% or more of your salary.
One reason for this is that insurers understandably want there to be an incentive for you to return to work, at which point a policy will stop paying out benefits.
See also: Multiple life insurance policies
Age and health play major roles in determining the level of premiums, so as you get older ditching an existing product may not be the right way to go.
It's possible that your existing policy is unsuitable, though, and if you think that's the case it's worth both looking around and speaking to your existing provider.
Should you then decide to switch:
Check your existing policy for exit fees
Keep your existing cover until the new policy is in place
Read the terms and conditions of the new policy with care to ensure you have the cover you expect and need
Regularly review your policy
Over time the needs of you and your family will inevitably change. You may, for example, get a pay rise, change jobs, buy a more expensive house or add to your family.
In these circumstances, and many others, you may find that your income protection is no longer appropriate to your needs.
Given the factors mentioned above regarding the impact of age and health on premiums, your first port of call should be to speak to your existing provider to see if they can alter your policy appropriately.
You can also try this if you've adopted a healthier lifestyle such as stopping smoking; you may even get a cut in premiums.
When you know what your current provider is offering, also think about shopping around to see if you can get a better deal by switching, or by taking out an additional policy.
Consider self-insuring
Self-insuring is another consideration, whereby you save the money that you would have paid in premiums to build up your own funds.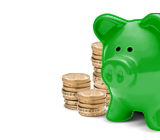 While everybody needs an emergency savings fund, you should be aware that you may need a very significant sum to match the sort of payouts that can be offered by policies like income protection, life insurance and critical illness cover.
Shop around for the right income protection quote
As already indicated, our top tip for getting the income protection cover you need at the right price is to shop around. There are four common ways of doing this:
Use an income protection insurance comparison site such as Gocompare.com
A time-efficient way of comparing prices and policy details through one quick and easy search. You'll have access to products from many of the UK's leading insurers and you can search at any time of the day or night.
Phone individual companies
This can be time consuming, can limit the comparison against other providers and may restrict the times when you can search for your insurance.
On the plus side your queries may be answered straight away, you can try haggling and it may be a way to find cover for particularly unusual circumstances.
Look at insurance companies' own internet sites
This allows you to get a quote in your own time, but this again can be a time-consuming option and one that limits the comparison against other insurers.
See also:
Terminal illness cover
Make your savings work harder
What's more, strange as it may sound, you may find that you can get the same policy cheaper by going through a third-party site or adviser than by going direct to the insurer.
Note that some individual insurers may choose not to feature on comparison sites.
Visit a broker or insurance company on the high street
Brokers will compare a number of different insurance companies on your behalf and this can be a way of finding cover for unusual circumstances.
Convenience can be a downside to using a broker and remember that your search will be limited to those insurance companies the broker deals with.
Execution-only brokers may be a way of cutting the costs of income protection insurance, offering a one-off fee in place of a commission.
These differ to advisory brokers who do take a commission, and also to the full - and often expensive - services that can be offered by independent financial advisers. Read more about finding and choosing financial advice.
By Sean Davies
[SeanSocialShare]