Learn what short-term income protection insurance does and doesn't cover and whether you may need cover for accident, sickness and/or unemployment.
Key points
Can offer monthly payments if you're unable to work for up to 12 months
Can cover accident, sickness and unemployment, but read your policy with care and beware of exclusions
Longer-term policies are available at higher premiums, and you could also consider critical illness cover
Short-term income protection insurance is designed to cover you should you be unable to to work for a fixed amount of time, usually six months to a year.
This may be suitable for people who are made redundant, or those who suffer an injury such as a broken arm or leg that would leave them unable to work or earn their usual monthly wage for a period of time.
Normally, income protection insurers will cover a percentage of your monthly pay, or, alternatively, your mortgage payments or any debt repayments you may have.
If, for example, you were to have an accident while at home and were unable to work for eight months, only receiving statutory sick pay, then a short-term income protection policy could help you to cover the difference between your outgoings and reduced income.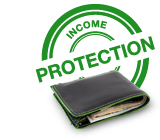 Although this sort of cover can help you in circumstances where you're temporarily out of employment, it probably won't be adequate should you fall seriously, or terminally, ill.
As the name implies, short-term income protection is really designed to help you bridge the gap until you're able to work again, and not for if you will be unable to return to work for a very long time, if at all.
For protection in such circumstances, consider long-term income protection and/or critical illness cover, and note that terminal illness cover is available on many life insurance policies.
Types of short-term income protection cover
There will normally be three types of cover you can choose from: accident and sickness only; unemployment only; or accident, sickness and unemployment cover.
If you only have unemployment cover your insurer will pay out if you're unable to work due to being made redundant, but not if you can't work because you're ill or have had an accident.
Equally, accident and sickness cover would only cover you in those circumstances, and not if you were to lose your job for another reason.
Guidance on the right product
We know that income protection and life insurance products can be difficult to understand as well as being big financial commitments.
Gocompare.com's trusted partners can offer fee-free, impartial advice.
You'll see the appropriate 0800 number displayed in our income protection quote process, and you could also try our guide to how to get the right income protection cover.
By Martyn John
[SeanSocialShare]