Check your car insurance group
Guide to car insurance groups
Key points
The Group Rating Panel puts vehicles in groups between one (lowest) and 50 (highest) every month after assessing data gathered from Thatcham
Not all insurers use this rating, but they will use something similar when they assess a vehicle
The lower the insurance group, the lower your premium is likely to be, but...
... your vehicle is only one factor when it comes to calculating insurance prices - there are many other factors in play that may prove more significant
What is an insurance group?
The Group Rating Panel is made up of representatives of the insurance industry and meets every month to determine car insurance groups.
It assigns a group number between one and 50 to every model of vehicle. A group one vehicle would be in the lowest insurance group, group 50 the highest.
The main factor used by the panel to determine groupings is research conducted by the Motor Insurance Repair Research Centre (Thatcham).
Cars with low insurance groups
If you're shopping around for a new car, knowing its insurance group and how much it'll cost to insure, may help to sway your decision. Use the calculator above to find the insurance group of a specific car you've got your eye on, or use the table below for an overview of the group. 
As you climb higher up the insurance groups, the more expensive and rare the cars become.
Bear in mind that insurance groups change very frequently and that various models of your desired car may fall into a more expensive group based on its technical spec and features, all of which you can read about below. 
 
Manufacturer and model
25 or lower
Volkswagen Fox, Volkswagen Beetle, Hyundai i10, Fiat Panda, Peugeot 107, Citroen C1, Skoda Citigo
26-30
Volkswagen Up!, Ford Ka, Fiat 500, Mazda2, Audi A1, Ford Fiesta, Jeep Cherokee, Land Rover Freelander, Seat Ibiza
31-35
Vauxhall Adam, Audi A3, Ford Mondeo Estate. Mercedes-Benz C Class Saloon, BMW 5-Series
36-40
Mitsubishi Shogun, Peugeot 308 Hatchback, Volkswagen Golf Hatchback, MG ZT Saloon, Volvo S60
41-45
BMW Z4 Roadster, Land Rover Discovery, Porsche Cayman, Subaru Impreza Saloon, Honda Legend Saloon
46-50
Alfa Romeo Giulia, Audi TT Roadster, Ford Mustang, Jeep Grand Cherokee SRT-8, Porsche Boxster

Damage and parts costs
If it doesn't cost the earth to repair your car, and the parts are ten a penny, you'll find that your car insurance group is nice and low too.  
Repair times
If it'll take days and weeks to repair your car, that's a larger number of mechanic hours on the clock - you may find the insurance group is higher than a car that's in and out of the garage in 15 minutes flat.
This may be the case if you've got an imported car or classic car, because chances are the parts are rarer, need to be shipped in, and may take specialist know-how and time to fit.
Value
The value of your car as new informs the insurance group because it reveals how much it would really cost to repair or replace.
Availability of body shells
The panel takes into consideration the cost to replace the basic skeletal frame of the car too, aside from the value of the spare parts.
Again, if the frame is affordable and widely available it may reduce the insurance group.
Performance
If you want cheaper car insurance, the odds will be in your favour if you don't buy a high performance car that accelerates to top speeds in the blink of an eye.
Security
Finally, to find a car with a low insurance group, look at its security features, namely its locks, alarms, and immobilisers.
Not all car insurance companies choose to use the groups set by the panel, with some opting to set their own groupings instead.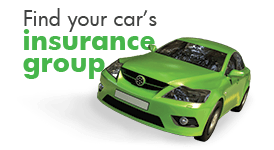 But rating factors will be similar and if you use the tool above to find your car's insurance group you'll get an idea of where your vehicle stands in the table.
In our quotes process you can then quickly and easily compare multiple insurance brands to find the right policy at the right price.
Whichever set of insurance groups an insurer uses, you'll typically find that cars in lower groups attract a cheaper premium.
Cars in higher insurance groups attract a higher premium, often because they're high-performance models or prestige cars that have expensive repair or replacement costs.
Bear in mind that making any non-factory-standard modification to your vehicle is likely to override the standard group rating in the eyes of an insurer and there's a good chance that this will make the car more expensive to cover.
It's not all about the insurance group...
Remember that, whatever rating your vehicle has, there may be more significant factors affecting the price of your insurance, such as the profile of the driver and where he or she lives.
As just one example of things to consider, a poor security rating for your vehicle may be somewhat countered in the eyes of certain insurers if you take measures to improve the security of your vehicle yourself.
To get a better idea of some of the factors in play, try our tips to cut the cost of car insurance and read our extensive collection of car insurance guides.