Find out more about what investments are, how they work and the types available for you.
Key points
Investments are assets purchased in the hope that their value will increase in the future
Unlike savings, their value can go down as well as up and you could lose your initial investment
Investments can seem complex, but there are some easier to understand online platforms aimed at novice investors
In its purest form, investment means purchasing an asset or item in the hope that its value will appreciate over time so it can be sold at a profit, or generate income.
Yet despite the concept being simple, the world of investments can seem formidably complex to the uninitiated and it's hard to know where to start.
Ways to invest
How you place your money and what you invest in means masses of choice - from investing for your retirement with private pensions or SIPPs, to alternative investments like cars or wine, there's a great number of ways to invest.
Many investors dipping a toe in for the first time will initially choose online options, such as investment supermarkets or online investment management services aimed at the total novice.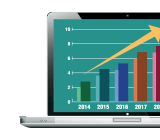 You might also want to think about investing for particular stages of your future, such as considering pension or investment options for retirement or investment bonds as life insurance to care for your family.
Your attitude to risk
One of the biggest considerations for choosing investments should be your attitude to risk.
Investments aren't the same as savings - their value can go down as well as up and there are usually higher risks associated with the prospect of higher returns.
Spreading out your investments is known as diversifying your portfolio and can reduce the level of risk you're exposed to.
Tax on investments
Although returns on investments are usually subject to income tax, there are a few legitimate ways to reduce your tax liability.
Placing investments in a tax-efficient 'wrapper' like a Stocks and Shares Isa or a SIPP will help to protect your returns from the taxman, subject to certain limits.
If you instead choose to place your money in peer-to-peer investments, then an Innovative Finance Isa allows you to receive interest on an annual limit without paying tax.
Are investments for you?
Investments are not the right option for you if you can't face the risk of losing your initial investment and getting back less than you put in.
If that's the case, you should instead look at placing your money in savings accounts, where you have more certainty over the returns.
But if you can accept the risks involved in return for the prospect of higher returns, then you can learn more by reading our investment guides.
By Derri Dunn