Managed investment services are a simple way to dip your toe into the world of investment - but are they right for you?
Key points
Managed online investment services aim to simplify investing and make it more accessible for the masses
This is often done by pooling investments and/or automating parts of the process with robo-advisers and algorithm-based investment
Fee structures are usually simplified, making it easier to compare costs; however you should also take into account ease of use, access to funds and type of investment when comparing
So you know that investments could give you better returns than savings, but you don't know where to start.
When you begin to look at investing your money, all the information on investment types, fees and risks is enough to make your head spin and could put you off the idea of investing completely.
This is where online managed investment services come to the rescue - they act as a simplified platform, where you answer a few simple questions about how much you'd like to invest and your attitude to risk, and they handle the rest.
How do managed investment services work?
Managed online investment platforms have one common aim: to simplify the investment process.
They usually ask you just a few basic questions about how much you'd like to invest, how long for and your attitude to risk, then automate the rest of the process for you.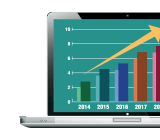 Online managed investments cut out a lot of the research and effort of investing - as well as the cost - usually by using robo-adviser services rather than real-life investment managers.
Robo-advisers work by using algorithms and advanced financial technology to make calculations on where you should place your money based on the information you feed in.
However, they won't go as far as helping you with more 'personal' aspects of financial planning, such as retirement preparations or organising your estate - for that you'll need to find a financial adviser.
Online investment services go one step further and actually allow you to invest your money based on the automated advice produced.
Some online investment services rely entirely on algorithm-based investments, while others will have human investment managers as well.
Whether the service uses human or robo-investors, most cut the cost to the individual investors by pooling funds to invest in bulk at different risk levels.
Advantages of online investment services
One of the main advantages of this type of automated or partly automated investment and advice service is the reduced cost.
Traditional financial advice, with a human financial adviser, is too costly for many would-be investors to access.
But due to the often complex nature of picking investments and balancing risk, this can be enough to put many off investing altogether.
And herein lies the second big advantage of these online platforms: they make the whole process of investment more accessible to the masses.
Fees for managed investment services
Although online robo-investment services might save you the cost of a financial adviser to help you pick your investments, this doesn't mean they'll be completely free from fees.
Often there'll be an annual management fee, which might be a percentage of your total investment or a set amount.
Some services may also have a charge for setting up an account and there may be a fee for each transaction you make - adding or withdrawing money from your account.
However, with online investment services you're likely to save on fees for trading or rebalancing portfolios because these services usually aim to offer a simplified service with bulk trading or automation.
How to compare online investment service
Because of the simplified fee structure for online investment services, they're usually easier to compare than other types of investment.
Just make sure you've looked in detail at the fee structure and taken into account management and transaction fees when comparing potential returns.
While online services aim to simplify the process of investing, you should also do your research on each to find out how it'll invest your money, how regularly it'll rebalance its portfolio and when you'll be able to access your returns.
You might have a preference for human investment managers rather than putting all your money in the hands of robo-advisers, so make sure you know how your chosen service will work before committing your cash.
By Derri Dunn
[SeanSocialShare]