Guide to high-risk life insurance
When it comes to life insurance there's unfortunately no getting away from the fact that if you're at a higher risk of death, you'll face higher premiums.
Insurers don't want to pay out on a policy and will use calculations based on life tables to calculate the risk that you'll pass away in the term of the policy.
If you're categorised as high risk you're also likely to find fewer insurers who are willing to offer you a policy as it's more of a niche market.
As ever, less competition can be a factor in keeping prices high as it'll be more of a closed market.
But that doesn't mean it's impossible to arrange affordable life insurance if you're in a group classed as being at higher risk.
As a first step, you may want to consider trying our comparison service.
This will allow you to compare multiple insurers and policies in one quick and easy search, the results you see being catered to the answers you've given about your particular circumstances.
If you struggle to find a suitable policy that way, or if you just want another take on the options available, you can speak to our partner Assured Futures[1] for fee-free, impartial advice that could help you find a specialist, high-risk insurer.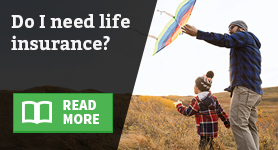 Request a call back through our main life insurance landing page, or by calling 0800 808 6907.¥
What makes someone a high risk for life insurance?
There are a variety of factors that could lead to life insurers classifying you as a high risk, such as:
Age
It's grim but true; the older you are, the more susceptible you are to health conditions and the closer you are to death, making you more of a risk to insurers.
Health
Pre-existing health conditions are factors that are likely to put you into a higher-risk category, driving up premiums or even excluding you from being able to arrange a policy.
If, for example, you're overweight and/or have high blood pressure, you're more likely to pay a higher premium.
One way to arrange a policy if you've suffered from a more serious medical problem may be to exclude the specific pre-existing condition, but you need to be clear on what you're then covered for.
An example may be if you've suffered from cancer; it may be possible to arrange life insurance that won't pay out if you die from cancer, but that will pay out if you die from another cause.
Address
Where you live may play a part in driving you into a higher-risk category as some insurers will look at health statistics for particular regions of the country.
Habits
Your individual habits can play a large part in determining your risk factor, which is why - for example - you'll be asked if you smoke or use nicotine products when you apply for life insurance.
Smoking, of course, has proven links to serious health problems that will increase your risk factor, as has excessive use of alcohol.
Some insurers may look far beyond such causal links, though, and may consider, say, your travel habits.
If you travel regularly, particularly to less mainstream destinations that perhaps have problems with infectious diseases or tumultuous political situations, you may be seen as more of an insurance risk.
Insurers may want to know the countries you've visited in the last few years, if you intend to travel to a hazardous country in the foreseeable future and, if so, the reason for your visit, how you intend to travel and where you intend to stay.
Hobbies
Hobbies other than travel can also impact on your premium. You may, for example, take part in a high-risk sport such as rock climbing or scuba diving.
Read more about insurance for sports and hobbies in our dedicated article.
Occupation
There are a wide variety of occupations that insurers will regard as high risk including - but not limited to - members of the fire brigade, police officers, oil workers and members of the armed forces.
Keeping down the cost of high-risk life insurance
You don't want to compromise on the standard of your life insurance cover, and this may especially be the case if you're in a high risk group, but read our article to find more about the many and varied ways you can cut the cost of life insurance and still get the policy you need.
As ever, our first suggestion is to shop around and compare your options to help you find the right deal at the right price.
Remember, though, that life insurance can be very different to car insurance and home insurance, where auto-renewal of policies is a serious problem.
When it comes to vehicles and properties, loyalty very rarely pays and you're likely to benefit by changing insurance provider at regular intervals.
With life insurance, though, premiums rise as you age and if your health deteriorates, meaning that you need to think carefully before dropping an existing policy for a new one.
This means that it may even be an idea to hold multiple life insurance policies.
If some of your high-risk habits change - perhaps you change jobs, stop smoking, or stop trying to be Eddie the Eagle and retire from ski jumping - think carefully about your life insurance.
You may benefit from changing policies, but as a first priority think about speaking to your existing insurer to inform them of your change in circumstance; you may benefit with a cut in your premium.
By Sean Davies