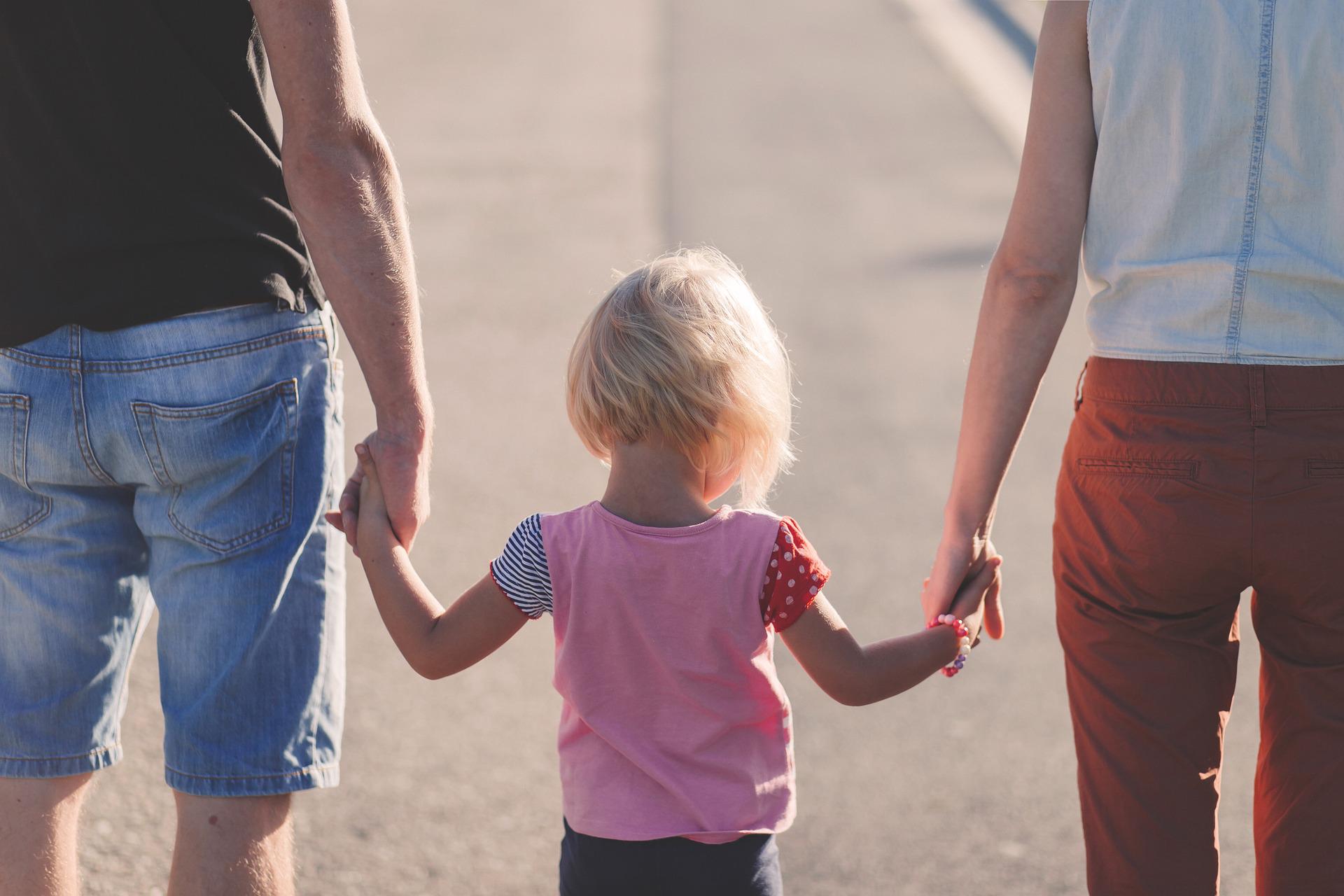 As the cost of living crisis continues and household bills increase, what is the impact on those across the nation trying to save for and invest in their future? Are Brits still able to put money away for a rainy day, and how is the population feeling about its financial future?
Cost of living crisis: how are rising costs affecting our futures?
When researching the nation's opinions of the current crisis, a staggering 91% of UK residents told us that they were worried about the future because of the increased cost of living.[1] The majority (55%) said they were worried a little, and over a third (36%) said they were worried a lot.
This shows just how many households are being affected by these issues, as we found that only 9% had no concerns about the impact of the current economic climate on their future.
The biggest worry adults held about saving for the future was their retirement. In fact, our poll revealed that over half (55%) of the respondents were concerned about being able to put aside enough funds to prepare for life after employment.
Many were also worried about the impact that today's tighter purse strings would have on their kids' futures. As many as 14% had concerns about saving to bring up children, while 46% of homeowners were apprehensive about having the money to help their child buy a house. When combined, child-related worries equalled the second largest concern among adults.
Other life events that were a cause for unease included saving enough to buy a house, with 43% of renters citing this as a concern. Perhaps unsurprisingly, getting on the property ladder was the largest worry for those aged 18 to 34, while retirement was the biggest worry for older generations.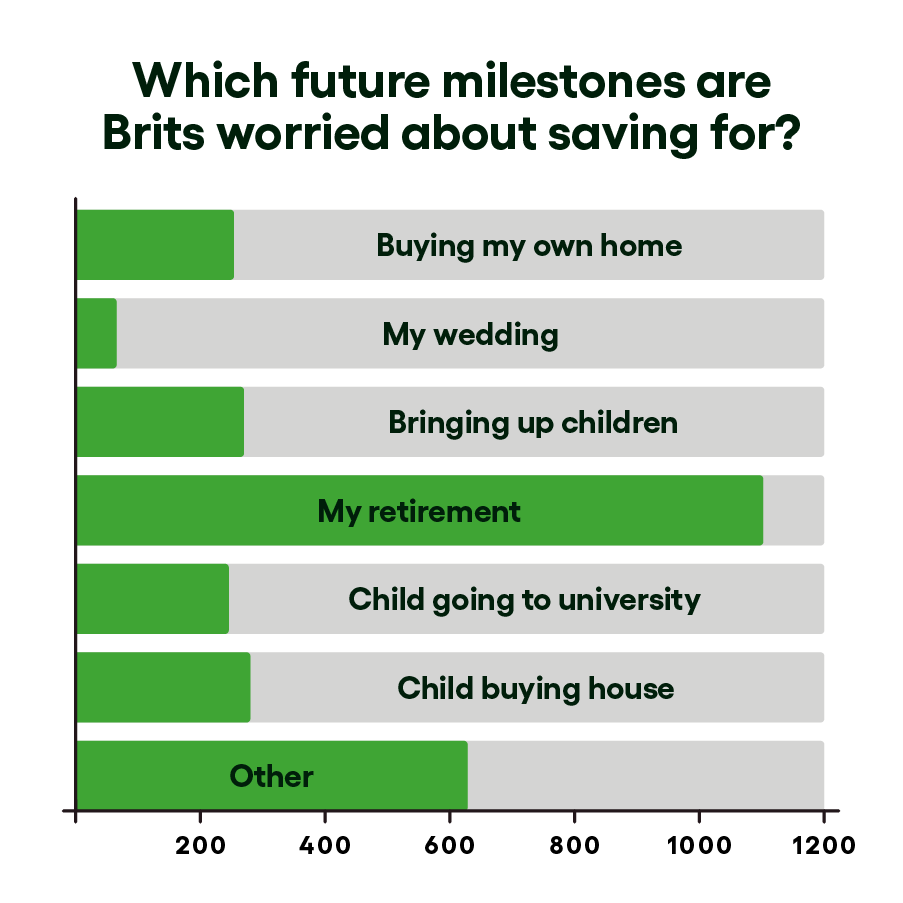 Are Britons still able to save?
An incredible 81% of UK adults said they have seen their ability to save for the future compromised because of the rising cost of living. Unfortunately, this shows the effects of the current price crisis, with many UK households needing to make difficult decisions about their finances.
According to our report, over a quarter of Brits (27%) have had to sacrifice financial products that facilitate saving for the future, now that everyday essentials are more expensive. Among those products were various individual savings accounts, such as child or junior, stocks and shares, help-to-buy and lifetime ISAs.
More than a fifth (21%) of respondents told us that they have had to stop paying into a savings account because of the cost of living crisis. This shows that increased outgoings are leaving a huge percentage of the population with no money leftover to save at the end of the month.
What's more, 5% of UK residents said they had stopped paying into or reduced the amount they are putting into their pension, while 4% admitted they are no longer paying for their life insurance policies.
How can I start to save?
There may be ways to save a little extra, even when you're struggling. Take a close look at your outgoings and try writing down all of your expenditures for a month to see if there are any areas you might be able to cut back on.
Browse our seven ways to save for more methods of making the most of your budget. Remember, it usually makes sense to prioritise paying off any expensive, high-interest debt (such as credit cards or payday loans) before starting to save.
If you're on a low income and can put away even a small amount, you may be eligible for a savings bonus through the government's Help to Save scheme, which gives universal credit or working tax credit claimants a savings boost. The scheme pays 50% on the amount you've saved, up to a maximum of £1,200 over four years.
Should I keep paying for my life insurance policy?
Our research shows us that more than two million people (2.11 million) have chosen to cancel their life insurance policies because of the cost of living crisis.[2] There are several factors you should consider if you're wondering whether or not to continue with your cover.
Alleviate concerns over your children's future
Concerns over saving for children's futures were the second-highest cost of living-related worry among adults, according to our research. Life insurance can help to combat some of this stress, as if the worst were to happen, you know that they will have financial support.
Our report found that 12% of UK residents were apprehensive about saving enough money to help their children during university.[1] When taking out a life insurance policy, you can decide how long you want to be covered, how much you want to be paid out, and to whom. So, to help your kids get through their education, make sure the amount you've chosen covers them until your youngest finishes their schooling.
Help dependents with bills and debt
For those already struggling financially, the thought that you may be leaving debts to your dependents can be a real worry. The number of people with these concerns could likely rise due to the cost of living crisis, as the reliance on borrowing to help pay off bills increases.
Life insurance ensures that your loved ones will have financial aid which can help to cover such costs. If you have a mortgage, credit card, loan or other debt, the money from your insurance policy can support your loved ones in meeting those financial commitments.
Keeping your policy may save you more in the long term
To invest in your future and get your life insurance cheaper, it's better to take out cover early – purchasing a policy when you're younger means you're less of a risk, which is why your premiums will be lower. The cost of your life insurance depends on several factors, but comparing providers makes it easier to find affordable cover, depending on your circumstances and the type of policy you choose.[3]
Cancelling life insurance now may save you a little each month, but it could actually cost you more in the long run. As you get older your premium will likely increase, meaning that you could end up paying more per month when you decide to take out a new policy, than if you had kept paying at your current rate.
For more information, and to compare quotes, visit our helpful life insurance guide.
Cover will usually exceed savings
Matt Sanders, our life insurance expert, discusses the benefit of a life insurance policy payout when compared to regular savings:
"Usually, the cover amount will far exceed the savings you can put away – the payout in the event of a claim could be in the 10's or 100's of thousands depending on your level of cover. This could be incredibly helpful in ensuring your family can continue their lives with a level of financial stability in the event one of the policyholders dies or becomes critically ill (if your policy includes critical illness cover).
"The huge caveat to this is that life insurance pays out on death or critical illness diagnosis of the policyholders. So, it's one of those insurances you pray you never need but could be a financial lifesaver should the worst happen."
About this data
[1] To collect the data used in this report, we ran a YouGov Survey of 2,000 UK adults on 3 August 2022. Respondents were selected at random across several demographics. All statistics were sourced from this survey unless otherwise stated.
[2] This figure was calculated by applying the percentage of UK adults who have stopped paying for life insurance because of the cost of living crisis (4% - sourced through the YouGov survey) to the number of people aged 18 and over in the UK (52.8 million). UK population data was sourced from the Office for National Statistics. Data from mid-2020 was used, as this was the most recent data available at the time of writing. This equalled 2.11 million UK adults who cancelled their policies.
[3] Your cover will depend on your individual needs, circumstances and the premium you choose to pay.