Risky business: what are the UK's riskiest jobs?
We've analysed the riskiest jobs in the UK, uncovering the dangers of each industry and where you're most at risk. Is your job on the list?
While we can all moan about our jobs, a 'work-life' balance isn't just a turn of phrase for some hazardous professions. In these industries, work really can be a matter of life or death. We wanted to find out exactly which job roles are the riskiest and what makes these occupations so dangerous.
Some risky jobs may seem obvious, but others might come as a surprise.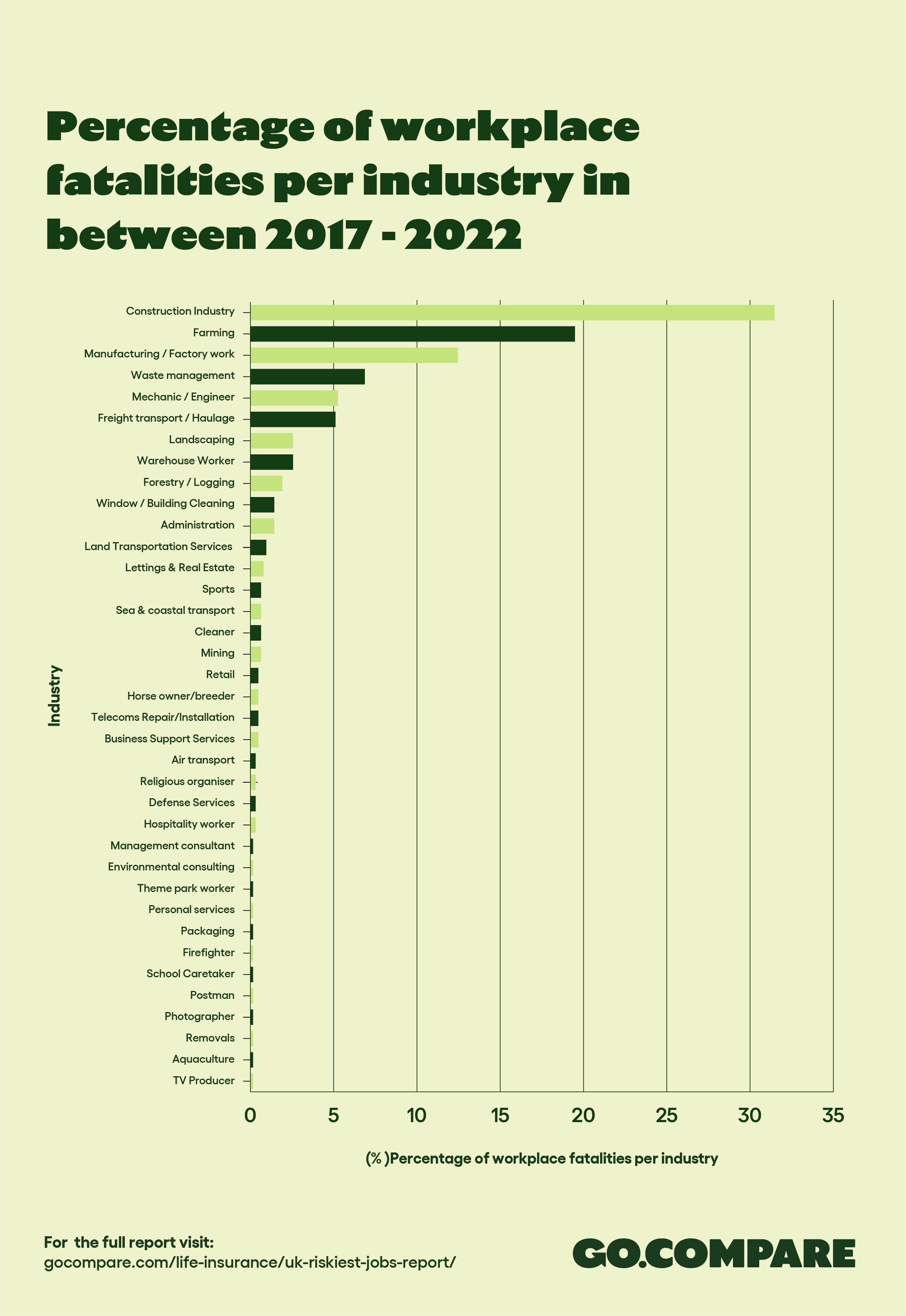 [1]
Construction is the most dangerous industry of all
Working in construction runs the highest risk of all the industries we analysed. This workplace earns the title of most dangerous thanks to great heights, heavy loads and live machinery all providing constant sources of danger. Our research found that 31% of workplace fatalities happened in the construction industry.
Skilled construction and building trade workers also had the highest rate of suicide of men in any profession, with 276 men working in construction committing suicide in the UK in 2020.[2]
Second on the list is farming, including both crop and livestock farming. These careers come with hefty health and safety warnings, from farm machinery to live animals posing a potential threat to life. Between 2017 and 2022, farmers made up 19% of all workplace fatalities.[1]
Builders work in the riskiest role of all
Builders hold the most dangerous job role, comprising 13% of all fatalities at work between 2017 and 2022. Unsurprisingly, roofers were high on the list too, with their occupation posing a considerable threat of falling off slippery surfaces and collapsing roofs.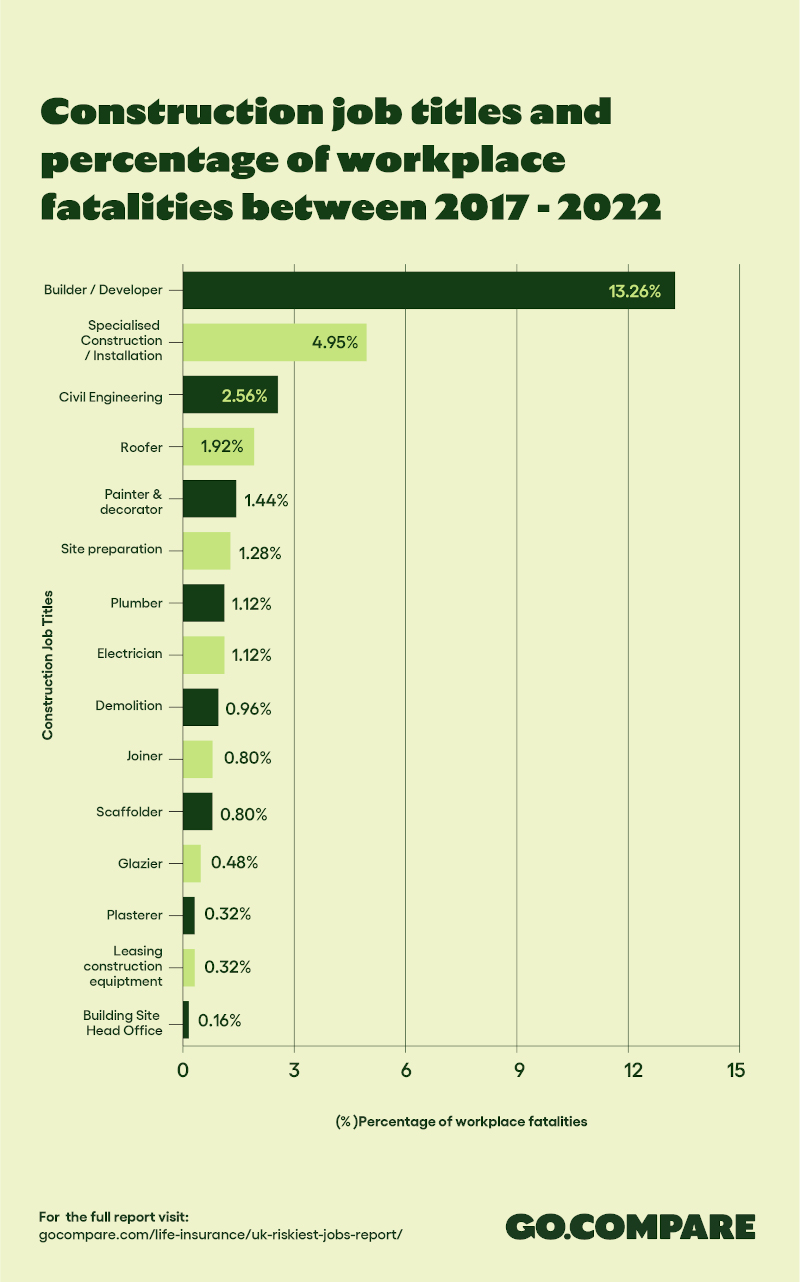 [1]
It may surprise you that painters and decorators are in greater danger at work than electricians or demolition workers, despite the latter handling live electricity and hazardous explosives.
This may be because falling from a height is the most common cause of death at work, with over 25% of fatalities attributed to falls. Explosions and electricity, meanwhile, accounted for a lesser 1.9% and 4.2% respectively - perhaps due to more safety precautions being taken out in these careers.
Falling from a height is the most fatal accident
[1]
High scaffolding, cranes and large machinery are all essential equipment for many of these risky industries, so it may stand to reason that these industries also have the highest workplace mortalities. Of all the fatalities we analysed, 25% of them were caused by falling from a height.
The second most common cause was being struck by an object, with 16% of fatalities coming as a result of falling materials or fast-moving machinery. 14% of deaths were caused by a moving vehicle, while 13% were as a result of tragically being trapped beneath collapsing structures, tools or machinery.
Devon is home to the riskiest jobs according to HSE data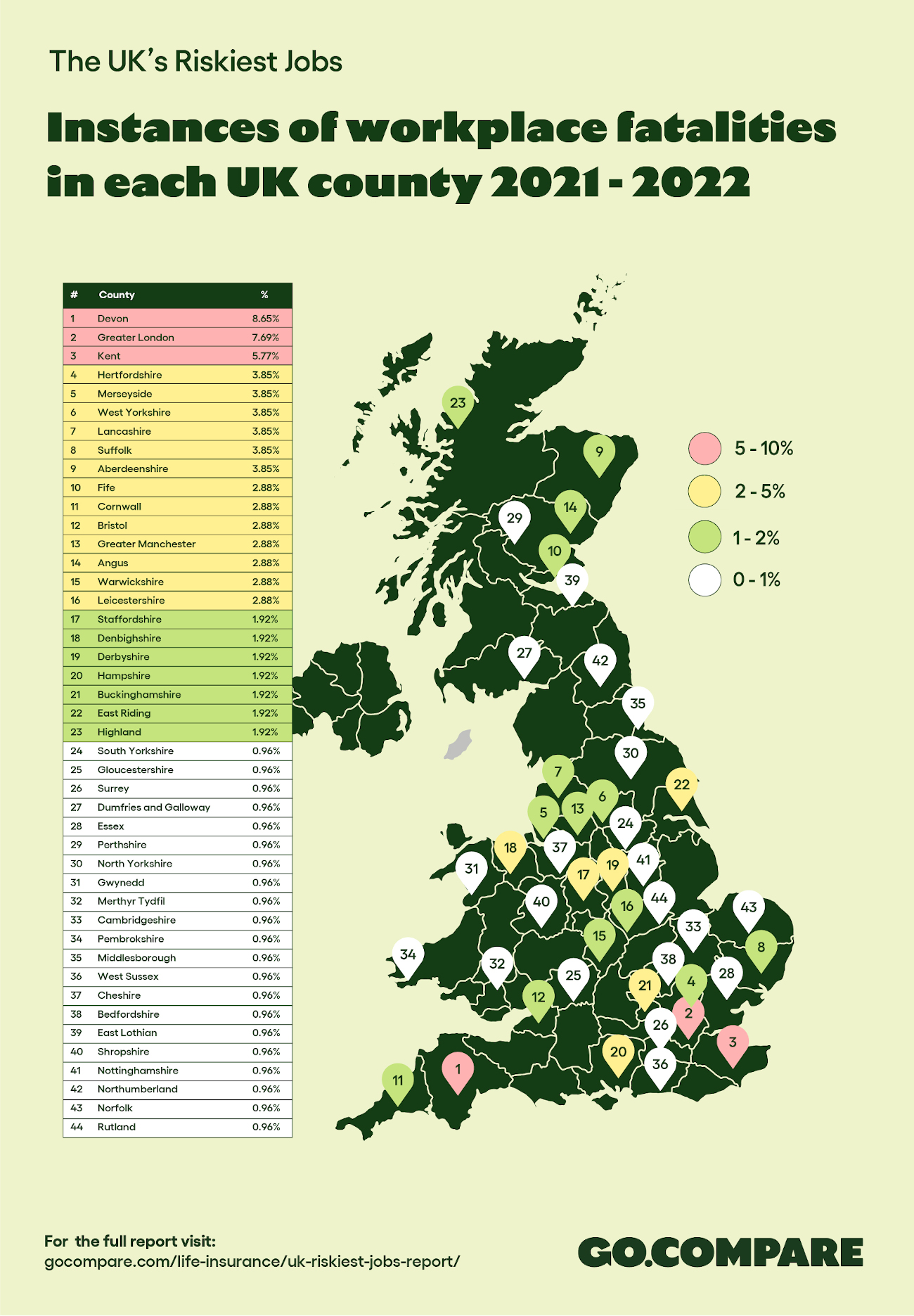 [1]
Devon is the UK's riskiest place to work, with 8.7% of fatal accidents taking place in the county. This may be in part due to Devon's economy centring around agriculture, the second most dangerous industry to work in.
Next on the list was Greater London, making up 7.8% of deaths at work between 2021 and 2022 [1]. One reason for these high numbers could be because over 30% of construction firms and employees are concentrated around London and the South East of England.[3]
In contrast, the safest place to work in the UK seems to be the North East. Less than 1% of workplace tragedies happened there, making the likes of Newcastle, Sunderland and Durham a good choice for workers.
Putting your life on the line for the job won't necessarily mean better pay
We analysed average salaries across the UK to find out how much you can expect to earn if you choose to work in one of the top five riskiest professions.
The median annual salary for all full-time employees in 2021 was £31,285. Sadly, more dangerous jobs tend to pay below the average income, despite the risks involved.[4]
While builders put their life on the line every day for their job, they can expect annual pay of around £28,896 - around 8% less than the median salary earned in the UK.[5]
This is a similar story for the other industries that made the top five:
Farmer - £24,686 - 21% less than the 2021 median wage
Manufacturing Operator - £23,886, - 24% less than the 2021 median wage
Refuse Collector - £22,972 - 27% less than the 2021 median wage
Mechanic - £30,843 - 1% less than the 2021 median wage
Nonetheless, promotions and progression paths within each of our risky industries can still pay off in the long term. Advancing to a Waste Management Officer could see you earning around £41,667 in the United Kingdom. Similarly, Building Consultants can earn in excess of £38,235 each year.
Men are more likely to die at work than women
According to our research, men are at a considerably greater risk at work than women. In fact, 96% of workplace fatalities recorded between 2021 and 2022 were males, compared to a lesser 4% for women.[1]
A possible reason for this could be down to the industry types affected. Historically, there has been an underrepresentation of women in more dangerous, labour-intensive professions like construction, agriculture and manufacturing.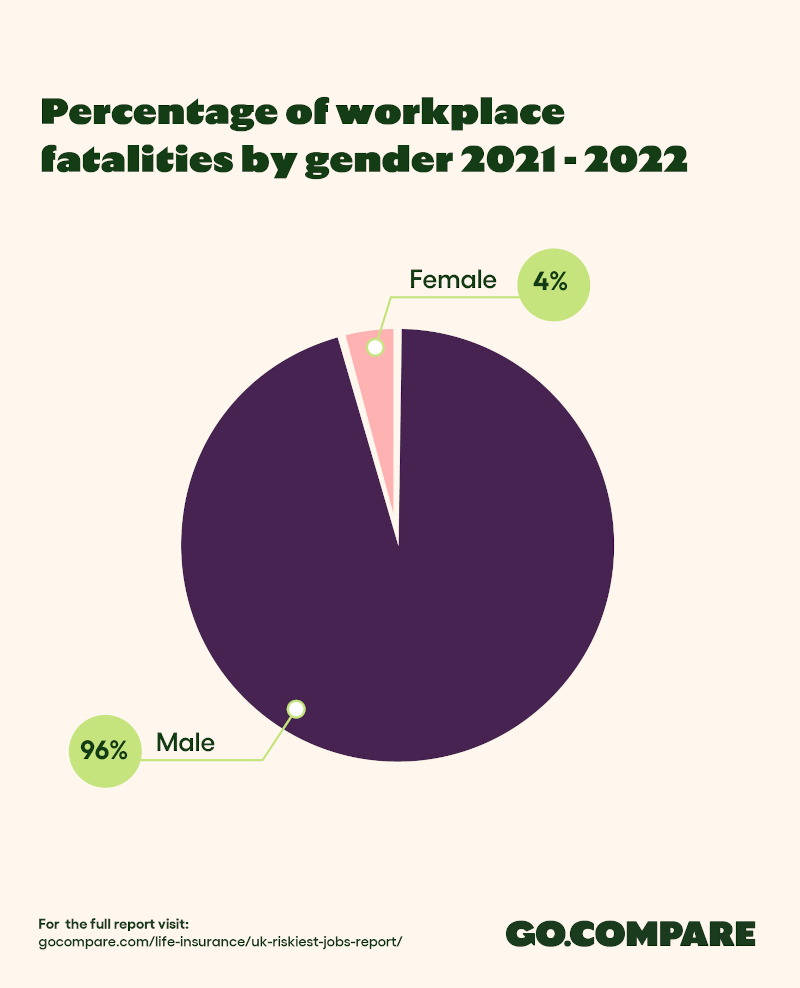 [1]
Those aged 46 - 55 are most likely to die at work
Unfortunately, we found that those in Generation X, born between 1967 - 1976, were more likely to suffer a fatality on the job. Of all the workers who died between 2021-2022, 23% of them were between the ages of 46-55.
The group at the next greatest risk were those aged between 36-45, where 20% of fatalities occurred. Meanwhile, the third most at risk were older people aged between 56-65, accounting for 19% of deaths in the workplace.
Generally, the youngest workers seemed to be safer. Workers in the 18-25 age group comprised 12% of total workplace fatalities. Millennials, aged 26-35, also made up 12% between 2021 and 2022.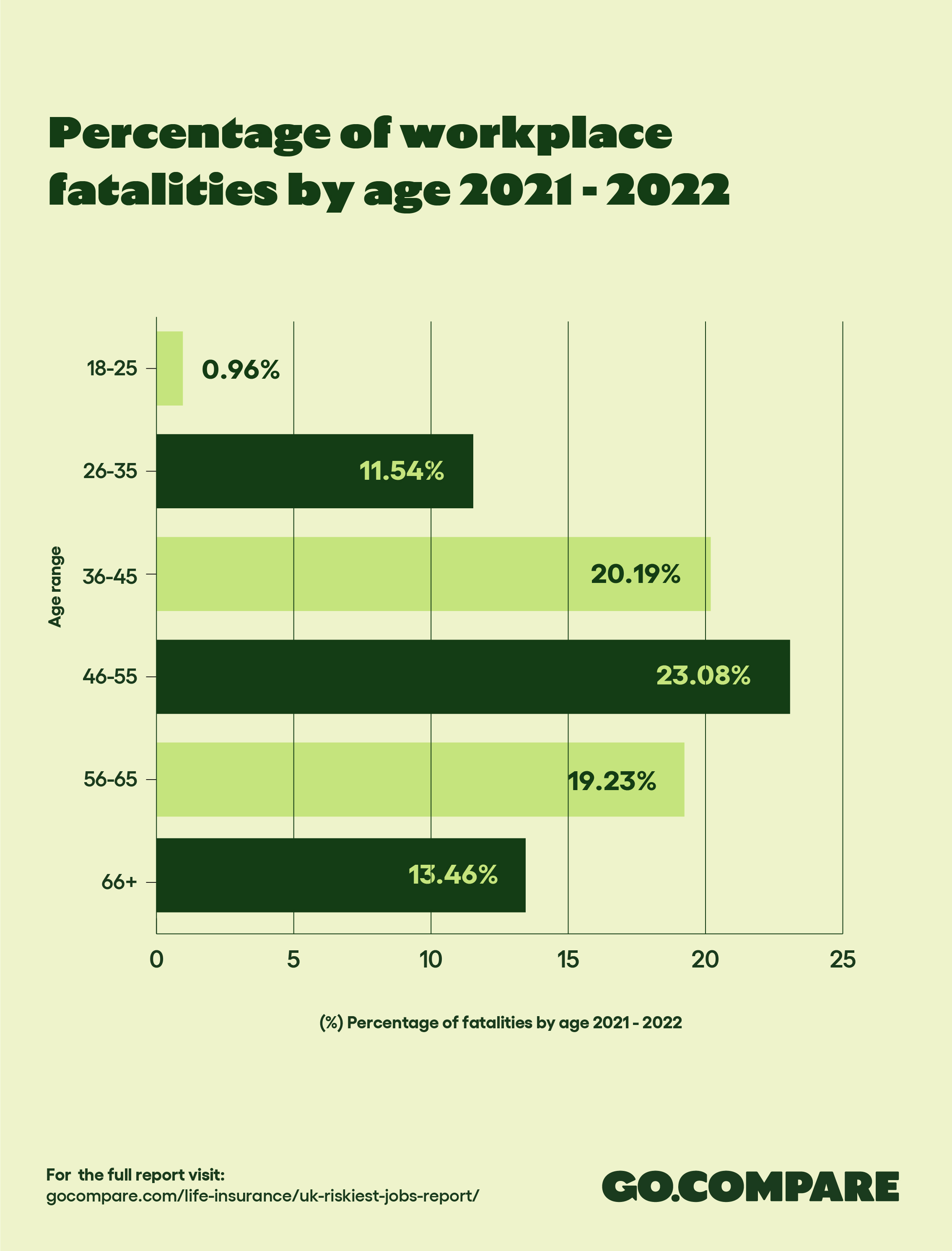 [1]
Do I need specialist life insurance for a risky job?
Not necessarily - insurers are usually able to cover most jobs. If you work in an industry or job considered risky due to the use of certain machinery or the nature of the work you're doing, you may need to take out a bespoke life policy for people that pose a higher risk.
If you're unsure which type of policy you need, you can compare life insurance quotes with us online, helping you make plans for after you've gone that won't stop you from enjoying life while you're here.
If you need specialist life insurance, our advisors can guide you in the right direction to a specialist provider.
About the data
[1] Go.Compare analysed HSE data from 2017-2022 to find in-year workplace deaths by industry and cause of fatalities in the workplace. Further analysis of HSE data was done to find the regions where most deaths occurred, gender and age ratios between 2021-2022. HSE is the relevant enforcing authority for these records.
[2] Data was taken from the ONS records of UK suicides by profession.
[3] This statistic was collected from ONS data on Construction Statistics in Britain in 2020.
[4] We used ONS data to find out the median annual pay for full-time employees in the UK in 2021.
[5] We used data from employee insight provider Glassdoor to collect average incomes for our top five industries within the UK.