The UK's riskiest jobs
While many people might think their job is hazardous to their health, for some the threat is serious. In these industries work really can be a matter of life or death, so we wanted to see where the risk was highest, and just what was making these occupations so dangerous.
Some risky jobs might seem obvious, but others might come as a surprise.
Construction is the most dangerous job of all
Working in construction runs the highest risk of all the industries we analysed, with great heights, heavy loads and live machinery all a constant source of danger. According to HSE data, 17% of workplace fatalities happened in the construction industry. [1]
Second on the list is farming, including both crop and livestock farming. These careers come with hefty health and safety warnings, with everything from farm machinery through to potential exposure to chemicals posing a threat. Between 2015 and 2020, 16.4% of all workplace fatalities happened in this industry.
The third riskiest jobs are in manufacturing. Most manufacturing jobs happen inside huge factories, where heavy machinery and large moving parts are common. Health and safety guidance is paramount here, but the industry still sees 13% of fatalities happen annually.
It may be the riskiest but construction is also among the most well-paid
We analysed average salaries across the UK to find out how much you can earn if you choose to work in one of the top five riskiest professions. [2]
#1 Construction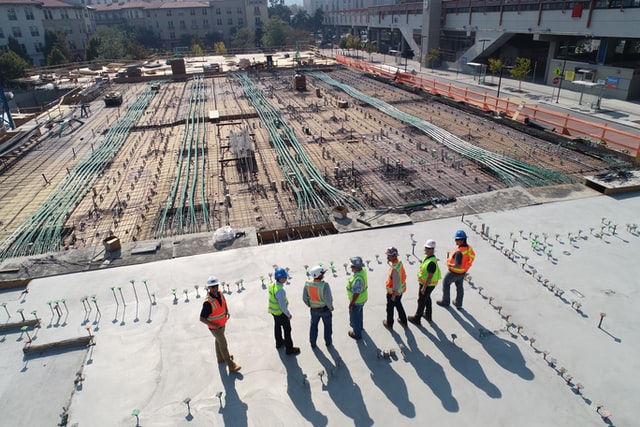 The riskiest profession listed, construction workers deal with specialist equipment, heights and a plethora of other activities which could pose risk each day. They can expect to earn an average of £42,090 per year.
Within the industry roles and earnings can vary by over £5k:
Builder - £39,089 salary p/yr
Building site manager - £46,566 salary p/yr
#2 Nursing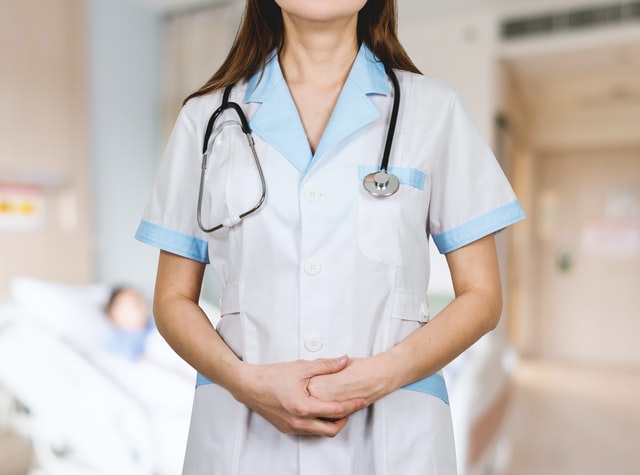 Often seen as a calling to help those in need, the UK's NHS nurses can expect an average salary of £35,246 per year.
Earnings can vary by over £10k depending on the type of nursing role:
Carer - £24,477 salary p/yr
Midwife - £39,903 salary p/yr
#3 Manufacturing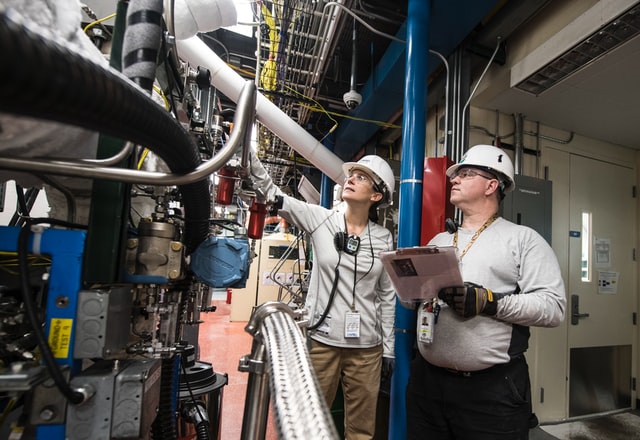 Working with heavy machinery can be risky but workers in the manufacturing industry can expect to earn around £34,380 on average per annum for their trouble.
Depending on seniority and skillset, earnings can vary by over £15k:
Warehouse worker - £20,450 salary p/yr
Manufacturing Engineer - £36,407 salary p/yr
#4 Waste Management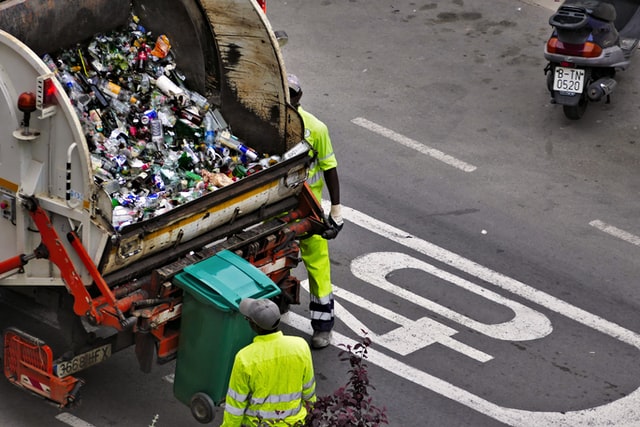 Critical to the smooth running of everyday life, those working in waste management earn an average £34,282 each year.
There are many specialist roles within the industry with varying earning opportunities:
Waste Operative - £27,900 salary p/yr
Waste Engineer - £39,893 salary p/yr
#5 Farming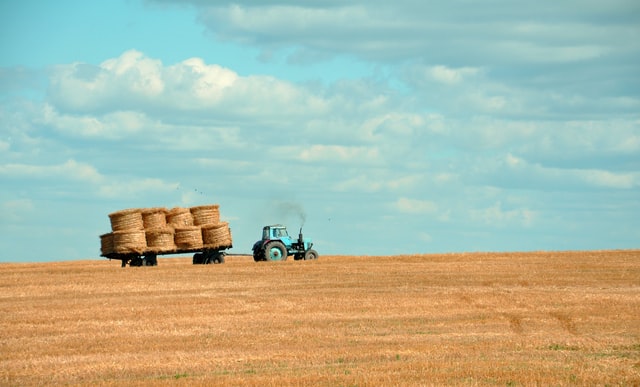 Alongside copious amounts of fresh air and an all-year round tan, those working in farming can also look to earn an estimated average of £31,390 per year for their hard work.
Management roles could pay up to £5k more in farming:
Farm worker - £27,127 salary p/yr
Farm manager - £34,200 salary p/yr
Men more likely to die at work than women
According to our research, men were more likely to die at work than women. In fact, a staggering 97.3% of workplace fatalities recorded in 2019 were males, while only 2.7% were women.
This could in part be down to the industries affected. Historically, women have been underrepresented in jobs like construction, agriculture and manufacturing, and while tides are beginning to turn, those industries are still mostly associated with men.
Falling from a height is the most fatal accident
While high scaffolding, cranes and large machinery are all essential for many of these risky industries to work, it comes as no surprise to see they're also the biggest cause of death. Of all the fatalities we analysed, 32.19% of them came as a result of falling from a height.
The second most common cause was being struck by a moving vehicle, with 22.2% of fatalities coming as a result of diggers, cranes, boats or lorries hitting unsuspecting victims. 19.98% of deaths were caused by moving objects, either striking them or falling from a height, while 16.65% were as a result of tragically being trapped beneath tools or machinery.
Those aged 45-54 most likely to die at work
Sadly, it was the baby boomer generation of workers that were most likely to suffer a fatality on the job. Of all the workers who died in 2019, 18.02% of them were between the ages of 45-54.
The next highest age group was between 35-44, where 17.12% of fatalities occurred, while in third it was people between 25-34, suffering 16.22% of deaths.
Generally the youngest workers seemed safer. Out of the youngest working age brackets we analysed, there were no deaths for those aged 16 or younger or those aged 16-19. Workers in the 20-24 age group accounted for just 7% of total workplace fatalities, showing that under 20's are safely learning the tricks of a new trade.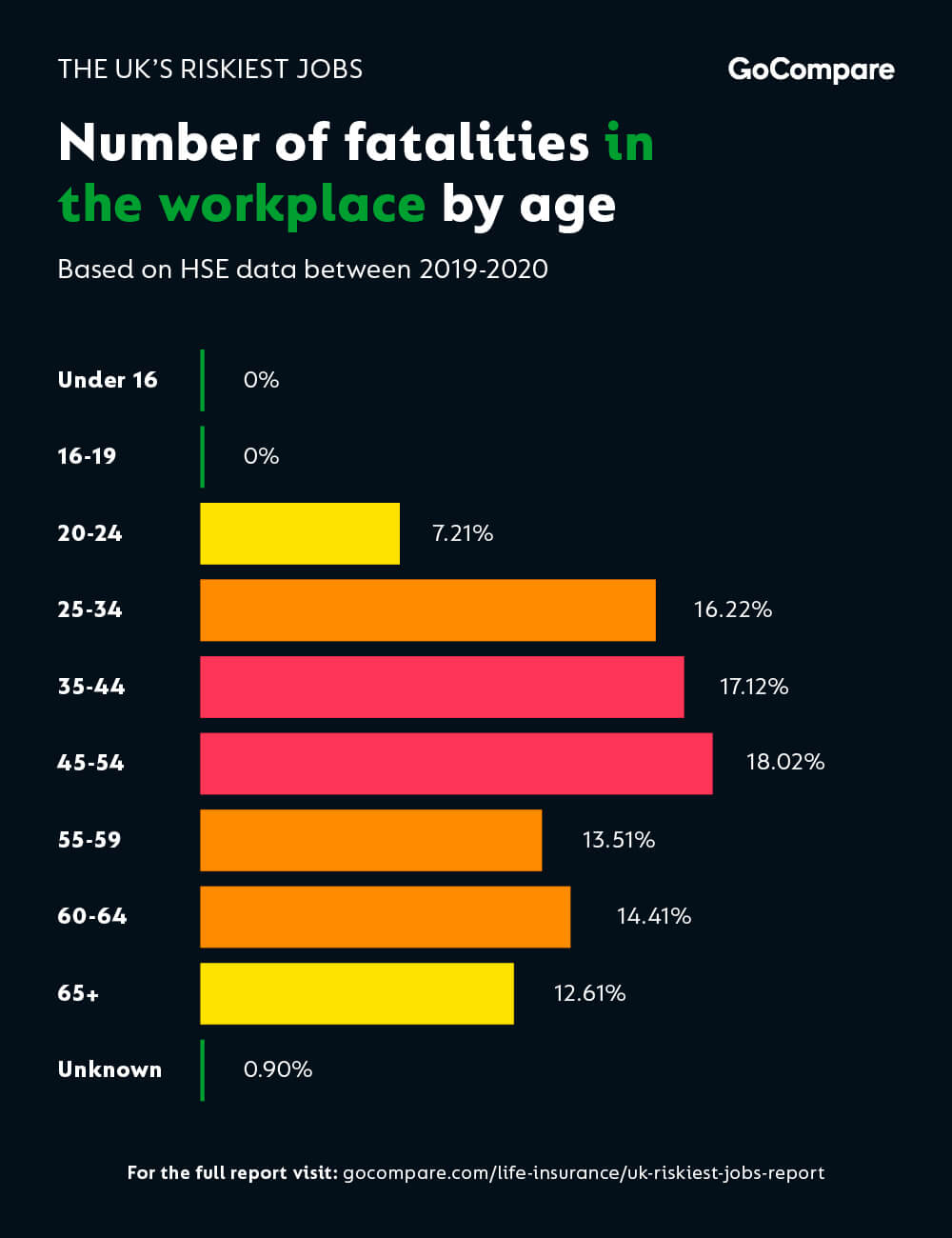 Wales is home to the riskiest jobs according to HSE data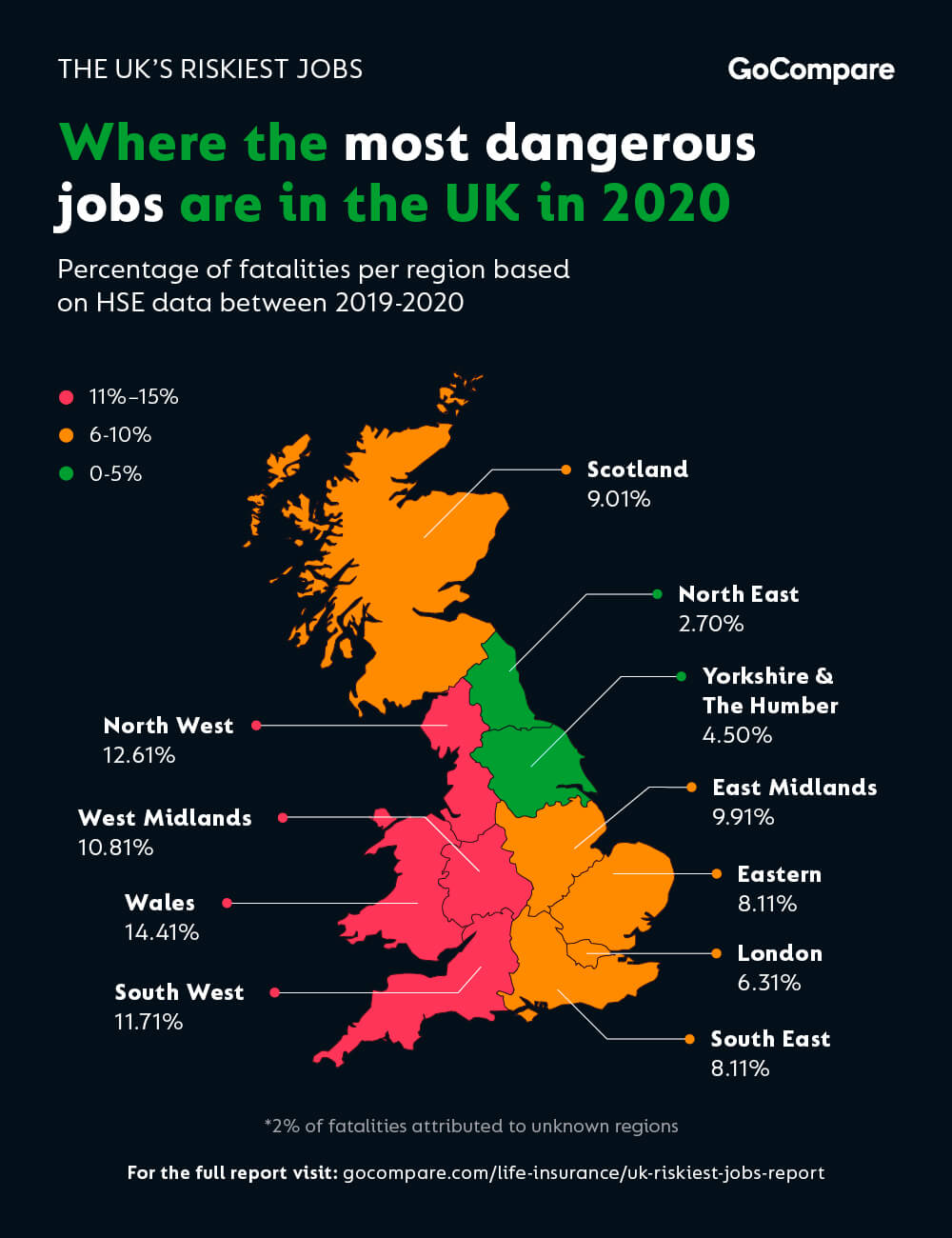 Wales is the riskiest place to work in with 14.41% of fatalities happening there. But if you're employed in the likes of Manchester, Liverpool or Blackpool, you're in the riskiest English region to work in - 12.61% of all workplace fatalities happened in the North West.
The South West saw 11.71% of workplace deaths, while the West Midlands saw 10.81%.
In contrast, the safest place to work in the UK seems to be the North East. Only 2.7% of workplace tragedies happened here, making the likes of Newcastle, Sunderland and Durham a good choice for workers.
Risks of the job - what price do employees pay?
Serious injury or fatalities aren't the only worries for workers in risky jobs - various insurances can be more expensive for these employees too.
For example, the cost of life insurance takes into account how risky your occupation is, as well as your health and lifestyle. If you work in an industry that increases your chances of death, then you could end up paying more for cover.
Similarly, your job also affects the price of your vehicle insurance. For instance, construction workers will often need to travel between sites, meaning they spend lots of time on the road. They'll need a policy that covers commuting and probably business use too. All of this results in higher motor insurance premiums.
How do risky industries affect employers?
Paying out for things such as health cover, insurance and compensation costs businesses hundreds of millions of pounds a year.
In total, employers paid a huge £10.5 billion in illness care and cover in 2019, while they paid £5.5 billion in injury compensation.[3]
The hardest hit industry for illness was health care and social work, where over £2 billion was paid out to cover staff absence and wellbeing.
Health care workers also came out on top in injury compensation. Despite not featuring on our risky jobs list, staff received £793 million for being injured on the job.
Do I need specialist life insurance for a risky job?
Not necessarily - insurers are usually able to cover most jobs, but if you work in an industry or job considered risky due to the use of certain machinery or the nature of the work you're doing, you may need to take out a bespoke life policy for people that pose a higher risk.
If you're unsure which type of policy you need, we can compare life insurance quotes for you, helping you make plans for after you've gone that don't stop you enjoying life while you're here. If you do need specialist life insurance, our advisors will be able to guide you in the right direction to a specialist provider.
Methodology
[1] GoCompare analysed HSE data from 2015-2020 to find in-year workplace deaths. Further analysis of HSE data was done to find the regions where most deaths occurred and by which cause between 2019-2020. HSE is the relevant enforcing authority for these records.
[2] Analysts used the job site, Adzuna, to find the average salaries for each of the top five riskiest jobs. Average salaries correct as of April 2021.
[3] GoCompare analysed HSE data from 2018/2019 to find the costs employers paid out to cover staff illness and injury compensation.