If you're arranging life insurance, getting a policy written in trust is easy and could be very beneficial. Find out more…
Key points
Writing in trust can help define the way a payout is used, can speed up payouts by bypassing probate and could have inheritance tax benefits
Making the arrangements should be free and straightforward
It won't be right for everyone so read more and consider getting free, impartial advice from Gocompare.com's partner Assured Futures[1] on 0800 808 6907¥
Life insurance to protect family and loved ones is an established part of financial planning for millions of UK consumers.
Only a small minority of policyholders choose to have their policy written in trust, though, a fact that's largely thought to be due to a lack of understanding of the process and its potential benefits.
In July 2014, the Daily Mail suggested† that not writing policies in trust led to £0.5bn of life insurance payments going unnecessarily into the taxman's coffers every year, rather than to the intended beneficiaries.
Writing life insurance in trust may sound like a complicated matter, but it's actually a very simple process.
It can be done for all sorts of life insurance policies including term insurance, whole of life insurance, critical illness cover and over 50s life insurance plans, on both individual and joint policies. It's not typically done on income protection policies, though.
Given that you're paying the premiums for the benefits of your loved ones it's worth taking the time to get it right.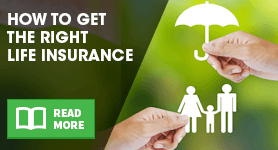 What's more, as it may result in your descendants getting more from a payout and the taxman less, it's possible that you could also benefit by being able to arrange a cheaper policy and reducing your life insurance premium.
What's a trust?
A trust is set up by a settlor, who is the person giving away their life insurance policy. In the case of joint life insurance policies there would be joint settlors. It's set up in the interests of an individual or a group, known as the beneficiaries.
When the trust has been set up it's no longer owned by the settlor, although the settlor continues to pay the premiums. It's owned by the trust, which is managed by trustees until the beneficiaries are ready to take full advantage.
The settlor chooses the trustees and may also be a trustee themselves, in which case they retain some measure of control over the trust. Trustees could be a friend or family member of the settlor, or a professional appointment such as a solicitor or accountant. They must always act in the best interest of the beneficiaries and can only act according to what's allowed in the trust deed.
Advantages of having life insurance written in trust
There are three main advantages associated with having a life policy written in trust:
Did you know...?
In Scotland, probate is known as 'confirmation'
Bypass probate
Probate is a legal process that confirms an executor's authority to deal with an estate. In Scotland it's known as 'confirmation' and it's a process that can take some time, even if the deceased had left a will.
If a life insurance policy is written in trust it means that payments to beneficiaries are likely to be quicker and should be processed as soon as a death certificate has been obtained.
Avoid inheritance tax
Writing life insurance in trust can result in any payout going direct to the beneficiaries rather than to the estate, meaning that the money won't form part of the estate for inheritance tax purposes.
Depending on the circumstances, this could prevent the estate from exceeding the inheritance tax threshold.†
You should be aware, though, that in a minority of cases the trust itself will have to pay tax. You may want to seek advice on this, but it's likely to depend on three factors:
The policyholder's state of health when writing in trust
The type of trust used
The type of policy
More control over distribution
When setting up a trust the policyholder has complete control when it comes to determining where the funds will go and can also define any conditions they want to associate with payouts.
This can be valuable in any number of situations, but just one could be protecting the future interest of children as beneficiaries should a guardian divorce and remarry.
Bear in mind that the flexibility offered by different sorts of funds can vary significantly, as can the policyholder's ability to make any changes after the trust has been set up.
Once the trust has been created, it's not typically possible to close it until it's served its purpose and the policy can't be cancelled without the permission of the trustees.
Who shouldn't write life insurance in trust?
While it's thought that most people don't write a policy in trust because they don't know about it or believe it'll be too much hassle, there are cases where the option wouldn't be suitable.
It may simply be unnecessary when taking out a joint life policy where there are no dependants to consider.
If it's a whole of life policy with a surrender value attached to it, the policyholder paying the premiums may want to retain the option of claiming the surrender value rather than having it go to the beneficiaries.
Writing in trust may not be the right option in the rare cases where a payout is assigned to a lender (perhaps a mortgage holder) in order to pay off debts if the policyholder dies.
Care also needs to be taken if placing critical illness policies in trust. You may want to consider a split trust which could give the policyholder access to the fund should they fall ill with a qualifying condition.
How do I write life insurance in trust?
When you take out a policy your insurer should give you the option of writing it in trust and this option is typically free.
It's also possible to transfer an existing policy into trust, although you may want to seek legal advice before doing this.
If you want more information and help, remember that you can get free, impartial advice from our partner Assured Futures.[1]
You can either call 0800 808 6907¥ or - to save your phone bill - request a call back by filling in a simple form online with your contact details and the time you'd prefer to chat.
By Sean Davies