£1,000 loans explained
Find out about £1,000 loans, how eligibility is calculated and popular repayment period lengths.
Key points
An unsecured personal loan doesn't have collateral, so lenders will rely on your credit score
£1,000 loans may be used for unexpected costs or home improvements, for example
You might be able to get a £1,000 loan if you have poor credit, although the hurdles are higher
Taking out a loan is a big decision, no matter how nominal the amount, as they can lead to debt and bad credit ratings if they aren't repaid on time.
Personal loans, or unsecured loans, don't have any collateral support like your car or home. So lenders have to base their decisions on your credit score.  
Most commonly, if you're eligible, you can get personal loans for between £1,000 and £25,000. This was correct in March 2018.
Usually the interest rate is fixed, and repayment periods tend to be either one, three or five years. Not paying your loan back on time or missing payments can negatively impact your credit score and financial situation.
£1,000 loan – why get one? 
With any type of credit, it's important to remember that you're only borrowing the money, and you'll have to pay it back, with interest.  
If you have limited funds and you need some extra money, a £1,000 loan might seem like a handy option, especially when something unexpected happens, like a broken down boiler.  
If you decide to take out a £1,000 loan, you might also want to consider taking out some income protection insurance, which will keep paying your loan off if you're unable to work.  
As long as you can afford the repayments and manage your spending, the choice to get a £1,000 loan is up to you.  
Bad credit and £1,000 loans 
Perhaps surprisingly, you can get £1,000 loans even if your credit score isn't the best. They're usually called 'bad credit loans', which just means a loan for someone with a poor credit report.  
Whether you've missed repayments, made failed applications for credit or you don't have any credit history at all, some lenders may be willing to give you a loan. Although the interest rate might not be the most competitive on the market.  
A guarantor loan is an unsecured loan that includes a second person, who would be responsible for paying off the debt if you don't. 
Generally speaking, the interest may be quite high on loans for people with poor credit, so make sure you can afford the repayments before taking out a loan. 
If possible, you should try to avoid taking on extra debt. But if you're sensible, you may be able to use a bad credit £1,000 loan to your advantage, to help build your credit score back up.  
Positives and negatives of £1,000 loans 
GoCompare doesn't provide financial advice. But we can present you with some pluses and minuses about £1,000 loans, to help you make your own decision about whether taking one out is the right option for you.  
On the one hand, £1,000 loans…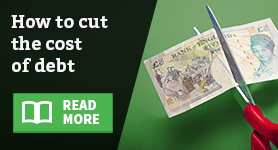 Usually have fixed repayments, so you know how much they'll be 
Allow you to choose how long you'd like to repay the loan 
Could let you consolidate your debts into one loan  
Build up your credit rating, if you keep up repayments 
On the other hand… 
If you have a good credit history, it can be tempting to get a £1,000 loan, so you might end up borrowing more than you need 
You may not get the advertised representative APR as it depends on your credit rating 
If you have bad credit, more debt might not be the best option 
Changes in circumstances can leave you unable to make repayments 
Whichever way you look at £1,000 loans, the most important thing to remember is that the money is only being lent to you – you will have to pay it back, so good money management is key.  
How to compare loans without affecting your credit record  
If you want to compare what loans you could be eligible for, but don't want to leave a mark on your credit record, you could try doing a smart search.  
Smart search performs a soft credit check on you, which other lenders can't see on your credit report.  
This allows you to view and compare what £1,000 loans you may be eligible for, without leaving an impact on your credit history.  
As long as you can effectively manage your £1,000 loan and make your repayments on time, it could be an option worth considering if you need to. The choice is up to you.